Hardware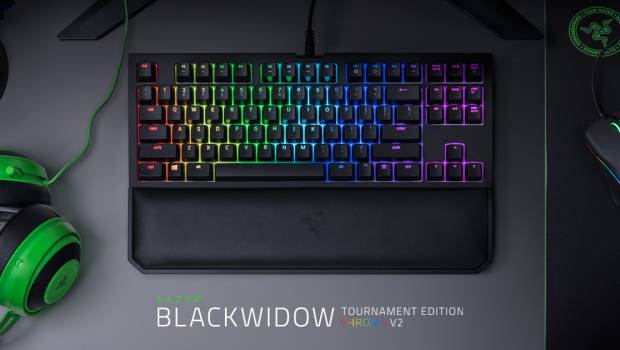 Published on February 11th, 2018 | by James Wright
Razer Blackwidow Tournament Edition Chrome v2 Gaming Keyboard Review
Summary: Razer Blackwidow Tournament Edition Chrome v2 Gaming Keyboard provides eSport gamers a great portable product that also doubles as your main keyboard as well!
Razer have just released their tournament grade keyboard to give gamers a powerful input peripheral in their virtual worlds. Best of all, it's a compact and portable keyboard that comes in three different mechanical switches that include green, orange and yellow (reviewed). Even though its been designed for e-sports, no matter what your gaming passion is, the Razer Blackwidow Tournament Edition Chrome V2 Gaming Keyboard is all about giving you that edge when you need that all important responsiveness… in other words, the need for 'speed'.
Highlights

Razer™ Mechanical Switches with 80 million keystroke lifespan
Tenkeyless compact layout
Ergonomic wrist rest
Fully programmable keys with macro recording
Instant Trigger Technology
Razer Chroma customizable backlighting
So before we get into what's under the hood, lets talk about the aesthetics of the Razer Blackwidow Tournament Edition Chrome V2. The keyboard itself definitely channels that Razer feel when it comes to appearance and interestingly it is available in black (reviewed) and quartz pink that is quite funky. Furthermore, it does look like a gaming keyboard and it even comes with a detachable fibre cable.
It also comes with an ergonomic wrist rest (optional) which is definitely needed for those long gaming sessions and even though it's compact and portable, it's still a full-sized keyboard, however the keys are slightly closer but more importantly feels good, particularly with its keys. Then you have the Chroma Lighting capabilities which gives the gamer access to backlighting with 16.8 million colour options that allows for some groovy effects like waves or heartbeat via the Synapse app.
As you're aware, mechanical keyboards are considerably faster than traditional keyboards and it doesn't uses domes but rather springs, which makes it more responsive and resets the key almost immediately. So depending on your gaming needs, each mechanical keyboard is slightly different when it comes to how they are used and Razer give a great description below to help with your purchase;
Razer Green Switch
For gamers who crave a distinct click and tactile bump. With optimized actuation and reset points at almost half the distance of standard mechanical switches, you'll never miss a single key.
Razer Orange Switch
For gamers who enjoy a tactile bump and feedback without the click. Enjoy the same optimized performance with less actuation force, while maintaining a silent and unobstructive gaming experience.
Razer Yellow Switch
For gamers who seek ultimate stealth mode with a linear, silent touch. Made with the specific purpose of rapid fire actuations, these keys deliver the fastest performance to meet the demands of FPS and MOBA games.
Our review keyboard boasted the Razer Yellow Switches and is the more quiet of the switches but still offers some excellent responsiveness. Some of the games we tested the Razer Blackwidow Tournament Edition Chrome v2 included Starcraft II, Palads, Diablo 3, Smite, Call of Duty World War II and Overwatch. Needless to say, the keyboard was quite fast and for me, it really shined with first person shooters which needed that quick action and needless it delivered plus no ghosting.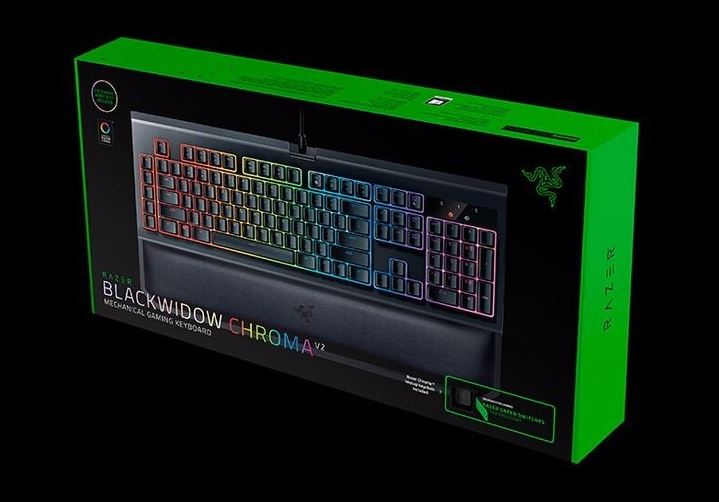 Final Thoughts?
The Razer Blackwidow Tournament Edition Chrome v2 Gaming Keyboard provided some excellent responsiveness and I really enjoyed the quieter yellow switches. The compact design works perfectly and it makes it very portable. It also doesn't slide around and is a god weight as well. Add in a wrist rest plus the options of two different colours and of course, Chroma Lighting and this keyboard will hopefully be your black widow on the battlefield.
Recommended!
Technical Specifications
Razer™ Mechanical Switches with 50g actuation force
80 million keystroke lifespan
Razer Chroma customizable backlighting with 16.8 million color options
Compact layout
Ergonomic wrist rest
Razer Synapse enabled
10 key roll-over anti-ghosting
Fully programmable keys with on-the-fly macro recording
Gaming mode option
1000 Hz Ultrapolling
Instant Trigger Technology
Detachable braided fiber cable with cable strap