Hardware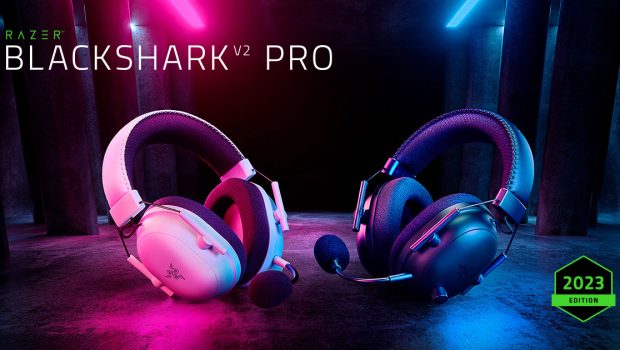 Published on June 26th, 2023 | by James Wright
RAZER BLACKSHARK V2 PRO REVIEW (2023 Edition)
Summary: The Razer Blackshark V2 Pro provides audio quality and wireless bliss
If you're on the hunt for a high quality wireless gaming headset with the full "payload" for both home and eSport gamers, then you're in luck! Welcome to the new Razer Blackshark V2 Pro ultimate wireless gaming headset that has been designed for competitive play that boasts crystal clear audio thanks to its 50mm drivers, advanced noise isolation to fully immerse you plus all-day non-stop gaming comfort.
The Razer Blackshark V2 PRO is also based on the previous model, the Blackshark V2 that was a wired headset and in terms of cost, the latest model comes with a recommended retail price of $349.95AUD (June 2023) and can be purchased from here.
Although this is predominantly a PC headset, it can be connected to other gaming devices such as the Nintendo Switch, XONE, XS|X and PlayStation 4/5. For wireless connectivity (up to 72 hours), you need to use the 2.4Hz USB dongle or Bluetooth, however you can also use the included 3.5mm audio port without power. Best of all, swapping between wireless 2.4Hz and Bluetooth is made easy thanks to its innovative design.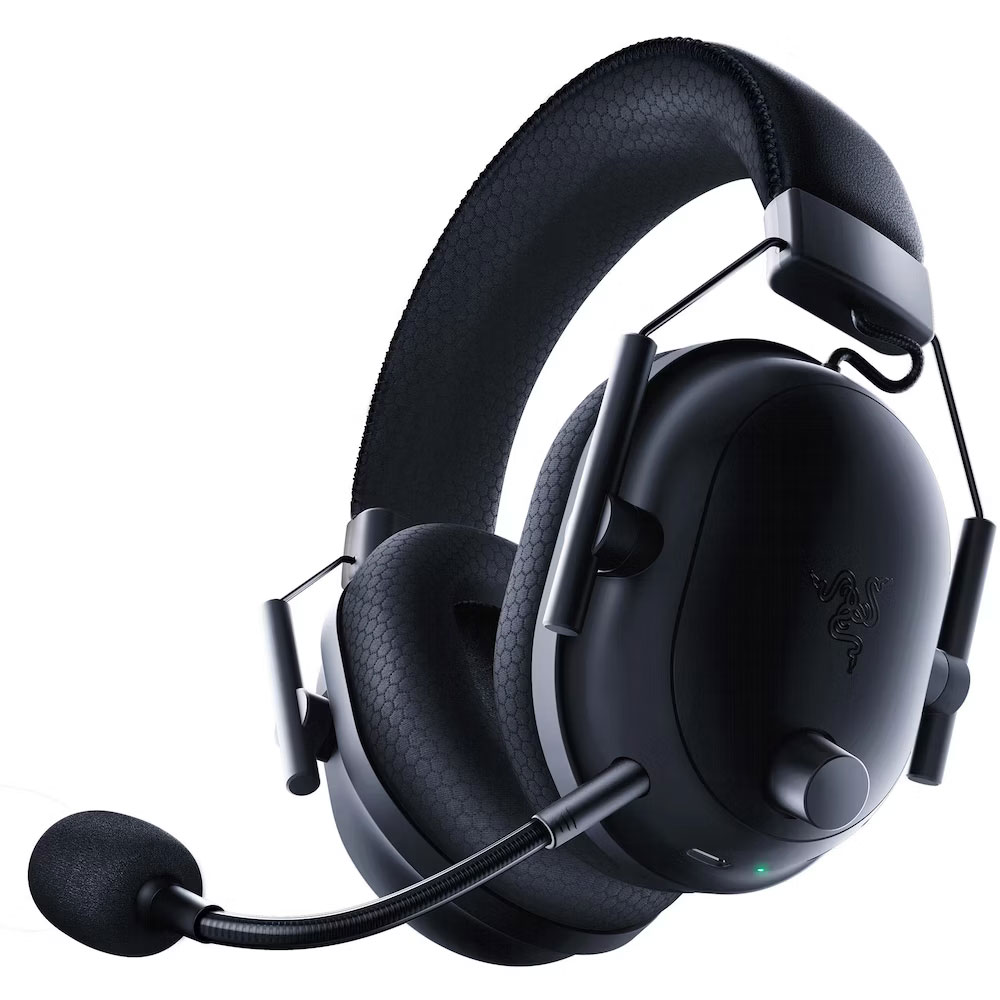 Razer Blackshark V2 Pro Technical Specifications
FREQUENCY RESPONSE: 12 Hz – 28 kHz
IMPEDANCE: 32 Ω
SENSITIVITY: 100 dBSPL / mW @ 1 kHz by HATS
DRIVER SPECIFICATIONS: 50 mm
DRIVER TYPE: Razer™ TriForce Titanium
EARCUPS: Oval Ear Cushions
INNER EARCUP DIAMETER: 62 mm x 42 mm / 2.44 x 1.65 in
EARPADS MATERIAL: Pressure-Relieving Memory Foam
NOISE CANCELLING: Advanced Passive Noise Isolation
CONNECTION TYPE: Type A Wireless (2.4 GHz), Bluetooth 5.2
CABLE LENGTH: None
APPROXIMATE WEIGHT: Approx. 320 g / 0.71 lbs
MICROPHONE STYLE: Detachable Super Wideband
PICK-UP PATTERN: Unidirectional
MICROPHONE FREQUENCY RESPONSE: 100 Hz – 10 kHz
MICROPHONE SENSITIVITY (@1KHZ)" -42 ± 3 dBV / PA, 1 kHz
VIRTUAL SURROUND ENCODING: THX Spatial Audio
VOLUME CONTROL: Volume up and down
OTHER CONTROLS:
4 GHz Wireless and Bluetooth Toggle (SmartSwitch)
Volume up and down
Mic mute on/off toggle
Audio profiles switcher
BATTERY LIFE: Up to 70 hours
LIGHTING: None
CONNECTION TYPES:
PC (Type A 2.4 GHz, Bluetooth 5.2)
PlayStation (Type A 2.4 GHz): Mobile Devices (Supporting Type A or Bluetooth 5.2)
Android & iOS
Well packed from Razer like all their products, the Blackshark V2 Pro feels quite solid with cushioned over the ear earcups and adjustable headband. The headset also comes in two colours, white and black (reviewed) and weighs in at just 320grams that makes it relatively lightweight as the weight is equally distributed.
Wearing the headset for the first-time, you immediately notice how comfortable it is thanks to the memorable foam and the Blackshark does a decent job at dissipating the heat from your ears with its breathable weave design. With the adjustable steel-reinforced headband and cushioned earcups, it makes for a snug fit, so moving the adjustable (detachable) wideband unidirectional microphone or using the controls keep it on your head well. Speaking of controls, they are well placed for accessing power, mute and the volume dial.
To fully maximise the headset, you need to install the Razer Synapse 3 app that allows you to access the EQ settings, including THX virtual 7.1 for that surround sound experience. In relation to the Razer Synapse 3 app, it's well-designed program that makes navigating the features of this headset a breeze. The app is also used to customise and tweak profiles that are then saved directly onto the headset.
Depending on usage and what features are used, the battery will last up to 72-hours of wireless play which is more than ample and to charge, simply connect the included USB-C cable. And how's this for super-cool, at 15-minute quick charge gives you access to 6-hours of wireless.
Unboxing
As a gaming headset, the wireless audio produced clear sound with noticeable audio levels (highs, mids, lows), including a good use of bass. The THX spatial audio works very well for games such as Star Wars Jedi Survivor, Diablo IV and Overwatch 2 with its positional audio. Equally the microphone complements online games like Call of Duty Modern Warfare II and again Overwatch 2. Background audio in games is also more noticeable, particularly the subtleties in those open world titles, Witcher 3 and Red Dead Redemption 2 come to mind.
Additionally due to the clamping force of the headset, the earcups create a good seal for noise isolation. Wired vs wireless? The wireless of the Blackshark v2 Pro was exceptional courtesy of its 2.4Ghz connection, no matter what its usage was such as watching Arnold Schwarzenegger's exceptionally bad FUBAR on Netflix to listening to Deezer or podcasts, the headset definitely gave you a sense of freedom without those gaudy long cables.
Final Thoughts?
I really enjoyed reviewing the Razer Blackshark V2 Pro ultimate gaming headset that delivers a good contender for those that enjoy PC gaming and also competitive gaming. It worked well on the PlayStation 5 through wireless, including Sony's innate surround sound technology.
Recommended!
RAZER BLACKSHARK V2 PRO HIGHLIGHTS
RAZER™ HYPERSPEED WIRELESS
With a high-speed transmission and extremely low latency, this wireless esports headset has an industry-leading 2.4GHz wireless connection to ensure lossless audio that'll always stay synced to your game.
RAZER™ TRIFORCE TITANIUM 50MM DRIVERS
Our all-new patented design allows our engineers to custom tune each driver as though there are three—allowing for the individual replications of high, mid and low audio frequencies to deliver on richer trebles, brighter sound and powerful bass.
The Razer BlackShark V2 Pro also includes titanium-coated diaphragms, giving added clarity to any vocals you hear so that any comms you receive is always crisp and clear.
RAZER™ HYPERCLEAR SUPERCARDIOID MIC
The pickup pattern on this detachable 9.9mm mic has more noise rejection from the sides as compared to a cardioid mic, and provides a true recreation of your voice thanks to a sensitive low frequency response and an open microphone housing designed for minimal obstruction. Includes Razer Synapse 3 support for access to advanced mic settings.
ADVANCED PASSIVE NOISE CANCELLATION
From cheering crowds to the hum of your rig, this wireless esports headset shuts out noise using special closed earcups that fully cover your ears, aided by plush cushions that form a perfect seal for greater sound isolation.
FLOWKNIT MEMORY FOAM EAR CUSHIONS
Our new breathable weave minimizes sweat and heat build-up generated by skin contact, while the ultra-soft foam's improved density greatly reduces the headset's clamping force.
THX SPATIAL AUDIO
Increase your immersion and in-game awareness with next-gen surround sound that provides pinpoint positional accuracy and true-to-life acoustics, as you press your advantage with its latest feature: THX Game Profiles. Apply custom-tuned profiles that enhance existing sound design in your favorite games. Choose between THX Environmental Mode for truly lifelike immersion, or THX Competitive Mode for greater spatial awareness.