Hardware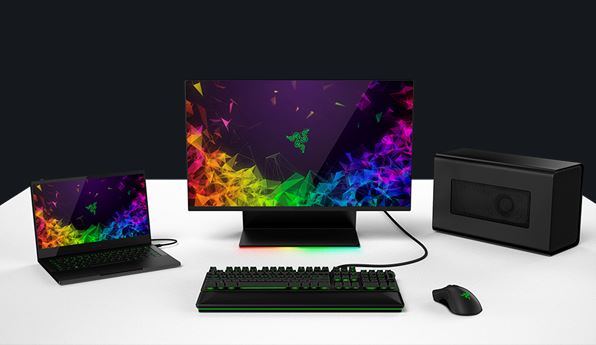 Published on January 7th, 2019 | by Admin
Razer Announces Gaming Monitor and Updated Blade 15 at CES 2019
RAZER ANNOUNCES GAMING MONITOR AND UPDATED BLADE 15 WITH NVIDIA GEFORCE RTX GRAPHICS
Razer unveiled a 27-inch gaming monitor with built-in cable management, and new range of Blade 15 gaming laptops at CES 2019
RAZER RAPTOR GAMING MONITOR
LAS VEGAS (CES 2019) – Razer, the leading lifestyle brand for gamers, announced today its all-new 27-inch gaming monitor concept, the Razer Raptor. The desktop screen was unveiled at CES 2019 as an early-design-phase model, with production units slated for release later this year.
Razer Co-Founder and CEO Min-Liang Tan says, "Razer has worked alongside partners in the past to bring the Razer experience to monitors, but the full potential was never fully realised. We have decided to tackle this space on our own and are very excited to expand our presence to include desktop displays."
ESPORTS READY DISPLAY
The Razer Raptor will deliver ultra-wide viewing angles with its custom-calibrated WQHD (2560×1440) IPS edge-to-edge panel with thin 2.3 mm bezels. The monitor will feature AMD Radeon™ FreeSync™ adaptive sync technology with fast response times featuring 1 ms Motion Blur reduction and a refresh rate of up to 144 Hz, ensuring fluid frames while gaming.
The Razer Raptor will display vibrant colours, with its 95 percent DCI-P3 wide colour gamut and support for HDR content, providing deep blacks for truly immersive viewing experiences. Colour profiles will be programmed into the monitor to address gamer and prosumer demands for optimised gaming, movie and productivity settings.
PRECISION CRAFTED DESIGN
Razer's precision-crafted, matte-black design features a forged aluminium base. Its back-plate is finished with a blend of fabric and metal to add a touch of elegance. Razer Chroma-powered LED strips illuminate the monitor's base, which can be customised through the Razer Synapse 3 application to synchronise with other Razer Chroma-enabled hardware.
Designed with easy cable management in mind, the height adjustable monitor is also capable of tilting backwards up to 90 degrees for easy I/O ports access. Built-in CNC milled channels line the back of the monitor base to allow users to easily hide the five unique Razer green performance cables included with the display, creating a clean battle station setup.
EXTENDED CONNECTIVITY
The Razer Raptor will offer a variety of input ports for connectivity for various devices. This includes 1 x HDMI, 1 x DisplayPort, 1 x USB-C which includes power delivery, and 2 x USB-A 3.1 ports.
UPDATED RAZER BLADE 15
Razer™ have announced today a new range of the Razer Blade 15 Advanced Model gaming laptops. This update to the award-winning Razer Blade 15 is centred around increased graphics performance with the inclusion of new NVIDIA® GeForce RTX™ 20-series GPUs, delivering a whole new way to experience gaming on-the-go.
GRAPHICS REINVENTED
NVIDIA GeForce RTX 20-series graphics provide the ultimate PC gaming experience. Powered by the new NVIDIA Turing GPU architecture and the revolutionary RTX platform, these processors bring together real-time ray tracing, artificial intelligence, and programmable shading. The new Advanced Models of the Razer Blade 15 will be available with a choice of RTX 2060 (6 GB GDDR6), RTX 2070 (8 GB GDDR6), or the RTX 2080 (8 GB GDDR6), with the top two configurations using a Max-Q design to ensure performance and user comfort within the compact Razer Blade 15 laptop.
VISUAL EXPERIENCE
The 15.6" Full HD (1920 x 1080) displays have 144 Hz refresh rates, driven by the new GeForce RTX 20-series GPUs to provide precise and fast game visuals and entertainment with full-frame fluidity and 100% sRGB color. Creative users that demand higher resolution and a wider color gamut can step up to a 4K (3840 x 2160) display with touchscreen functionality and 100% Adobe™ RGB colour support.
Razer also showcased at CES two new innovative display technologies being evaluated for the Razer Blade 15 in the future. The first showcase is Blade 15 with a 15.6" Full HD display capable of 240 Hz refresh rates for incredibly fluid gaming. The other Blade 15 showcase sports a 4K OLED touch display, delivering amazing colour, deep blacks, and efficient performance.
FASTER MEMORY
The new GeForce RTX 20-series GPUs utilise GDDR6 memory, the fastest memory in the world. To complement the increased performance provided by the new GPUs and for extreme multitasking, Razer equips every Razer Blade 15 model with 16 GB of DDR4-2667 MHz dual-channel system memory. For users looking to push the performance even further, the expandable memory slots now supports the installation of Intel® XMP compatible memory, with speeds up to 3200 MHz for increased bandwidth.
Fast PCIe SSD storage is provided with configurations up to 512 GB, with support for up to 2 TB of storage and up to 64 GB of system memory.
INCREASED CHOICE
The Razer Blade 15 family of laptops now covers a range of performance options for consumers from the dual-storage, 60 Hz Full HD Base Models with a GeForce GTX 1060 GPU, through the new Advanced Models with a 144 Hz Full HD display and up to the GeForce RTX 2080 GPU, all with Max-Q design.
Razer Raptor Product Information
Key Features
• Screen Size: 27 in.
• Resolution: WQHD (2560 x 1440p)
• Panel Type: IPS
• Refresh Rate: 144 Hz
• Response Rate: 4 ms with Overdrive, 1 ms with Motion Blur reduction, 7 ms typical
• Gaming Modes: FPS / Racing / MMO Mode / Streaming
• Viewing Angle: 178 Degrees (H/V)
• Aspect Ratio: 16:9
• Contrast Ratio: 1000:1
• Brightness: up to 420 Nits
• Colour Gamut: 95% DCI-P3
• HDR: Yes
• Height Adjustable Stand: Yes, w/ 90-degree tilt for easy port access
• Connectivity: 1 x HDMI 2.0, 1 x DP 1.4, 1 x USB-C (supports DP1.4), 2 x USB 3.0 Pass Throughs
• Included Cables: 1 x Power, 1 x HDMI, 1 x Display Port, 1 x USB-C (also supports DP and Power Delivery), 1 x 2 USB-A 3.1
Price:
Razer to announce local pricing.
USD $699.99
Availability:
2019
Razer Blade 15 RTX Graphics Product Information
Key Features
• 8th Gen Intel® Core™ i7-8750H Processor (6 Cores/12 Threads, 2.2GHz/4.1GHz)
• Display Options:
o 15.6-in. IPS Full HD (1920 x 1080) 144 Hz, matte, individually colour calibrated
o 15.6-in. IPS 4K (3840 x 2160) 60 Hz, capacitive multi-touch, individually colour calibrated
• Graphics Options:
o NVIDIA® GeForce RTX™ 2060 (6 GB GDDR6 VRAM)
o NVIDIA® GeForce RTX™ 2070 with Max-Q Design (8 GB GDDR6 VRAM)
o NVIDIA® GeForce RTX™ 2080 with Max-Q Design (8 GB GDDR6 VRAM)
• Storage Options: Supports up to 2TB SSD
o 256 GB SSD (M.2 NVMe PCIe 3.0 x4)
o 512 GB SSD (M.2 NVMe PCIe 3.0 x4)
Price:
Razer to announce local pricing.
Starting at USD $2,299.99
Availability:
2019
For more information about the Razer Blade, please visit: razer.com/blade.