Switch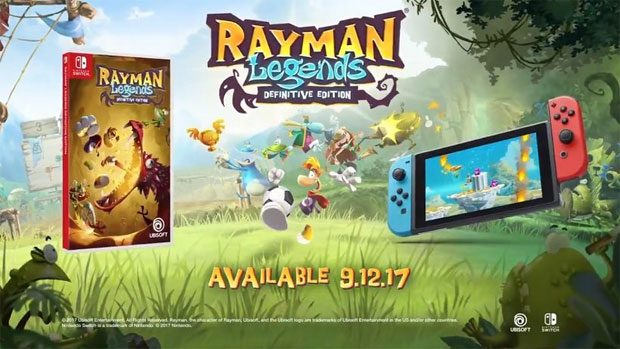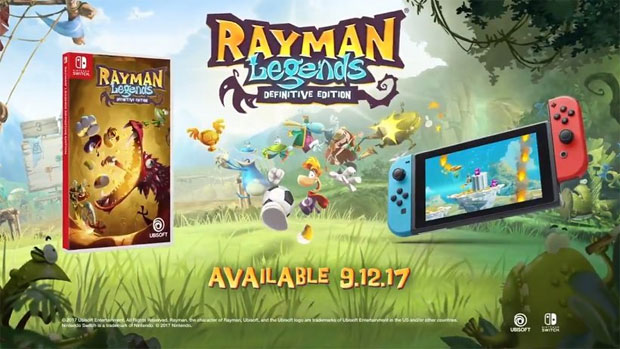 Published on September 20th, 2017 | by James Wright
Rayman Legends Switch Review
Summary: Rayman Legends on the Nintendo Switch is a true overload of fun!
The classic Ubisoft arcade game Rayman Legends is now available on the Nintendo Switch and although it is a mirror image of the main console versions, it offers some clever Switch mechanics to give this title a fresh feel. This includes Wireless Local Multiplayer with up to 4 players, including Joy-Con compatibility and the use of the Nintendo Switch touch screen plus the gyroscope to up the mechanics of this title. Furthermore, it makes for a great 2-player game, particularly with the use of the Joy-Cons which is where this console shines and the game.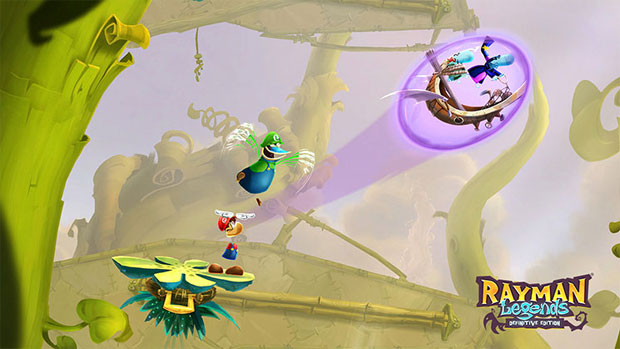 At its core, Rayman Legends is a 2D arcade platformer with modern gaming mechanics as our popular Ubisoft hero returns to rescue all the Teensies who have been abducted by a nefarious evil. It's basically that classic clichéd plot that is actually quite fun and what arcade game wouldn't include token rescues. The game also offers players a cooperative experience which is equally if not more entertaining than the single player.  In single player you do need the help of other characters to get you through the game such as Murfy the Frog. Thankfully the developers have mapped out the controls to make this process quite easy such as tickling an ogre or moving floating shapes while still controlling your main character.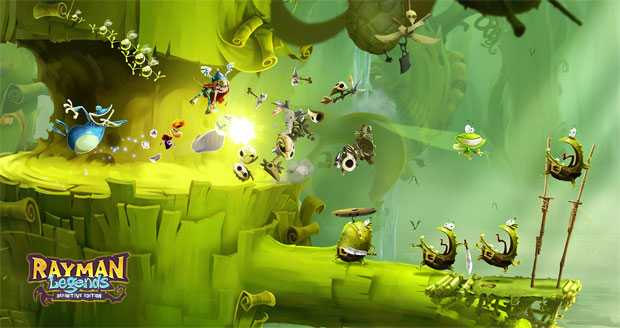 But what makes Rayman Legends so exciting is the variety of different levels and each area that you play is quite different, including the challenges you face which keeps this game quite fresh and entertaining. As you explore this world and if you really want to get even more immersed, players have the option of collecting all the Teensies and Lums in the game which can be quite tricky. For those gamers that don't have the time to collect them all, you can still finish the game.
However Teensies do unlock additional content such as levels and challenges. Lums on the other hand gives players additional medals to collect and scratchies that unlock new characters and galleries. Like most arcade games you do face the token boss battle which requires you to find a weakness in their virtual armour and is more puzzle meets combat. There are also a variety of characters that you can choose opposed to Rayman which is great for multiplayer.
The level design behind Rayman Legends is still one of the best 2D platformers to date with lots of challenges, power-ups and characters to be found along the way. Another cool element about the Nintendo Switch version is that the developers have incorporated the touch screen which does make for interacting with the game a much more solid experience. The gyroscope feature works well but can become a little annoying if you want to lazily lay on the couch.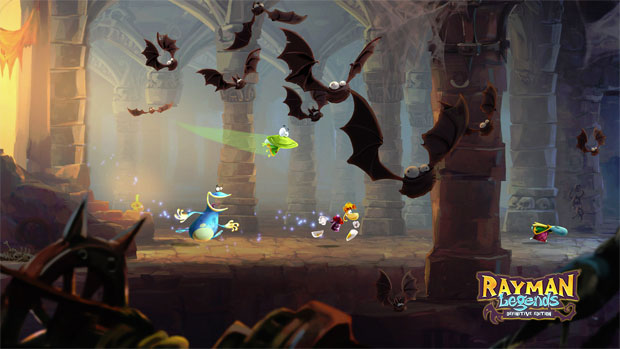 There's also a total of 34 playable characters, including exclusives such as Mario Rayman, the Prince of Persia and even the Assassin's Creed Rayman. In terms of stages, there's around 40 which offers plenty of variety and challenges to be found along the way. There's even a 'football' game called Kung Foot that makes for a fun game of virtual soccer in the Rayman universe.
The multiplayer component of the game is also pretty flawless and does offer challenges for players which increases the longevity of the title. Controls are perfectly mapped on the console and it's great that the game swaps between single-player and multiplayer with perfect transition. All in all, Rayman Legends is what arcade gaming is all about and works flawlessly on this console.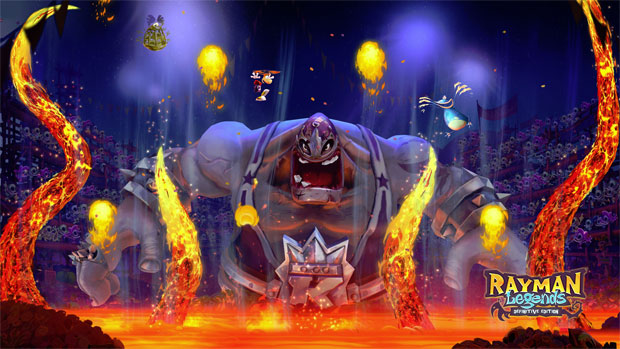 Graphics/Audio
Graphically, Rayman Legends looks amazing on the Nintendo Switch with its high definition graphics and a colour palette that looks like it has been taken from the 1971 film Willy Wonka and Chocolate Factory. The game just looks so vibrant and the colours just pop out of the game, both in TV mode and tablet. Musically, Rayman Legends is brilliant and the music goes hand in hand with the gameplay. Even long after you've finished playing Rayman Legends, you'll still be humming the very catchy music.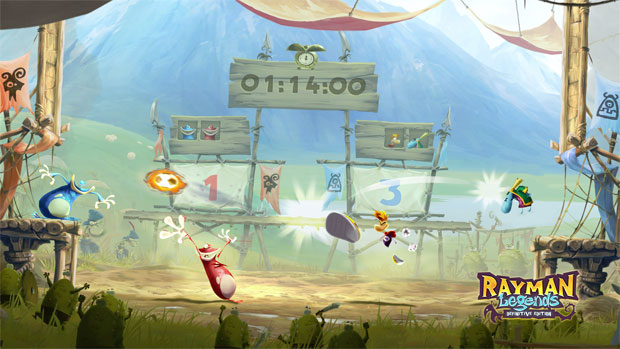 Final Thoughts?
Sure, this is not a new game but Rayman Legends is a truly fun game on the Nintendo Switch that is definitely a must have title if you love arcade games, particularly of this calibre. Lastly, the level design is brilliant and the developers successfully take a 2D game and turn it into something very special on this new portable console that not only pays homage to the platformers of yesteryear but creates a very compelling modern game for the 21st century.
Key Features
Wireless Local Multiplayer: thanks to the new capabilities of the Switch and its Joy-Con, Rayman® Legends: Definitive Edition will enable up to 4 players to experience wireless local multiplayer.
Kung Foot Update: Rayman® Legends: Definitive Edition will bring new features for Kung Foot!
Touch Gameplay: Rayman® Legends takes full advantage of the Switch and its new controllers' capabilities. Undock your Switch device and use the touch screen to take out enemies, manipulate platforms, cut ropes to clear a path and much more. With the gyroscope technology, you can move rotating platform and there are many more surprises to come!
Play Everywhere, Anywhere: Thanks to the Switch and its new controller play with your friends at any time! The Nintendo Switch allows you to keep playing the game when you want solo or multiplayer.
Challenges: Connect with your friends through a variety of challenges that will test your skill and speed. Check the leaderboards to see where you rank around the world.
Rayman Rocks!: Jump to the beat of a drum, punch to the bass line, even zip-line during a guitar sustain. Timing and rhythm are the key to beat these maps set to music. See if you have what it takes to be a Platforming Hero.