Blu-ray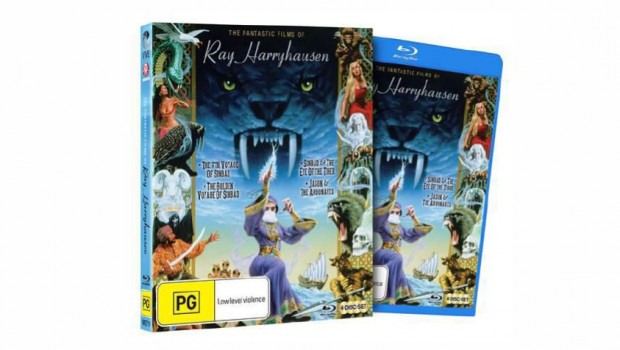 Published on June 25th, 2015 | by admin
RAY HARRYHAUSEN BLU-RAY COLLECTION OUT AUGUST
Thursday, June 25, 2015 – Via Vision Entertainment is excited to announce the release of The Ray Harryhausen Collection on Blu-ray (also available on DVD). The 4-disc boxed set showcasing four gems from the legendary Hollywood stop-motion animation master's career is available for the first time in Australia on Blu-ray. Look for it August 19.
Pioneer. Innovator. Auteur. Harryhausen is all of these superlatives and more to movies. Dynamation, the incredible and painstaking process of splitting live action to facilitate the interaction of models with actors, became to fantasy fans, movie buffs, historians and awestruck kids his signature. Now the legacy lives on in the films of Steven Spielberg, Peter Jackson, Sam Raimi, Tim Burton and many others. Revered and beloved films such as Army of Darkness, Jurassic Park and Corpse Bride all owe him a debt as do many of the blockbuster special effects driven films of today.
Harryhausen, whose own inspiration for fantasy cinema originated as a child after viewing The Lost World and later King Kong, honed his skills as a visual effects technician, before making the jump to artist. In doing so he elevated the much undervalued process of stop  motion into an art form especially on action-adventure classics such as The 7th Voyage of Sinbad, The Golden Voyage of Sinbad, Sinbad and the Eye of the Tiger and Jason & the Argonauts; all of which are included in this collection in limited edition packaging.
The 7th Voyage of Sinbad, directed by Nathan Juran "teems with bizarre monstrosities that jolt and dazzle the audience" writes Glenn Erickson in DVD Savant. Sinbad undertakes a quest to the remote island of Colossa inhabited by monsters to help cure a princess shrunken by an evil wizard and prevent a war. The animation is subtle, nuanced. This is the very dawn of CGI. Harryhausen's Honorary Academy Award might be worthy of this film, alone. Other notable highlights include the battle with the Cyclops and a dazzling Bernard Herrmann score.
Golden Voyage of Sinbad was the tenth collaboration between Harryhausen and producer Charles Schneer. A crafty homunculus sends Sinbad on an adventure to find a treasure beyond imagination. On the way he encounters a grotesque centaur, a winged griffin and an imposing statue. Classical, Freudian, Christian and pagan motifs are melded together with verve in this unashamed adolescent matinee fare. Jonathan Rosenbaum writes the "raison d'etre is some first-rate Dynamation special effects from Ray Harryhausen including a ship's figurehead that spring to life and Sinbad crossing swords with a six-armed statue."
"I'm not exaggerating when I say that he changed my life." – Roger Ebert on Ray Harryhausen
Sinbad and the Eye of the Tiger, the third in the series, impresses with the exotic locales of Spain, Jordan and Malta and exotic beauties namely Jane Seymour and Taryn Power (daughter of Tyrone). Prince Kassim, the rightful royal heir is reduced to the status of a baboon "albeit one who retains – at least for a time – the ability to play chess" observes Lawrence Van Gelder in the New York Times, and his loyal servant Sinbad sets sail to a dangerous island to save him despite deadly opposition from a witch.
Jason & the Argonauts remains a highpoint of the golden age of fantasy cinema. Here the legendary Greek hero and his band of courageous adventurers embark on a perilous quest for the Golden Fleece at the behest of the goddess Hera. From the outset things look bleak that anyone will return alive. Think 300 meets The Wild Bunch only with Hercules and Medea. Among its many treasures is the classic battle with the seven skeletons which Roger Ebert hails as, "surely one of the greatest visual effects sequences in motion picture history."
The collection includes extensive bonus supplements including a rare documentary on Ray Harryhausen. All four films average a 7.1 rating on IMDB. Tom Baker (Dr. Who) Patrick Troughton (Dr. Who), Caroline Munro (For Your Eyes Only), Nigel Green (Zulu) and Nancy Kovak (Bewitched) appear among a cast of performers now known as icons in pop culture. "Do you know who directed Jason & The Argonauts? Neither do I. But I know Ray Harryhausen did the effects." – Film Historian Jonathan Eig