PS5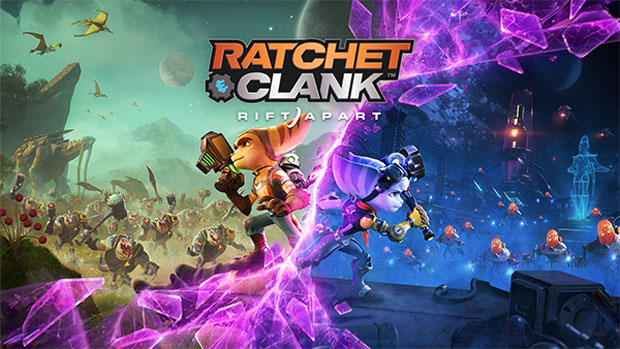 Published on June 11th, 2021 | by Andrew Bistak
Ratchet & Clank Rift Apart Review #PS5
Summary: Ratchet & Clank Rift Apart is a wow experience on the PlayStation 5 that boasts next-gen graphics and gameplay to match with multiverse mayhem thrown into the mix!
The PlayStation 5 is an impressive next-gen console that while a worthy successor to the PS4, it is a little short on exclusives, however the gaming world is about to get shaken up with Insomniac Games' latest Ratchet & Clank game that successfully uses all the new hardware features of the PS5 to deliver a next-gen experience. As a history lesson, the original Ratchet & Clank game was released in 2002 on the PlayStation 2 that followed mechanic turned hero Ratchet, a feline-humanoid alien (or Lombax) and his humorous, slightly defective robot sidekick Clank. Best of all, their friendship, witty banter plus amusing and clichéd 'nefarious' villains worked really well.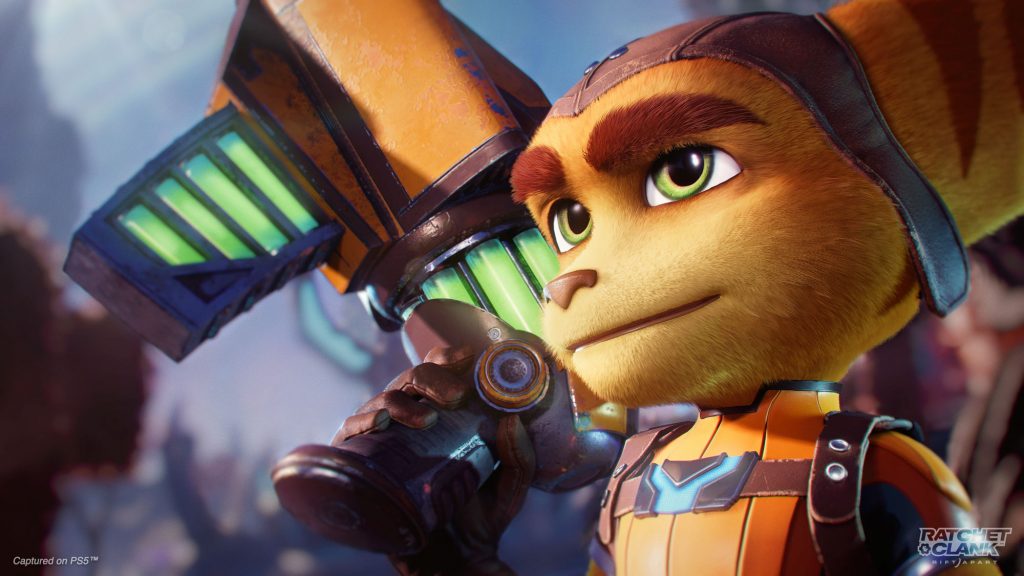 However before I get into the review, the game supports three graphical modes that include Fidelity, Performance and Performance RT mode which offer a slightly different graphical experience in terms of quality and framerate. As a result, Ratchet & Clank Rift Apart looks amazing on the PlayStation 5 that has parallels to a Hollywood blockbuster animated feature from Pixar or Dreamworks with its detailed level design, perfect character designs and special effects which makes this game a true visual spectacular. Oh, the world building in this game is probably the best and most diverse that I've seen in a long time.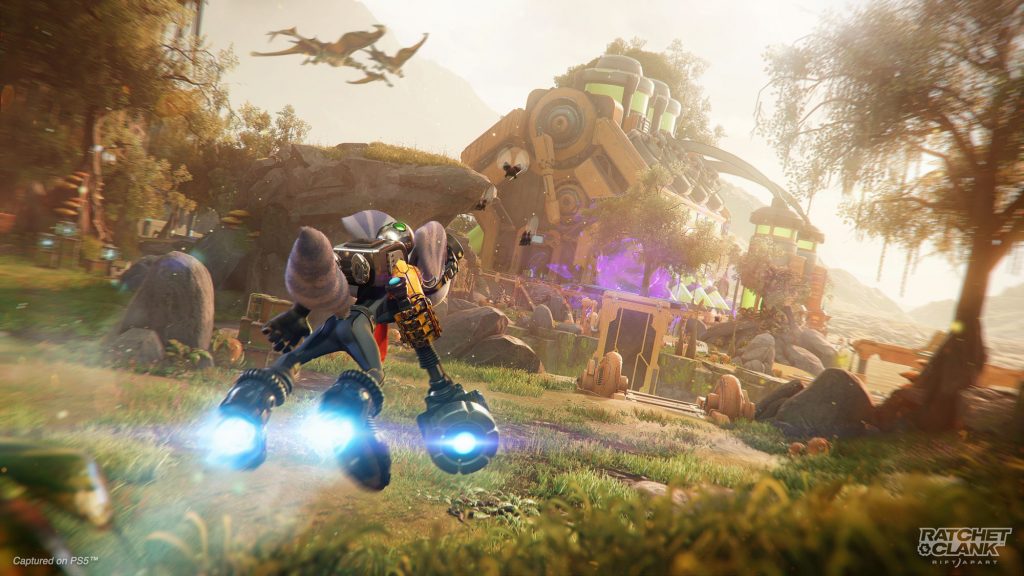 And then when you delve deeper into the aesthetics, the characters themselves, especially Ratchet (James Arnold Taylor) and Rivet (Jennifer Hale) look amazing, particularly their realistic facial expressions and realistic fur that moves in the wind. The first part of the game really showcases the fancy visuals of the PS5 as our hero battles a gigantic robot and gets flung through a myriad of different realities and is a true "WOW" moment in gaming. The parade for our hero Ratchet is insanely detailed and the confetti effect is like seeing a Skittles factory explode with its kaleidoscope of colours with no framerate drop at all. Then you have all the dimensional tears and strange creatures peering through or slipping out that make you appreciate the power behind the PlayStation 5.
Complementing the next-gen visuals with added ray tracing aesthetics is the comic book inspired story behind Ratchet & Clank Rift Apart that finds our hapless hero Ratchet and his best friend Clank (David Kaye) trapped in alternate universe. To make matters worse, one universe has already been conquered by a familiar yet different villain and with the very core of the multiverse at risk, what better way to save all realities then by teaming up with your alternate universe counterpart and for Ratchet, that's Rivet, a female Lombax. So how did all this dimensional craziness happen? Being the good friend he is, Clank created the Dimensionator to help his buddy Ratchet explore other realities in order to find his missing race, the Lombax. Unfortunately for our heroes, the totally loony and mad scientist robot, Dr Nefarious steals the Dimensionator and during the chase to recover the item, it gets damaged and starts creating holes in the multiverse and it will take heroes from two universes to help save reality as we know it. Additionally, there's plenty of homages to classic sci-fi franchises with one being Star Wars and the writers of Rift Apart use quite a bit humour to help draw you into the crazy story.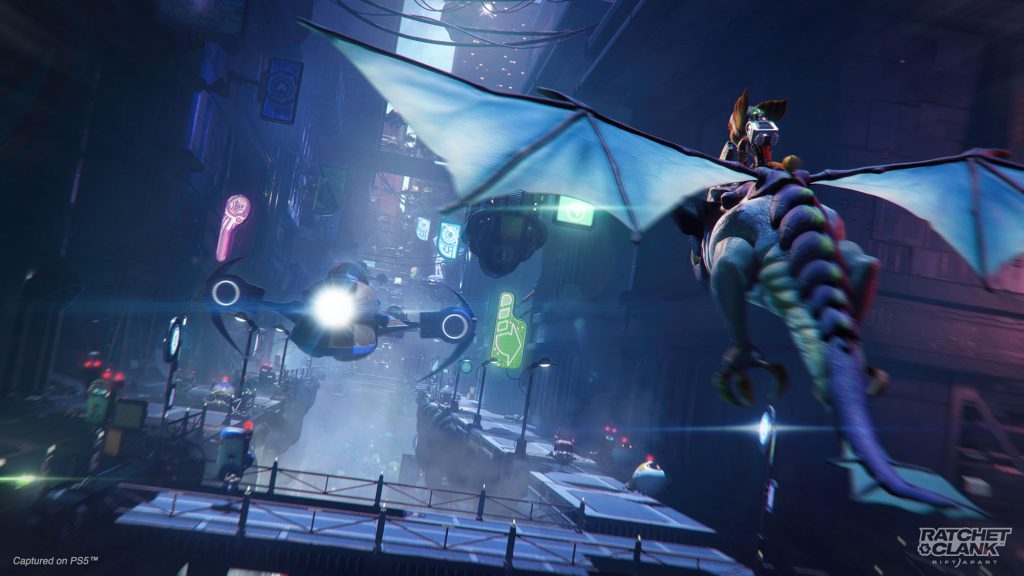 Needless to say, it's a match made in multiverse heaven as together you fight and platform your way through a variety of different stages, puzzles, enemies like robots, aliens and space pirates to big bad bosses and while it feels reminiscent of previous Ratchet & Clank games, the gameplay has received a PlayStation 5 upgrade as well, including the all-new DualSense Controller with its clever haptics, including dualshock and audio. Adding to the presentation is the first-class voice acting who all add to the story, character development and humour of the game, particularly our heroes and the villains.
At its core, Ratchet & Clank: Rift Apart is a modern platformer meets third person shooter and while it is not an open-world game, the level design in the stages makes it look you are part of something big, so the illusion is definitely there, including quests and sub quests to help you explore these new worlds. Like previous games, you have your trusty mechanic wrench to smash crates like Thor in order to collect bolts which can then be used to purchase new items and upgrade your existing ones.
Levelling up also helps you in your endgame quest, particularly the enemies that you face. While you ride animals, grind like Tony Hawk, float around, jump, smash, fight, explore and make new friends, one new feature is your ability to tether to portals. By tethering to portals, it allows you to teleport into another area that is great when you are fighting enemies or trying to solve puzzles. Just be warned that you do need to reorientate yourself at times. Another new mechanic was the phantom dash that allows you to phase through reality to get to another point in your time quicker which also works for double jumps. Also, while Ratchet and Rivet are similar in how they play, fans of Clank will be pleased to know that again you get to control this bot with puzzles and mini-missions, including a new 'alternate' universe robot spider called Glitch (Sara Amini) who hacks. Oh, there's also KT or KIT (Debra Wilson) who is the alternate universe Clank and is another fun new character in this franchise.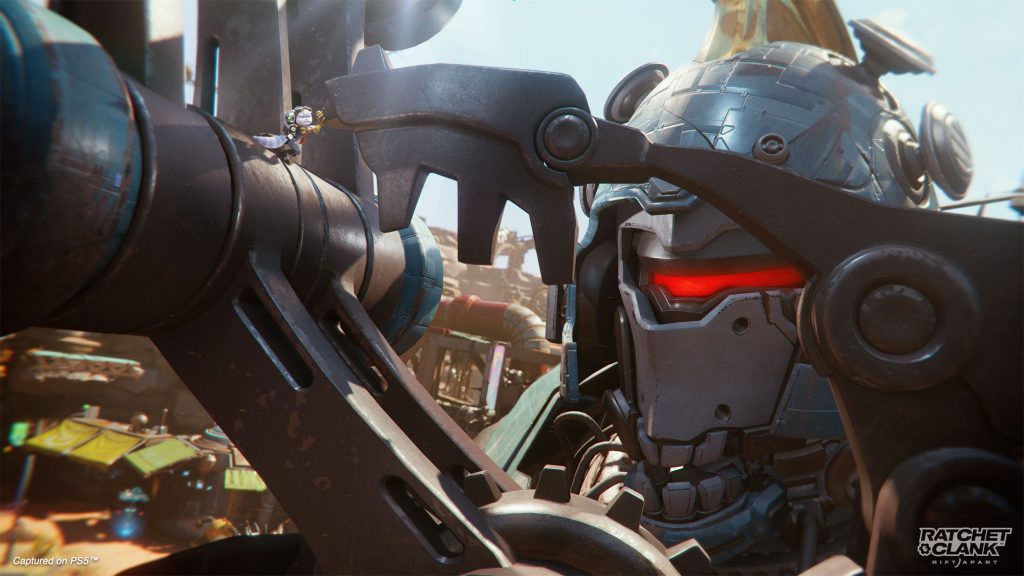 Combat is handled well in the game and you have access to a wide variety of different weaponry from traditional blasters to some very clever ideas that I don't want to spoil here, including power-ups that can be purchased from your bolt collecting. Even so, combat can be quite hectic at times, particularly when the enemies start to pile up as you're shooting valiantly (and sometimes manically) to save your life. Fortunately the developers include a handful of difficulty levels and if you just want to enjoy the story with minimal stress that is also an option. However on those higher levels of difficulty, ammunition can be scarce and those boss battles are indeed a challenge but thankfully not on the same calibre of Demon Souls.
As mentioned earlier, the graphics are insanely good in all three modes. Fidelity mode outputs dynamic 4K at 30fps plus ray tracing which is the real-star of beautiful graphics aesthetics here. The ray tracing IS amazing, especially the reflective surfaces such as shiny tiles, wet floors or our favourite bot, Clank. Performance RT mode displays dynamic 4K at 60fps with some ray tracing and the increased frame rate from 30 to 60 definitely makes the game smoother. However if you like pretty graphics, I would recommend playing it in Fidelity only and for you not to check out the other modes because as the old saying goes, "You Don't Know What You Don't Know". Lastly, the soundtrack is brilliant and nicely brought it all together that for me and in the end, it made Ratchet & Clank Rift Apart, one of the best games in the series.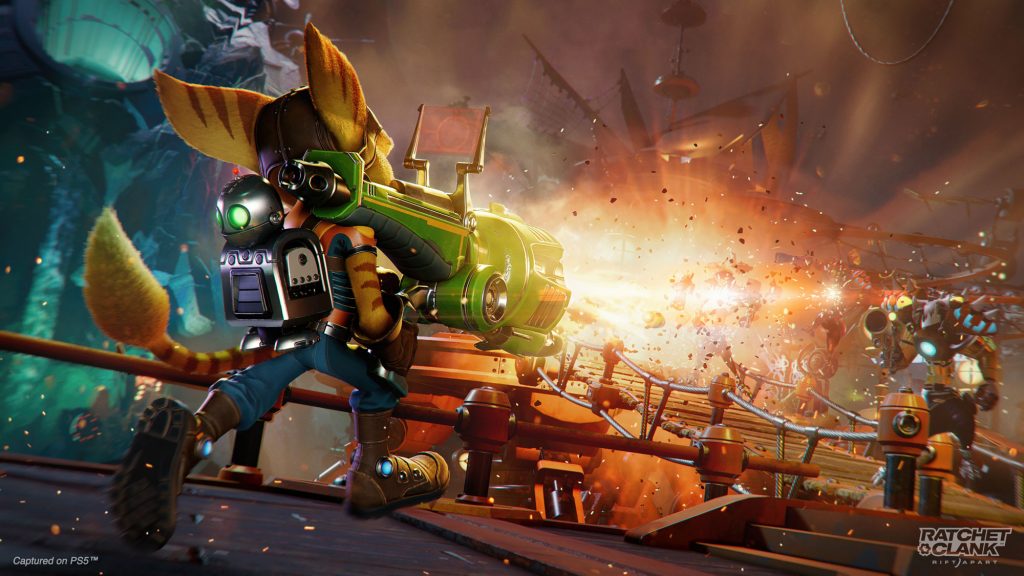 Final Thoughts?
From the very first level to the very last, Ratchet & Clank Rift Apart is a true gaming treat that I thoroughly enjoyed and it was like being a Rollercoaster ride between dimensions. It delivered an almost flawless gaming experience that boasts next-gen visuals and mechanics plus an over the top and light-hearted story with two equally entertaining and engaging protagonists, Ratchet and Rivet. So if you're looking for that true next-gen exclusive on the PlayStation 5, Ratchet & Clank Rift Apart is indeed that game that makes it my first must play title of 2021.
Highly Recommended!!!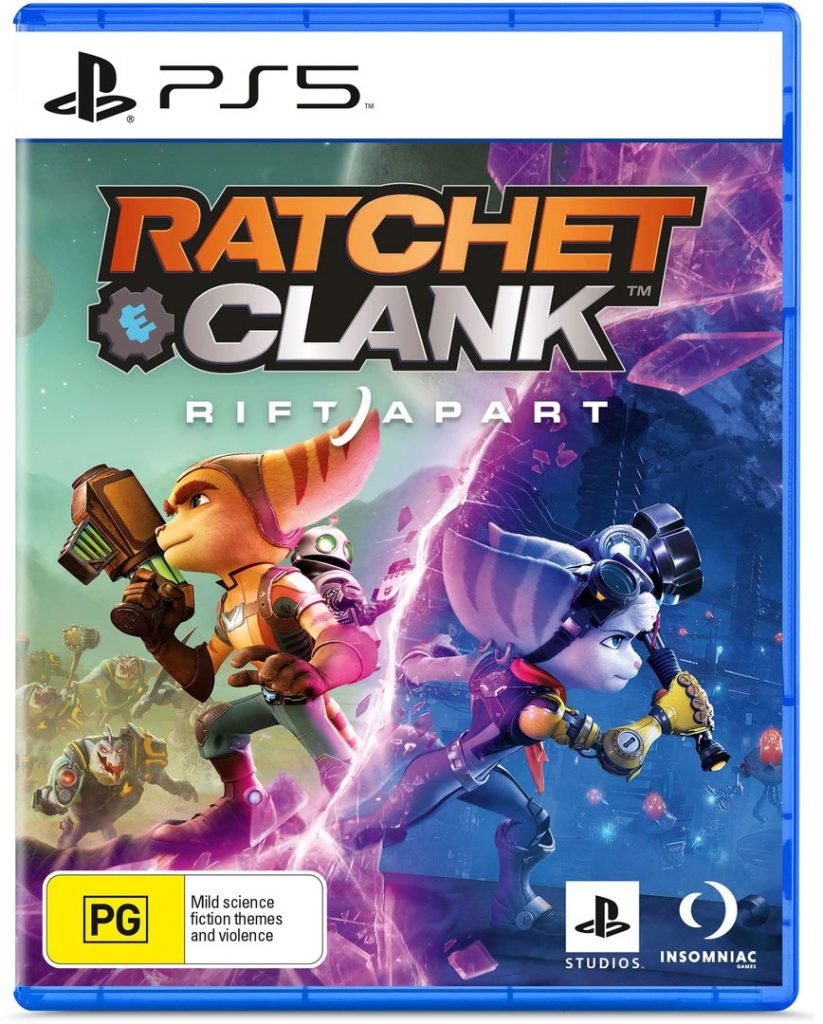 About Ratchet & Clank: A Rift Apart

The intergalactic adventurers are back with a bang in Ratchet & Clank: Rift Apart. Help them stop a robotic emperor intent on conquering cross-dimensional worlds, with their own universe next in the firing line.
Built from the ground up by acclaimed studio Insomniac Games, go above and beyond with the mind-blowing speed and immersive features of the PS5™ console. Brand-new haptic feedback and adaptive trigger technology creates astonishing physical sensations, bringing in-game actions to life in your hands via the DualSense™ wireless controller.
Enjoy a visually dazzling, interdimensional adventure, complete with familiar faces and some new allies – only on the PlayStation®5 console.
Key Features
Blast your way home with an arsenal of outrageous weaponry.
Experience the shuffle of dimensional rifts and dynamic gameplay.
Explore never-before-seen planets and alternate dimension versions of old favorites.
PS5™ Key Features
Feel in-game actions through the haptic feedback of the DualSense™ wireless controller.
Take full control of advanced weapon mechanics, made possible by adaptive triggers.
Planet-hop at hyper-speed via the near-instant loading of the PS5™ console's SSD.
Immerse your ears with Tempest 3D AudioTech* as you work to save the universe.
Enhanced lighting and ray tracing render dazzling in-game worlds – displayed in crisp, dynamic 4K and HDR**.
Choose Performance Mode to enjoy targeted 60 frames per second gameplay.