Comics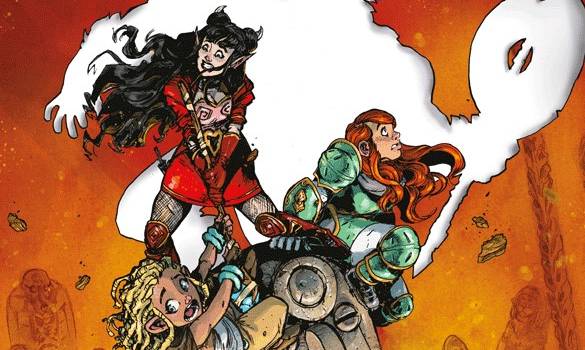 Published on February 28th, 2018 | by Dana Folkard
RAT QUEENS VOL. 2 #8 REVIEW
Summary: What the hell is going on in Palisade?
SPOILER WARNING!
What the hell is going on in Palisade?
Something strange is afoot in the town of Palisade and only Betty seems to be aware of it. After thwarting a world domination plot, the Queens are left with a greater tragedy, as one of their own has been banished for life to the notorious Vaale Asylum.
This issue begins with Sawyer taking Hannah by boat to an ominous looking fortress out at sea. We quickly learn that she has been exiled for life to Vaale Asylum, a kind of prison for wizards and mages. Hannah's exchange with Sawyer is heartfelt and sad, as they reflect on their love for one another. Unable to do anything to save her, Sawyer must say goodbye and relinquish her to the asylum's gatekeeper. Alone in her cell with her life in tatters, Hannah is suddenly visited by the mysterious reality wizard who offers her hope and salvation, but at what cost?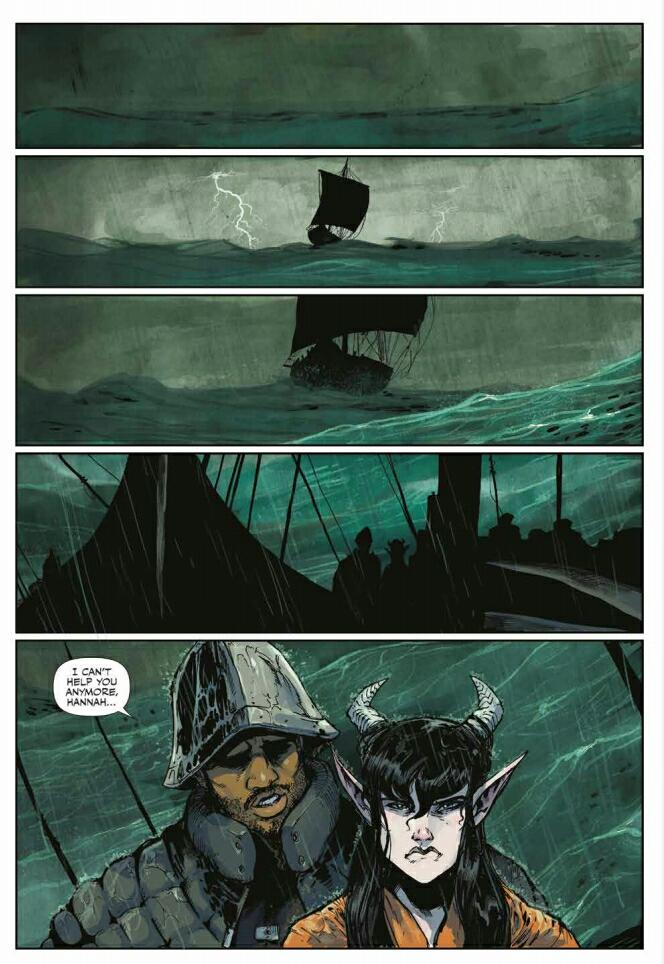 Meanwhile, the events that took place two days earlier, leading up to Hannah's imprisonment are revealed to us. Dee, Betty and Hannah ambush a group of snail wizards who have been planning a plot for world domination. These are the guys who have been taking Palisade's residents and using them for sacrifice during their blood rituals. The Queens take a hostage down into the snail wizards underground realm, hoping to put a stop to their plans before it's too late. Betty is quiet, reflective and troubled by the fact that Violet is missing and no one seems to even remember that she existed. When she questions the other Queens about Violet, she is dismissed and teased by them, as they claim that she has been obsessing over this mysterious woman for years…something is seriously wrong here. They then stumble upon a summoning ritual, where we see the snails trying to awaken an ancient god called Barrask. Hannah is on a rampage with her fancy new wand, taking to blowing off the heads of these snails before they can even speak. She underestimates the power of this wand and foolishly uses it in an impulsive move that brings down more than just the snail god.
Things are falling apart for the Queens, and it's tragic to see their little family broken and fragmented in such a way. Hannah has been shipped off to prison, without any of the Queens giving a jot about her. Dee appears apathetic and disinterested in the state of the Queens, coming across aloof and somewhat callous. Betty is deeply troubled, as she appears to be the only one who remembers those who have suddenly gone missing. Braga is back with Tizzie without any recollection of her time with the Queens, and Violet has vanished without a trace. Everything is in shambles! What the hell is going on?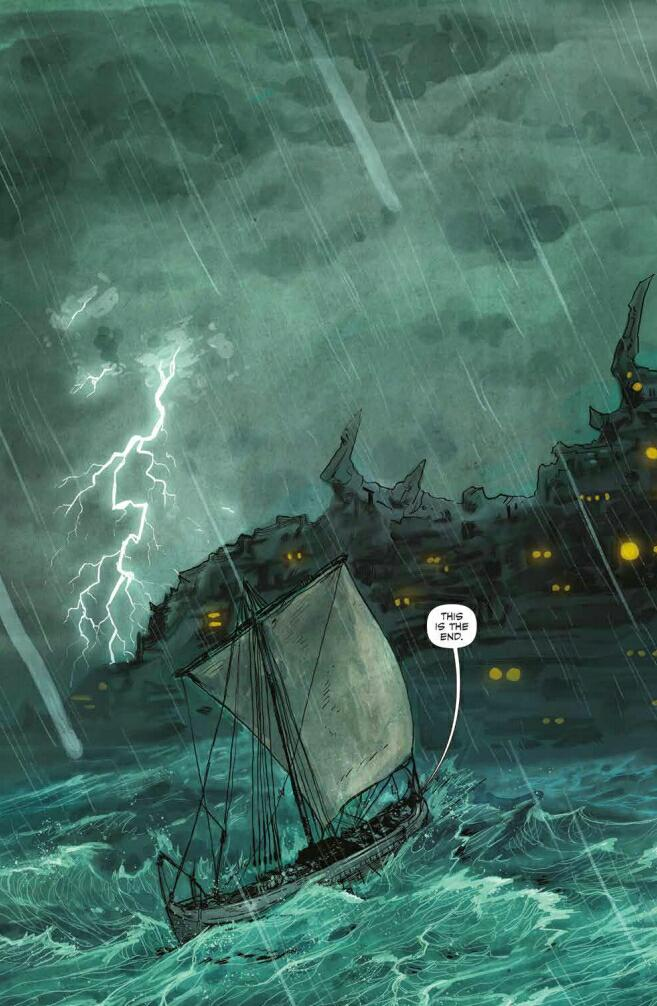 More is also revealed about the mysterious reality wizard. This is a character I'm incredibly intrigued about as he appears to be shaping up to be a powerful villain for the Queens. He appears to possess some kind of inter-dimensional powers, whereby he can alter and change reality or delete people from it. His appearance in Hannah's cell is bad news, and their encounter reveals some interesting information pertaining to Hannah, who I've always found to be a bit of an enigma. I'm curious to see where Kurtis Wiebe will take things and how they will unfold for our Queens in the future.
Owen Gieni's art is engaging and energetic in this issue, perfectly capturing the intense battle scene under the city. I really enjoyed this action sequence, finding the movements of the Queens to be energetic and fluid. These battle scenes are always fun and fast-paced, and seeing the Queens in action is always a treat. I also liked how the Gieni's art style takes an almost serious tone when we see Hannah being shipped off to the asylum. There is an intensity in these scenes that captures the dramatic shift in the emotional tone of the story as we see a very serious situation unfolding before us. The colour palette shifts from dark and moody colours in the asylum, to bright and vibrant colours with the events that happened on Palisade. I enjoyed this contrast, finding it to be a nice dramatic visual shift in the story.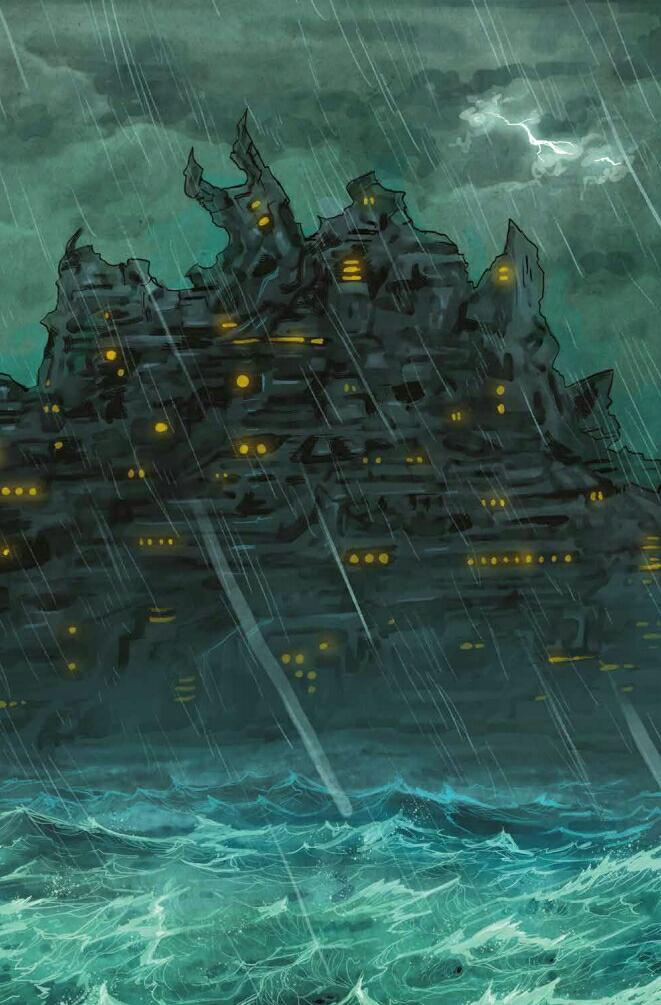 Overall, I found this to be an intense issue of Rat Queens, with the Queens lives in a state of upheaval. This issue raised a lot of questions for me and I'm curious to see how it will all pan out for them. I'm really looking forward to seeing what will happen to Hannah and the reality wizard in the next issue.
I'm giving this issue 4 out of 5 stars!
---
COMIC DETAILS
CREATIVE TEAM: Kurtis J. Wiebe, Owen Gieni, Ryan Ferrier
PUBLISHER: Image Comics/Shadowline Comics
PUBLICATION DATE: February 28, 2018
REVIEWER: Dana Folkard