Comics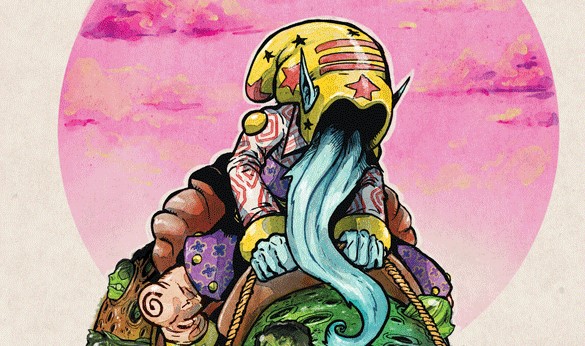 Published on November 23rd, 2017 | by Dana Folkard
RAT QUEENS VOL. 2 #6 REVIEW
Summary: A new wizard is in town.
Strange things are afoot!
Recently back from their trials in the dungeon with the "fish wizard", the Queens settle down for a raucous night of boozing, however, the peace doesn't last for long. There is a new wizard in town, offering to end people's suffering forever, and with him comes a troublesome new shift in the world.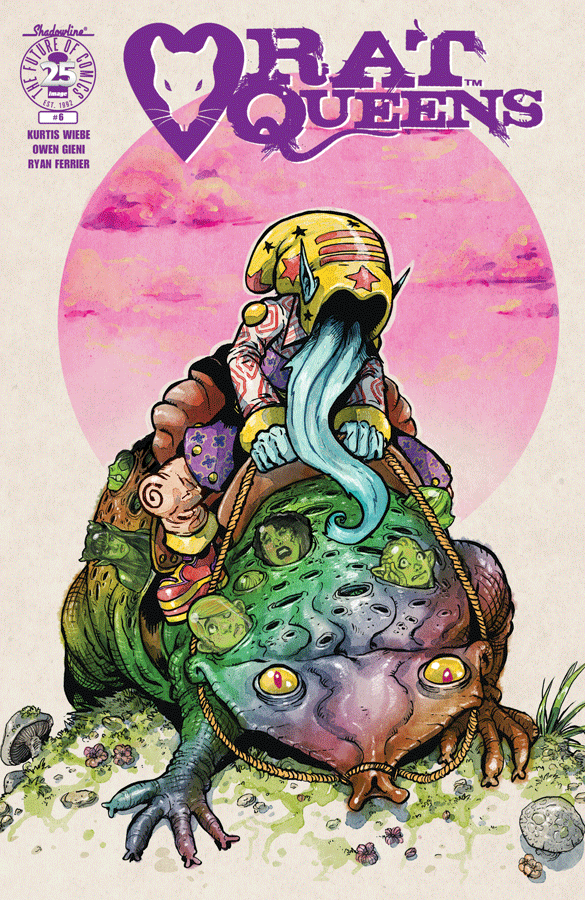 We begin this issue at the Black Satyr, the Queens tavern of choice for swilling wine and downing booze. The Queens have recently come back from questing, and with bags full of gold and loot, they are keen to spend big and enjoy the night. Betty, however, reveals that she already has a new quest lined up for them; a personal quest, as a friend of hers, Jason, has gone missing. We then jump to a flashback where we see Betty and Jason, choofing and chatting away. The conversation takes an interesting turn, as Jason mentions a strange path deep in the woods where reality bends and shifts, and worlds seem to intersect one another. The next day, Jason takes off on an adventure into the woods, and he hasn't been seen since. So, the Queens venture forth, leaving Palisade behind to go and find Betty's friend. They eventually find his tracks, and begin to follow the trail, however, the Queens start to feel weird as something strange begins to happen and unfold around them. Meanwhile, back home in Palisade, a greater threat is emerging with a new and dangerous wizard in town who is offering people an escape from pain and suffering.
Once again, I was sad to reach the end of this issue. I always find myself wanting more, and for the story to keep on going. There is never a dull moment for the Queens, as they seem to jump from one wild adventure and into another, even wackier one. There is a somewhat sad side-story that unfolds in this issue, focusing on the tavern owner's daughter, Madeleine. This is a girl who loves the Queens, Violet in particular, and she dreams of one day venturing forth and questing with them. However, her dreams are crushed when she approaches a battle weary Violet for advice on how to become an adventurer, and is told to abandon this dream. This is where we are introduced to the new, mysterious wizard who is now in town. It's not so much an introduction, but rather a cryptic reveal, that leaves us with a lot of  unanswered questions.
I guess for me, what I love most about this story is the characters. They all work so well together, and it's honestly hard to pick a favourite one. Often the journey to their destination is sometimes the funniest part, with sharp banter, great chemistry and lewd jokes aplenty. There are also some serious moments, where they begin to question life and love, and I enjoy how this contrasts nicely to the frivolous and light-hearted chatter. I also need to also take a moment to talk about Hannah. Hannah never fails to make me laugh, and seeing her float around on a giant pink bubble in a spotted bathing suit, whilst the other Queens trudge around on the ground, was glorious. Heck, this woman's a genus!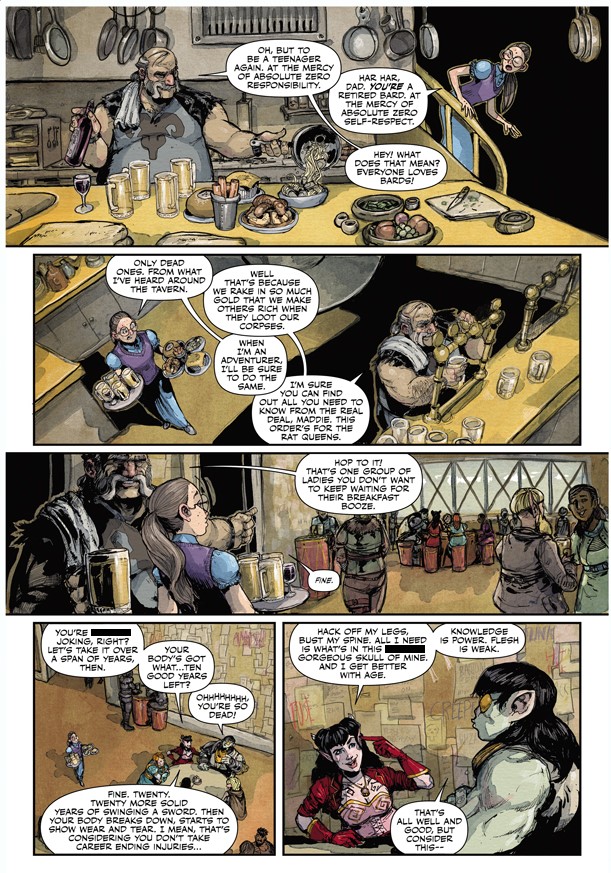 I find that Owen Gieni's art is wonderfully suited to this high-fantasy setting. Detailed and distinctive, his art reflects the diverse nature of this world, with all manner of strange and wonderful creatures. There is a technicoloured toad that the Queens encounter, and its form and design is both interesting and gross, as we see large gaping holes in its back where nasty things pop out of. There is a point in this issue, where Gieni's art style dramatically changes, bringing an almost retro Disney-like quality with it. I loved seeing the Queens battle this psychedelic toad,all  looking like crazy caricatures of themselves. It's light-hearted and entertaining, and brings an interesting new visual dynamic to the story. The colouring reflects the tonal shifts in the story, helping to heighten the overall mood. There are a lot of vibrant colours used throughout this fight sequence, which contrast nicely with some of the darker and cooler colours that we see in Palisade and the forest.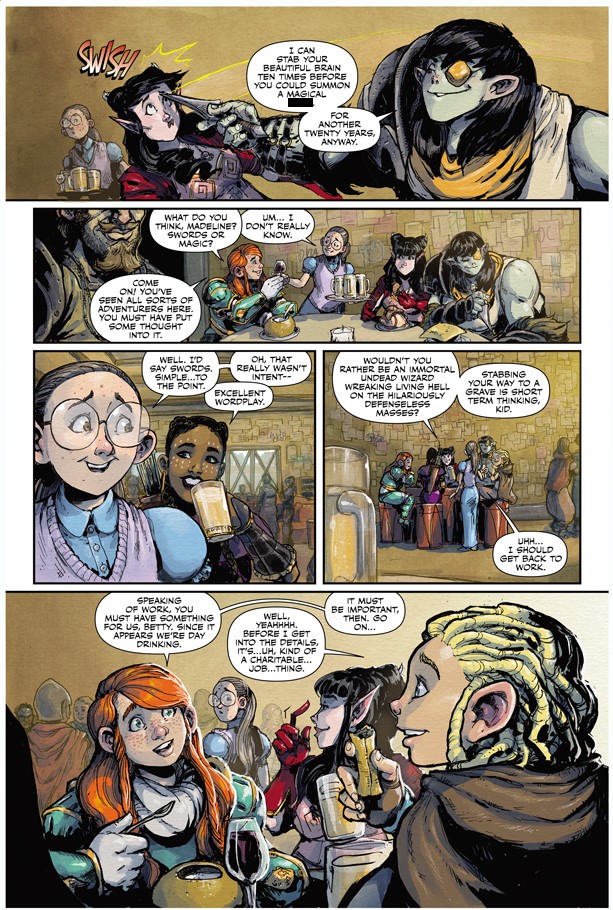 Overall, I found this to be yet another enjoyable chapter in this story. The Queens never fail to entertain me with the witty banter and hilarious antics. I'm very intrigued with the arrival of this new wizard, who brings with him a dark and compelling new twist. If you're seeking high adventure with a ragtag group of gals, then do yourself a favour and grab a cop ASAP!
I'm giving this issue 4.5 out of 5 stars!
---
COMIC DETAILS
CREATIVE TEAM: Kurtis J. Wiebe, Owen Gieni, Ryan Ferrier
PUBLISHER: Image Comics/Shadowline Comics
PUBLICATION DATE: November 22, 2017
REVIEWER: Dana Folkard