Comics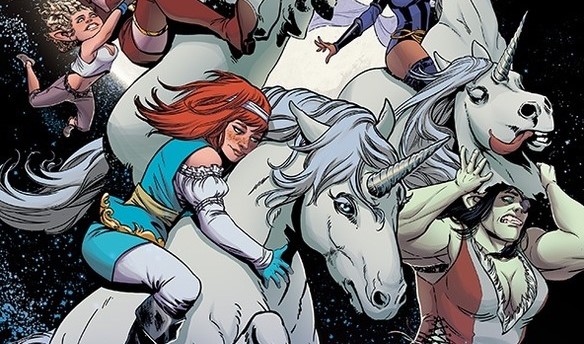 Published on April 10th, 2019 | by Dana Folkard
RAT QUEENS: SWAMP ROMP ONE-SHOT REVIEW
Summary: The Queens embark on a quest into the swamp, as they chase down an urban legend.
Rat Queens: Swamp Romp debuts the all-new creative team of Ryan Ferrier and Priscilla Petraites, who take up the gauntlet from Kurtis Wiebe and Owen Gieni. Unicorns, a swamp monster and a creepy old lech abound in the latest Queens adventure. Just another day for our beer-swilling, shroom-munching gals.
This one-shot begins at the tavern, where we see the Queens drunk and broke. The answer to their penniless situation comes in the form of a wealthy old man called Gossamer Hornwood who wishes to hire them for a dangerous, but highly paid revenge quest. He claims that his beloved unicorn was decapitated in swamps of Gnarnathal Forest by the slog chimp; an urban legend created to scare small children. Almost sounding too good to be true, Hornwood promises to leave the Queens his entire fortune upon his death if they agree to kill the slog chimp for him. For the most part, the Queens are keen to accept the quest for the promise of bountiful coin, however, Hannah's fear of the slog chimp makes her reluctant to join them, but join them she does. After accepting the contract, the Queens, along with a sickly Gossamer, embark on a quest into the dark, dank swamp, which takes them on a strange journey filled with nasty unicorns, an infectious disease and an angry swamp monster.
First things first, I just want to say that right off the bat this one-shot feels like a proper Rat Queens adventure. It has the sharp banter, unexpected developments and that essential Queens heart. For me personally, it's no surprise that Ryan Ferrier got this so right, as he is no stranger to the Queens and their nuanced antics, having worked as letterer on the Rat Queens in the past. He clearly knows these gals, this world and all of the wonderful shenanigans they get up to. This one-shot made me laugh, cringe and adore these sassy ladies and I'm really looking forward to when the series picks up again after this little taster, as I have high hopes for what's to come.
I don't want to spoil the amusing twist, but what I will say is that my unicorn-obsessed daughter would be devastated. I personally found the whole affair to be a glorious mess of chaotic mayhem. I absolutely loved where the story took me, and found the unfolding developments to be clever, amusing and fully fitting into this weird and whimsical world the Queens inhabit.
Priscilla Petraites art is full of that sassy Queens energy that fans have come to expect from these characters. They all still look like the Queens we know, however, Petraites has injected her own unique artistic style into this world and these ladies. The thing that stood out to me the most was how excellent the level of detail was on their faces, which made the Queens come alive on the page with their quirky and idiosyncratic expressions. Petraites linework and shading is highly detailed and layered, which brings a level of depth, especially when looking at the landscapes and background features. The colouring my Marco Lesko is bright and punchy and does a really good job at capturing light, which stood out during the night scenes.
Overall, I thought this was an impressive and highly enjoyable Rat Queens one-shot. Love the story, the banter and clever developments. Good job guys, keep it up!
I'm giving this one-shot 5 out of 5 stars!
---
COMIC DETAILS
CREATIVE TEAM: Ryan Ferrier, Priscilla Petraites and Marco Lesko
PUBLISHER: Image Comics/Shadowline Comics
GENRE: High fantasy
PUBLICATION DATE: April 10, 2019
REVIEWER: Dana Folkard