Comics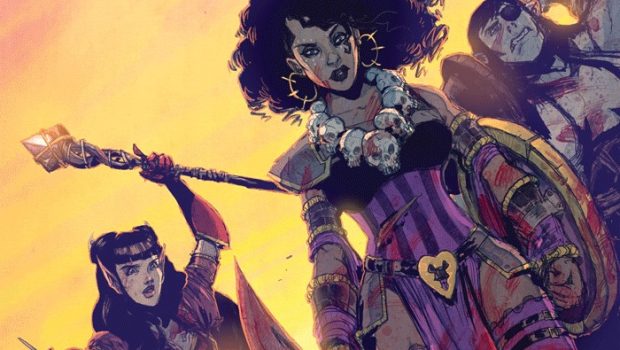 Published on May 24th, 2017 | by Dana Folkard
RAT QUEENS: CAT KINGS AND OTHER GARY'S #3 REVIEW
Summary: With wonderful illustrations, incredibly funny writing, filled with witty jokes and hilarious banter, this is one story that keeps on entertaining.
Fighting the undead, bizarre exchanges with cult hunters, getting pissed, paranormal sex and questing…sounds like another regular day for the Rat Queens. What new adventures are in store for this mischievous band of misfits?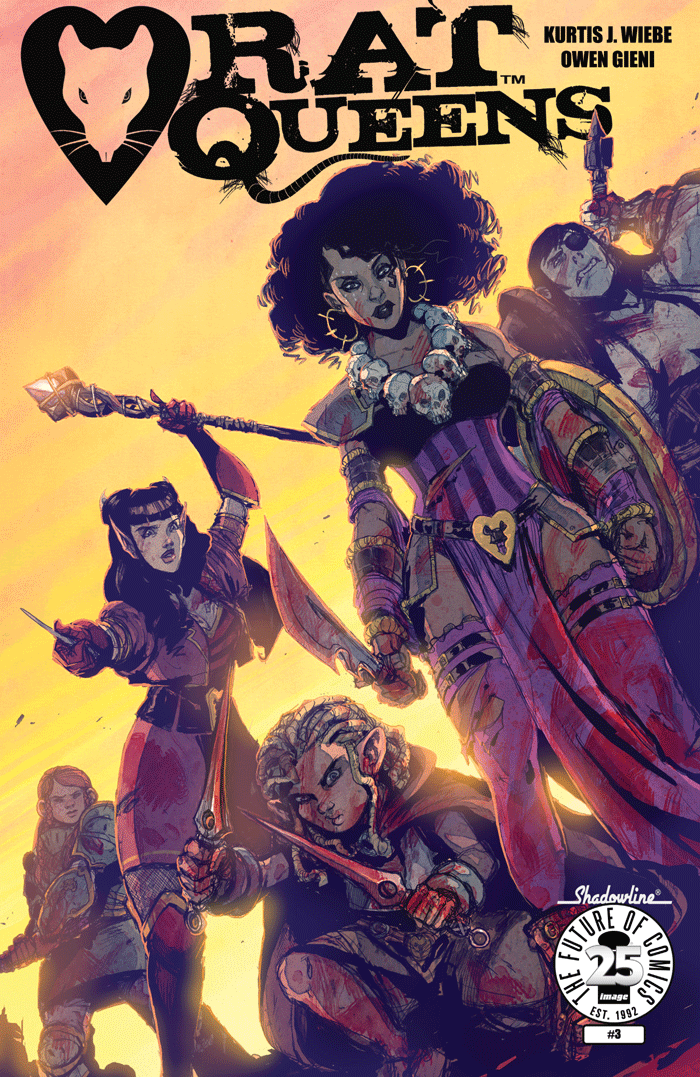 This issue of Rat Queens begins where the previous one left off, with the Queens rescued by a the fancy new arrivals in town, who are very apt at killing the undead…bloody do-gooders! After fighting off the horde of zombies, introductions are in order, and this is where we are formally introduced to The Chorus. This ragtag group of cult hunters were sent by the United Religions to "investigate" the unusual new cult in town. Yeah righto, they seem friendly enough…for now. After seeing them in action, the Rat Queens feel a little inadequate and in need of brushing up on their fighting skills. This topic dominates the conversation, which results in a distracted Hannah failing to notice the skull hanging on the doorknob to their house and walking in and seeing the one thing that can NEVER be unseen! Over breakfast the following day, the conversation turns to the cult and the timely arrival of The Chorus and their reputation and ability to strike fear in those who know of them. However, with looming bills and rent to pay, the Queens must go back to questing as they are all out of coin from the previous night's escapades. After deciding to take an unusual quest searching for magic food ingredients, the Queens depart on a new adventure filled with all sorts of challenges and hectic surprises.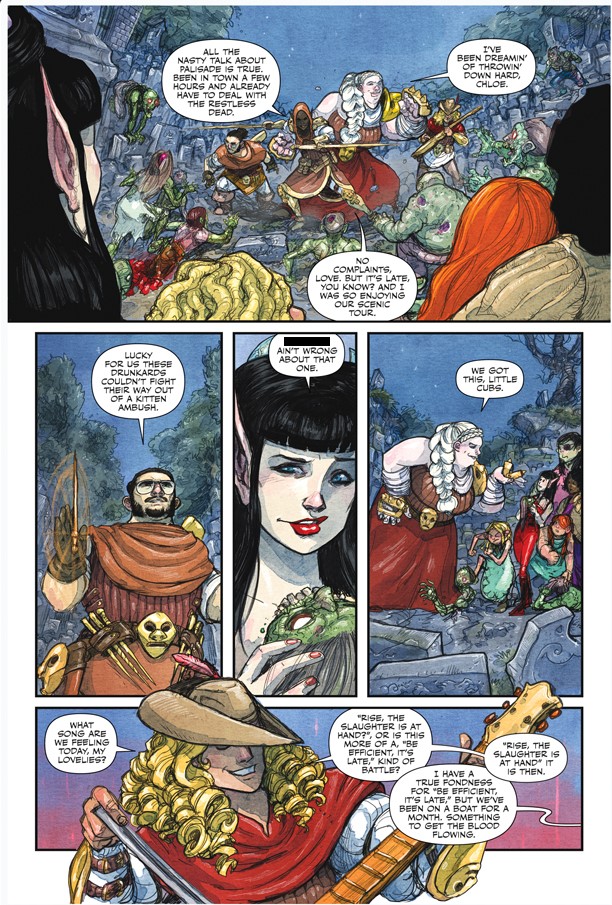 Every menial, tedious and everyday task always ends in some sort of wild adventure, filled with crazy shenanigans and frivolity for the Rat Queens. I just love how Kurtis Wiebe effortlessly weaves an engaging and hilarious story with clever banter, relatable characters and unlikely situations. It all comes together to form a dynamic story that is ever-entertaining in it's hilarious absurdity. I find that each of the characters all bring something unique and important to the narrative, heightening the complexities of the Queens personal rapport with one another. Whether it be Betty's ever-positive and funny way at looking at life, Hannah's obnoxious and self-deprecating jokes or Dee's "know-it-all" bookish nature, they're all vital in creating that wonderful dynamic that makes the Rat Queens special. In this issue, there are plenty of "laugh-out-loud" moments that'll have you in stitches, as they Queens fumble from one adventure to the next. There was one scene in particular that involved "astral fucking" that had me roaring with laughter. We also have the addition of a fun short-story at the end of the issue, written by Wiebe and illustrated by Max Dunbar with colouring by Sweeney Boo. It's an amusing little story about beach volleyball that features a whole lot of ball jokes…with every pun intended.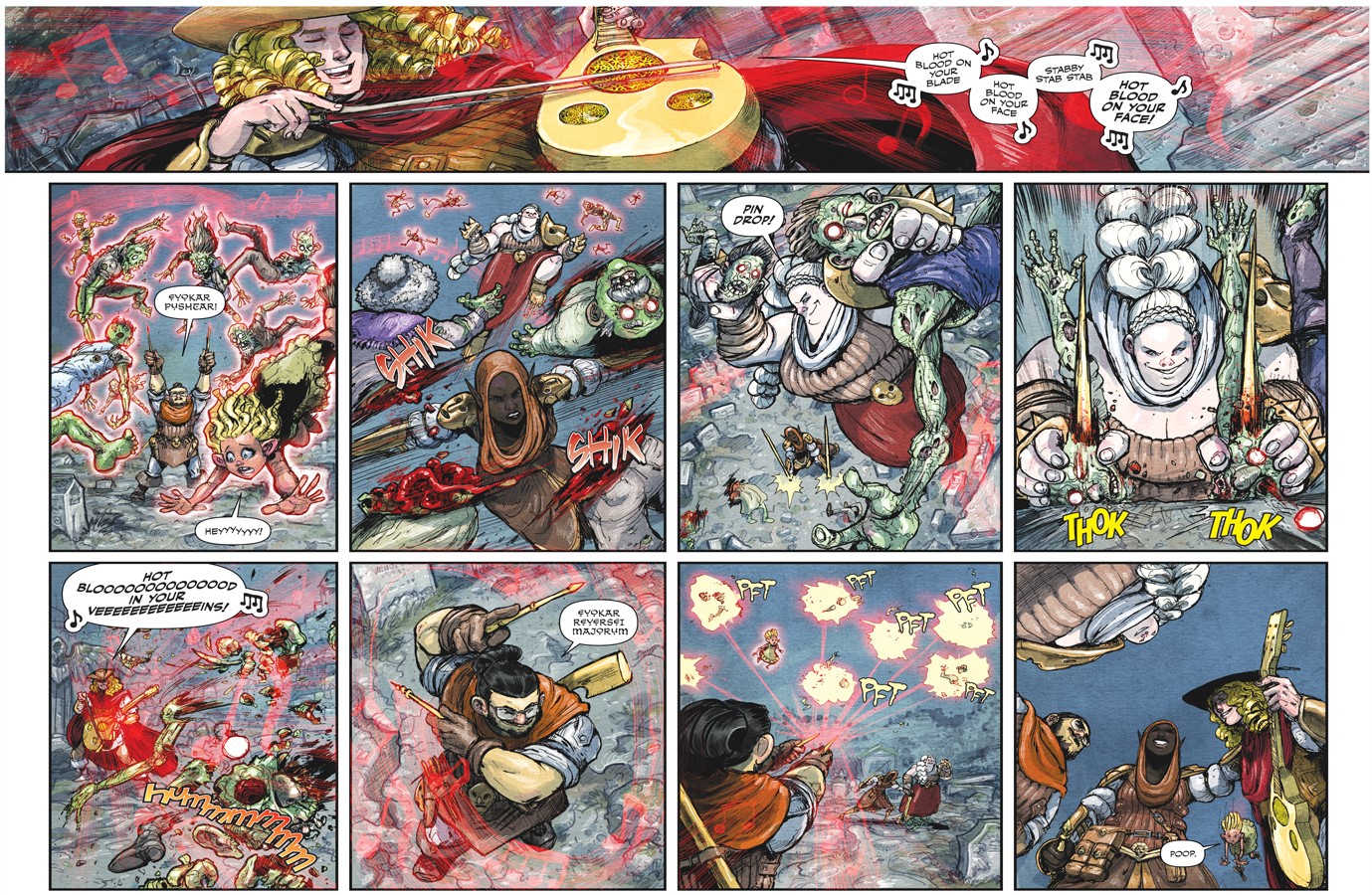 There is never a dull moment with Owen Gieni's lovely illustrations. Each page is filled with an eclectic array of characters, objects and landscapes, which all come together to form a diverse and vibrant fantasy world. From quaint and crowded taverns, intense action sequences and beautifully expansive landscapes, Gieni fills each page with loads of diverse details which makes each individual scene enjoyable to look at. I also find that Gieni has a natural ability at capturing the idiosyncratic facial nuances of the individual Queens perfectly. Often these interactions and reactions result in some of the funniest moments, as a simple action or gesture is what makes a particular scene hilarious. The colouring is also lovely and vibrant, serving its purpose at providing a vivid colour palette that also heightens the overall emotional tone of the narrative. I also find that the colouring gives this world a very gritty and somewhat lived-in feeling about it all, with a rustic and worn appearance of places and objects.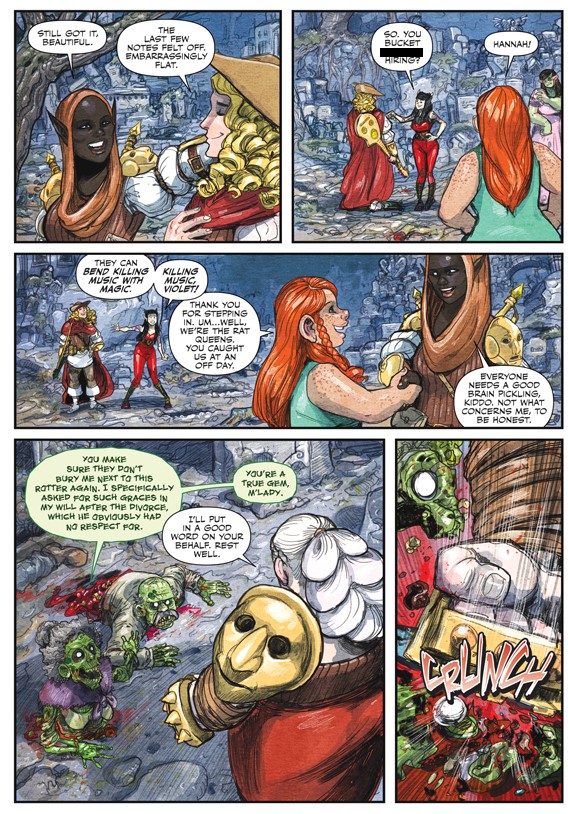 Rat Queens #3 delivers another hilarious dose of shenanigans and questing. With wonderful illustrations, clever writing, filled with witty jokes and hilarious banter, this is one story that keeps on entertaining. Whilst I focused a lot on the funny side of this issue, I should also mention that I'm curious and looking forward to the larger narrative relating to the mysterious cult. I'm interested in discovering more about this side of the story and seeing where the next big adventure will take out beloved Queens.
I'm giving this issue 4.5 out of 5 stars!
COMIC DETAILS
CREATIVE TEAM: Kurtis J. Wiebe, Owen Gieni, Ryan Ferrier, Max Dunbar and Sweeney Boo
PUBLISHER: Image Comics/Shadowline Comics
PUBLICATION DATE: May 24, 2017
REVIEWER: Dana Folkard