Comics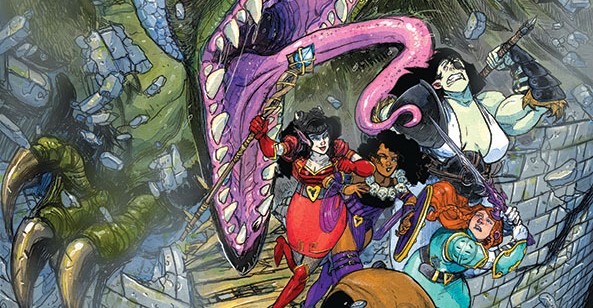 Published on April 12th, 2017 | by Dana Folkard
RAT QUEENS: CAT KINGS AND OTHER GARY'S #2 REVIEW
Summary: An action-packed issue filled with adventure, crass and obnoxious antics and of course, booze and mushrooms!
4.5
Entertaining and engaging!
Winging it is something the Rat Queens are accustomed to…pun intended! So when a monster contract goes sour, there is nothing left to do but take the beast down in blaze of glory! However, facing off with a giant lizard bird may be the least of their worries, as the Rat Queens soon discover that there is something much more sinister afoot.
This issue begins with Betty stuck in the belly of the beast, where she encounters a rather odd gut merchant who has wares and is trying to sell them, even if they are her own weapons…business savvy indeed! With the monster taking flight, the remaining Queens hitch a ride on the beast to hopefully find a way in which to bring this mighty monster down. Segue back to Betty, who decides that the best way out of this monsters festering stomach juices is to cut her way out, whereupon she encounters Hannah and Violet clambering up the legs of the giant bird monster thingy. Handy with a knife, Betty brings down the mighty beast, whilst Barrie finishes it off with a swift sword to the eye. Back in Palisade with the monster trophy in tow and ready to collect their coin, the Queens begin to notice that the streets are filled with members of a strange cult, looking dead-eyed and staring towards the sky…spooky! After sinking pints of ale, the heavily intoxicated Queens decide to head home via a detour through the haunted Reflection Park, not one of their brightest ideas, as the undead begin to rise from the ground and overwhelm them. However, with the unexpected arrival of some new kids on the block, the Queens may just have some help at hand, and some potential future competition, of course.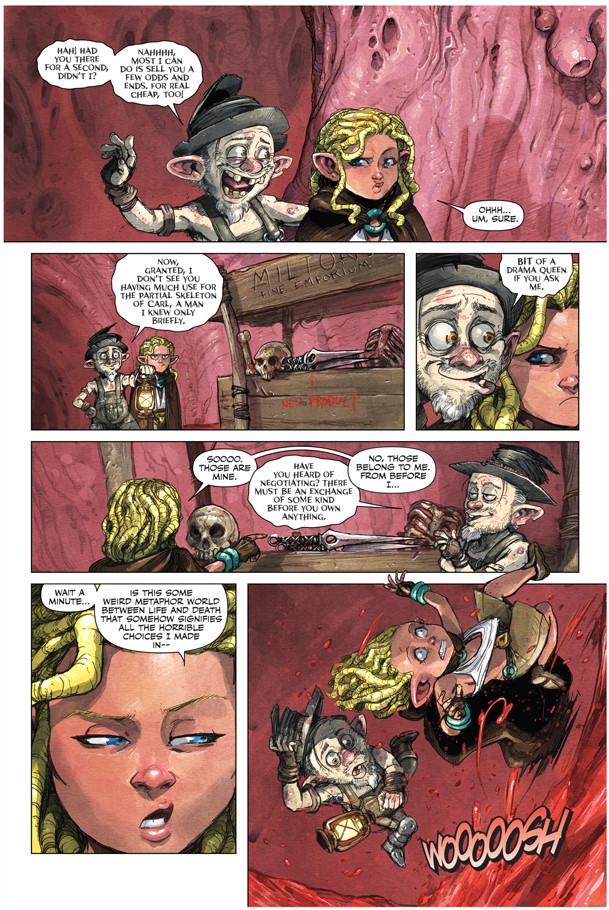 Once again, the Queens have entertained me, as I laugh and giggle at all of their wild shenanigans. Filled with hilarious quips, witty jokes and sarcastic banter, Kurtis J. Wiebe has created an awesome and entertaining dynamic between these feisty gals. Whilst the Queens always have a comical edge, by getting up to all sorts of antics, it's not all rainbows and sunshine for these guys, as there is often something dark and sinister lurking around the corner. I'm curious to discover more about this mysterious cult that is growing at a rapid rate and why they are destroying and attacking buildings around Palisade. I also love seeing these characters grow and evolve, as they continuously discover and learn things about one another. This makes them incredibly endearing and also relatable, as I find the way they love and care about each other reflective of a family-like dynamic. I should also mention the additional side story at the end of this issue, written by Patrick Rothfuss and illustrated by Nate Taylor. This short story captures the true essence of the Queens, with interesting art that changes as the story progresses and a rather funny twist.
Owen Gieni captures the thrilling excitement of the Queens battle mode in this issue, with chaotic action scenes as they attempt to bring down the giant lizard bird and when they encounter the undead horde. I find that there is a lot of personality within each of the characters, as they all possess their own unique facial nuances and charming little quirks. I already get the sense that I can guess how each of the Queens are feeling without any dialogue, based on a tiny gesture or expression that they make. There is also a lot of visual diversity throughout, with each panel being filled with a variety of interesting details, making each scene fun to explore. This is just how I picture fantasy setting to be, with loads of curious details and nothing feeling dull or boring on the page. The colouring also sets off this world, with a vibrant and vivid colour palette being employed. This helps to heightensthe sense of texure and light, giving everything a more realistic rendering which works really well with creating a more natural and lived in vibe with this world.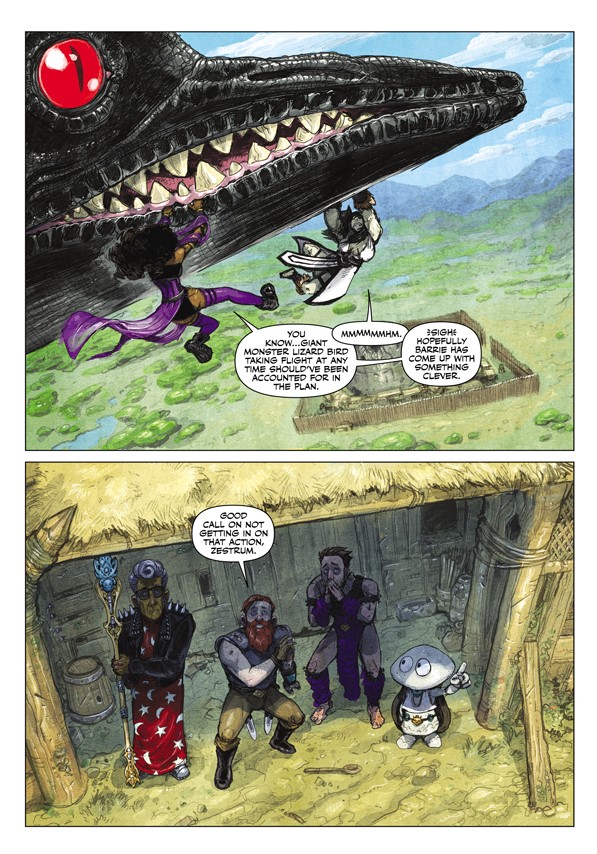 Rat Queens: Cat Kings and Other Gary's #2 has me intrigued and wanting more. Already we are aware of a sinister twist to the story brewing and I'm excited to discover more about this. This issue is action-packed, loads of fun and it's great to see the wisecracking Queens back to their old questing antics. Grab a copy, laugh-out-loud and enjoy the epic fun!
I'm giving this issue 4.5 out of 5 stars!
COMIC DETAILS
WRITER: Kurtis J. Wiebe
ARTIST: Owen Gieni
PUBLISHER: Image/Shadowline Comics
PUBLICATION DATE: April 12, 2017
REVIEWER: Dana Folkard