Comics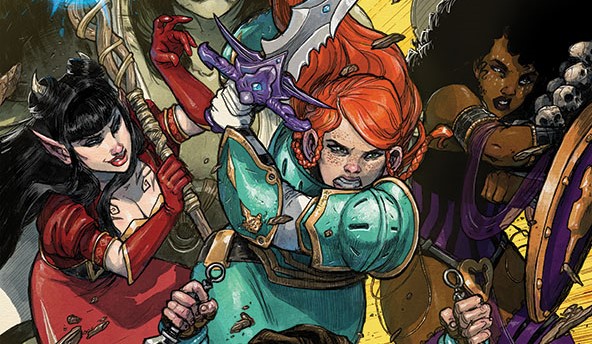 Published on March 3rd, 2017 | by Dana Folkard
RAT QUEENS: CAT KINGS AND OTHER GARY'S #1 REVIEW
Summary: High-adventure with booze-guzzling shenanigans, wild antics and unexpected surprises.
4.5
Epic and entertaining!
The Rat Queens are back and this time they are more obnoxious, crass and hilarious as ever! Back to doing what they do best, drinking, getting high and questing, this ragtag group of gutsy women are an unstoppable force of swords, sorcery and sass!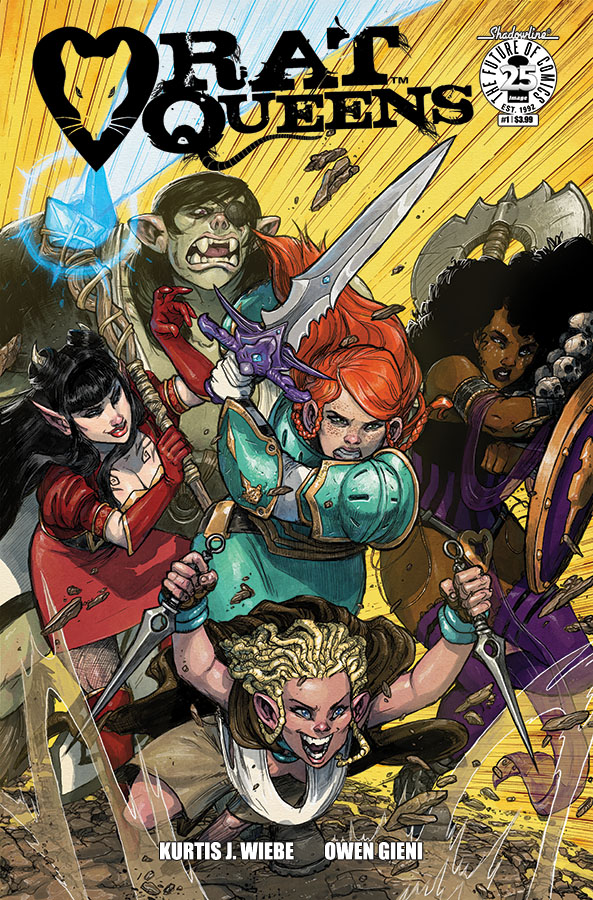 We begin this soft reboot in familiar territory, with the Queens post-party with Violet nursing an epic hangover after sinking ale all night. Betty, Dee and Hannah are fresh faced and hankering to get a move on and back to questing so they can make some serious coin. After a strong coffee and a greasy breakfast, Violet catches up with the girls who have rendezvoused with Braga, now an honorary Rat Queen herself. Once at their destination the Rat Queens have an unexpected encounter with Violet's brother who has formed his own fighting guild, the Cat Kings, and who possess an uncanny resemblance to the Rat Queens if they were gender swapped. Amidst all the confusion, the the Kings and Queens are caught off guard and find themselves in an epic battle as they come face to face with the monster that they were hunting…or was it hunting them?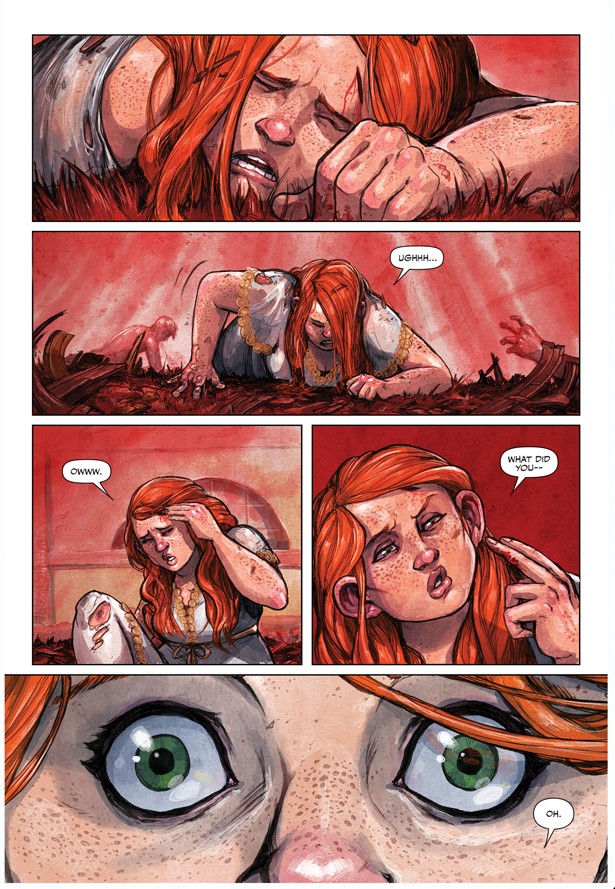 Kurtis J. Wiebe partners up with new artist to the series, Owen Gieni, to bring back our old favourite ragtag group of mischievous and badass battle maidens. It's good to have the Rat Queens back to their old shenanigans and entertaining antics. I just love this wild fantasy world that Wiebe has created, filled with the most amusing and diverse array of characters. I've always enjoyed Wiebe's tongue-in-cheek take on the fantasy genre, exploring an RPG inspired world, filled with adventuring and dungeon delving with a comical twist. The banter between the Queens is some of the funniest dialogue I have encountered and I often find myself laughing out loud over their amusing quips and witty wisecracks. All of these characters are so very different from one another, possessing completely individual personalities and characteristics. Wiebe has done a great job at making all of the Rat Queens well-rounded and compelling characters. Individually they all have their own personal issues and plights, which makes them all interesting, as we get to explore their personal stories and see their personal journey unfold.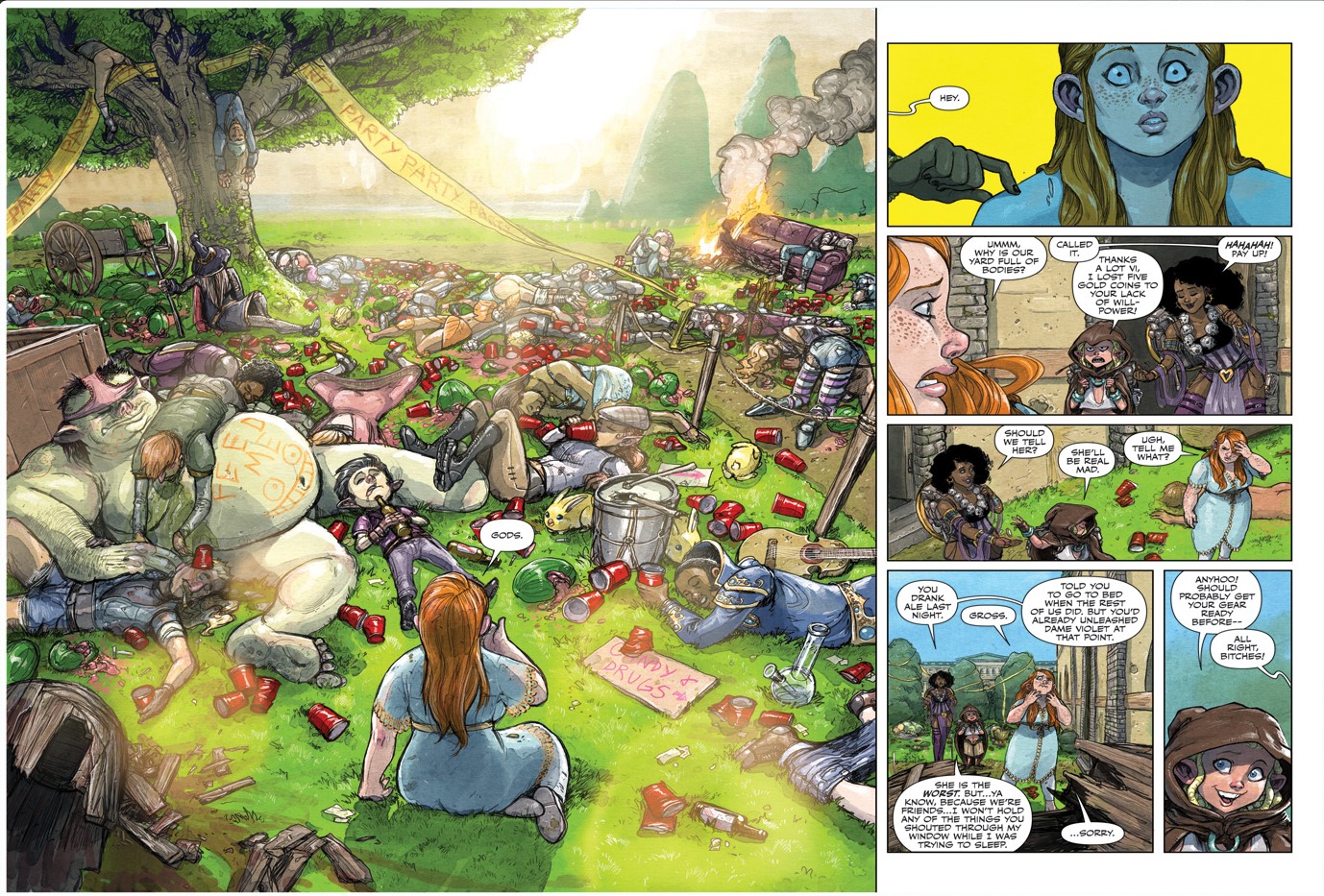 Artist, Owen Gieni translates Wiebe's world perfectly into an entertaining and diverse visual narrative. The Rat Queens still look like the women we have come to know but they now possess Gieni's own personal style as well. Gieni has embraced this rich fantasy world, filling it with epic action scenes, comical character interactions and badass monsters. Everything looks and feels wild and untamed and I just love immersing myself in this world of high adventure and questing with a whacky twist. The actions scenes are fun and full of energy, with the Queens in their element with lethal spells, swinging swords and the good ol' "Betty Climber". There is a real playful goofiness there that makes these action sequences work so well. This world is brought to life by the colour palette, which works perfectly in this kind of setting. It brings a rich vibrancy to the art which helps to heighten the overall tone of the story, making it feel like you are venturing into a magical world.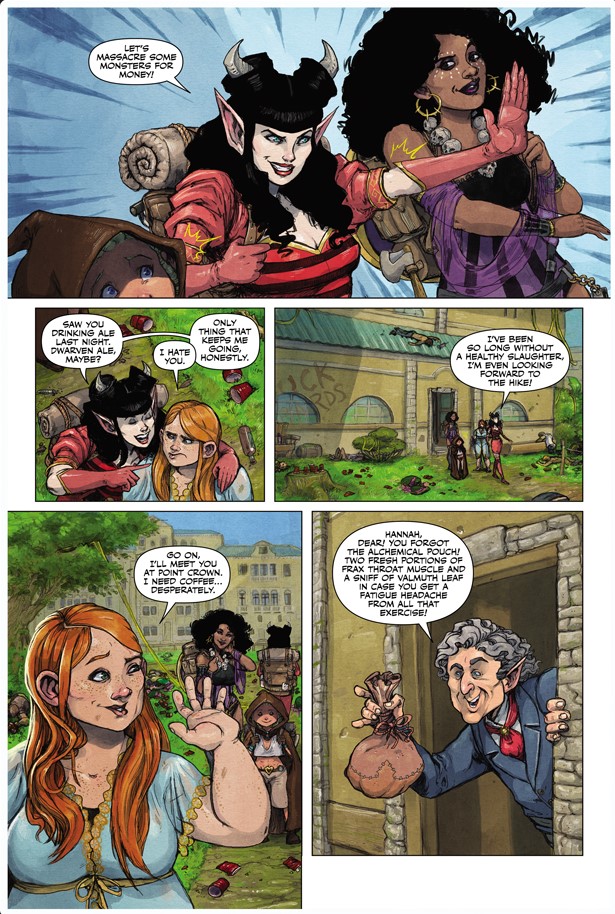 I'm happy to have the Rat Queens back, because I honestly missed them. The Queens wisecracking and crass antics are forever entertaining and that coupled with an intriguing story makes for an enjoyable read. This soft reboot has me excited for what's to come and I look forward to seeing more of Owen Gieni's art bring this wild fantasy world to life. I can't wait to do more questing with these booze-guzzling, monster killing gals and hear their endless jokes about Gary.
I'm giving this issue 4.5 out of 5 stars!
Comic Details
Title: Rat Queens: Cat Kings and Other Gary's #1
Publisher: Image/Shadowline Comics
Creative Team: Kurtis J. Wiebe, Owen Gieni and Ryan Ferrier
Reviewer: Dana Folkard