Comics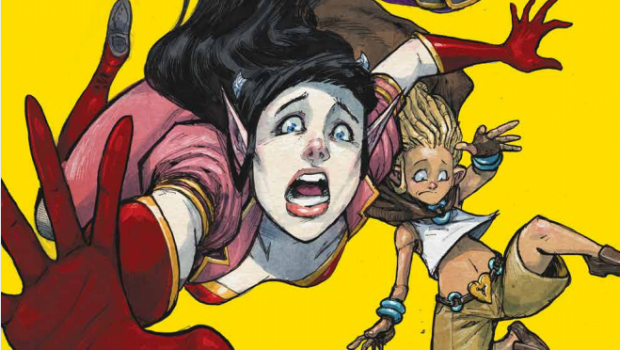 Published on August 16th, 2017 | by Dana Folkard
RAT QUEENS VOL.2 #5 REVIEW
Summary: An entertaining issue, filled with laughs, illusions and a wizard fish.
Dungeon delving just got a whole lot weirder, as the Queens are forced to face their past regrets and mistakes…literally. The Queens must work together to outsmart the crafty dungeon master, who weaves deceptive illusions to confuse and stall them, so that they might find a way out of this godforsaken dungeon!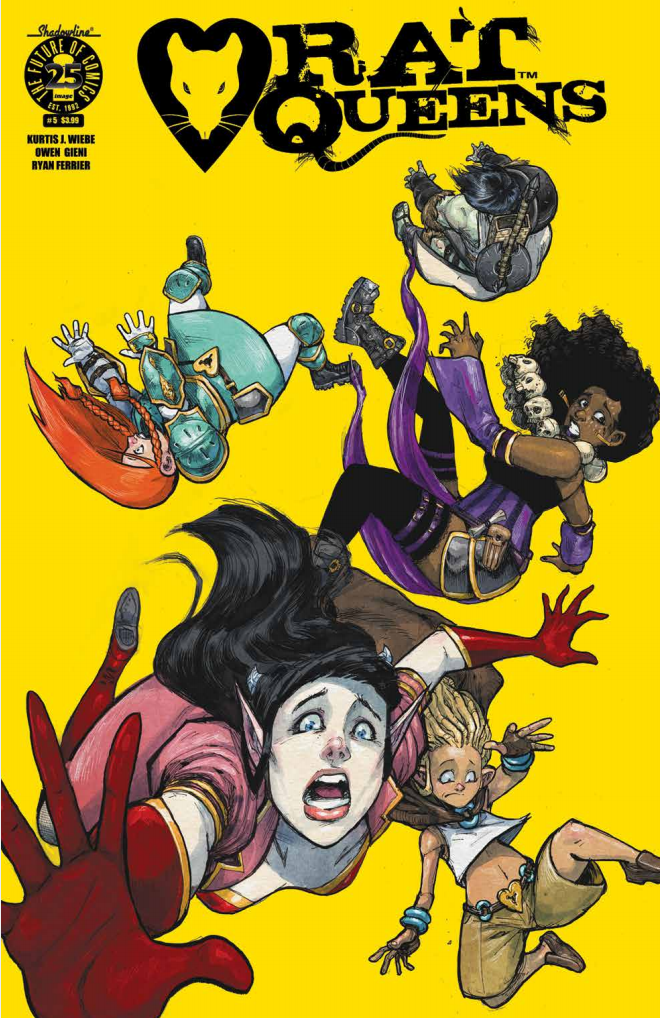 This issue begins with the Queens separated after stepping through the mysterious mirror, forced to relive their personal regrets. Each illusion sees the Queens, grappling with an intense emotional moment in their life, from Violet saying goodbye to her dad, to Braga sleeping with her old teammate, Tizzie. Each Queen experiences something different, with some being more compelling and mysterious than others. After the illusion is finished, they are abruptly ripped from that reality and flung out of the "regret mirror", where they find themselves trying to figure out the mystery of the mystifying puzzle pieces, and how they fit together. Once they figure it out, then enters the "fish wizard", a merman-like creature who is a master of illusions, who weaves all sorts of confusing spells to try and confuse the Queens. The Queens, however, can see through these flimsy spells, and instead begin demanding the coin that they have been seeking. Questing needs to be profitable, after all! After grabbing what loot they can carry, which includes a number of enchanted objects, pretty jewels and a rather handy "pasty bag", the Queens begin to look for a quick way out of this dungeon and back to Palisade.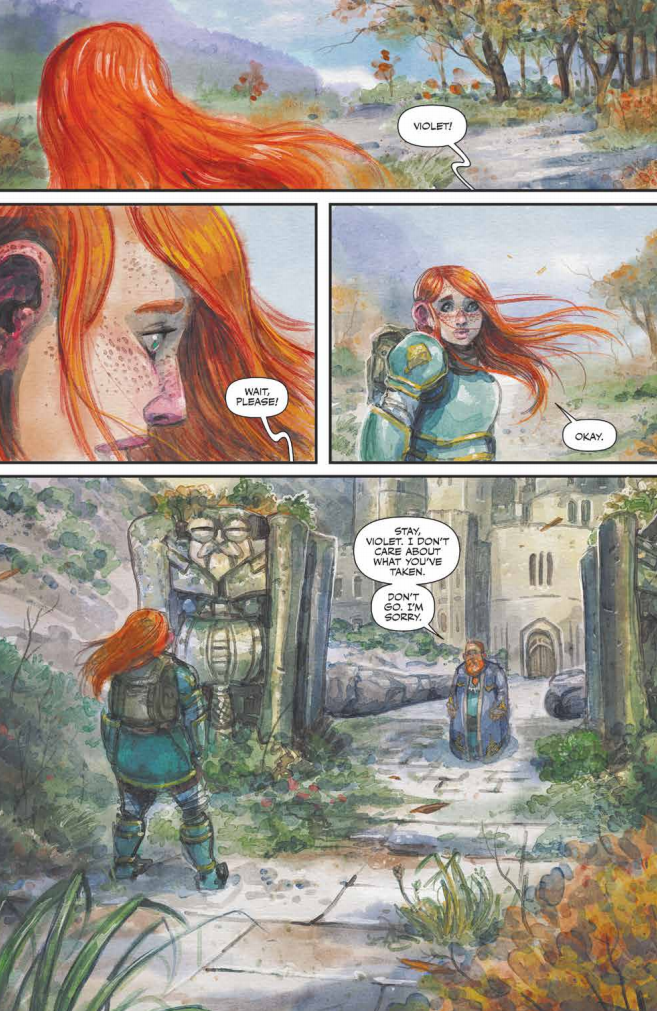 This issue had me in stiches. Okay, I know that most Rat Queens issues leave me giggling but there were so many funny moments in this one. The fish wizard is just excellent as dungeon master, with his desperate attempts at trying to sound threatening, and failing miserably at it. I also had a good laugh when Betty gets her hands on the pastry bag, the mightiest of all looted items, and the frustrated pastry chef who is on the receiving end of Betty's grabby hands. I also enjoyed having a little glimpse into some of the Queens past regrets as well. I found it interesting seeing such a variety of memories, some being quite emotional and personal, and others being more frivolous and silly. Dee's one was definitely the most mysterious, instead revealing a glimpse into her future, rather than her past. She herself seemed to be baffled with what this illusion meant. I'm beginning to get the feeling that Dee is destined for something either great or terrible, and that all of these incidences are little clues of what we can expect to come in the future.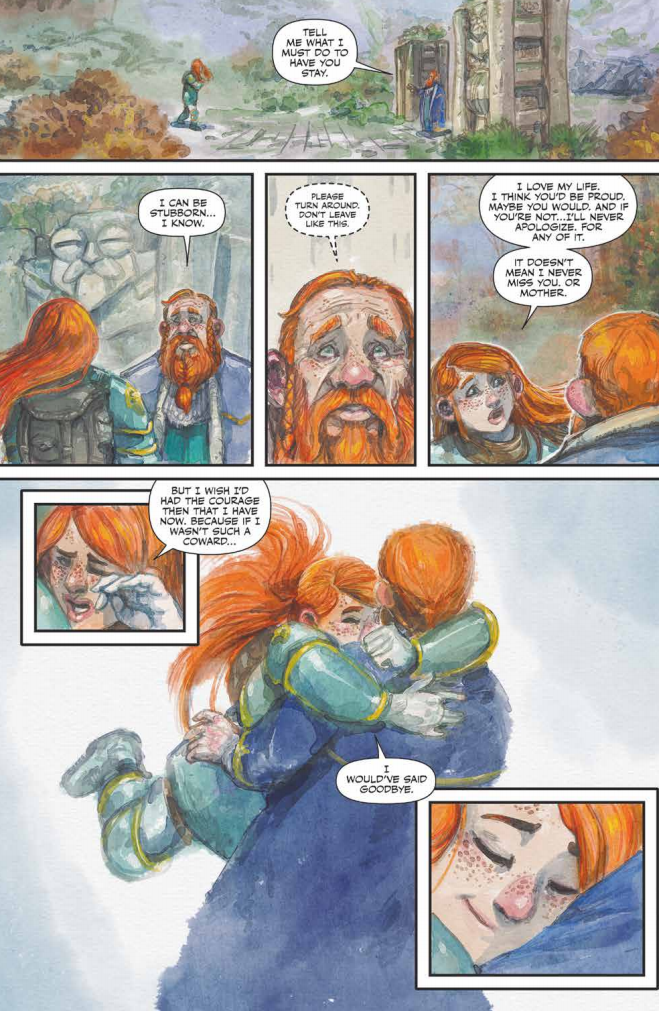 The art, by Owen Gieni, has two very distinct styles within this issue. Whilst the Queens are locked in their illusions, the art has a more painted quality about it, looking like it was drawn with watercolours. It's actually very pretty, and I found it to be effective in reinforcing the fact that this is an illusion, created by magic. Once the Queens are out of this warped reality, the art changes back to the regular art style, with Gieni's punchy details and sharp expressions. I particularly loved the bloated fish wizard with his menacing grin, which made him look like an unhinged conjurer. The colouring also changes dramatically along with the art in this issue, with the illusions appearing to almost glow with a magical aura, with soft and subtle tones dominating these scenes. I actually really love the bright and vivid colours that were in this issue, like the interiors of the merman's cave. I also liked how this contrasted with the exterior scenes, where the palette is more bleak and subdued, and reflective of the harsh environment that they are in.
Overall, I loved this issue of Rat Queens. I found it to be quite revealing, as we got to explore a side to the Queens we haven't seen a lot of, however, the best part of this issue is the fact that it was funny as all hell. Kurtis Wiebe has created an entertaining narrative, filled with lovable characters that are both relatable and endearing, and this coupled with Owen Gieni's beautiful illustrations make for an enjoyable read. If you are seeking a break from all the depressing news lately and wish to venture into a fun world, filled with magic and crude jokes, then grab a copy ASAP!
I'm giving this issue 4.5 out of 5 stars!
---
COMIC DETAILS
CREATIVE TEAM: Kurtis J. Wiebe, Owen Gieni, Ryan Ferrier
PUBLISHER: Image Comics/Shadowline Comics
PUBLICATION DATE: August 16, 2017
REVIEWER: Dana Folkard