Comics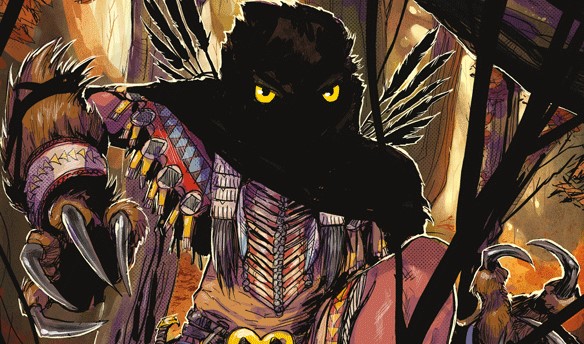 Published on September 12th, 2018 | by Dana Folkard
RAT QUEENS #11 REVIEW
Summary: New arc, new quest, new problems. Welcome back Queens.
Still recovering from the nightmarish, reality warping experience from their previous adventure, the Queens settle down to rest, recover and heal old wounds. That is until the unexpected arrival of an old friend who needs their help, catapulting them once again into another exhilarating adventure.
The issue begins with Hannah in the kitchen cooking pastries for her fellow Queens. A stark contrast to the Hannah we have come accustomed to seeing. The Queens have been through a lot and are pretty keen to get back to their normal "fucking" lives, and casually chat about how they have been holding up and personally dealing with things. Their conversation is abruptly cut short, as an owl-headed woman crashes through their roof after miscalculating her landing. She turns out to be Sadie, a former Queen who has come seeking their help after her homeland was invaded and taken over by a ruthless army of orcs. Orc Dave relates to Sadie, having experienced something similar, and pledges himself to aid her. The Queens take a little more convincing, however in the end they decide that they have to help her and ready themselves to depart. Dee decides to remain behind and deal with the Awakened God problem, whilst also trying to find the "Hannah they left behind". So, the Queens, Sadie and Orc Dave embark on a new, dangerous and no doubt shenanigan-filled quest. Their first stop, the unpleasant sounding "Underpit".
I must say, I'm rather pleased to have the Queens back and already on another new adventure. Things never stay quiet for long for these ladies, with trouble always finding them, entangling them in its disorderly web. How vexing. For us, this is always welcome news, as we get to venture forth along with the Queens once again, instead of tarrying around, eating pastries. I'm loving the addition of the cheeky and impish Sadie, finding her to be a welcome change to the dynamic of the Queens. She is playful and brazen and has excellent banter with everyone, especially Orc Dave…heh.
I'm also intrigued by Dee's decision to go off on her own as she tries to solve the problem of N'rygoth and the reality warping that she did in the previous arc. She has a sense of duty towards this problem that she created, deciding that she must stay and follow this one through until she solves it. We also see Dee turn a bit thoughtful and pensive, as she asks some penetrating and philosophical questions. This to me sheds some light on the internal conflict that Dee is struggling to deal with, as she tries to make sense of what motivates people to do good things, even to their own self-detriment. It's a curious and interesting conversation, reinforcing my opinion that Dee is a complex and layered character.
Owen Gieni's art is once again a feast for the eyes, as he brings a little diversity as he flexes his artistic muscle. There is a moment in this issue when we see a flashback page, where Sadie recounts the beginnings of the raiding from the orc army. Gieni's art dramatically changes here to a rough and textured style, looking more simplistic and chaotic in its appearance. I really enjoyed this change and the colour palette that came with it, finding it to be an interesting visual tool to help break up the story and separate this section from the rest. I also thought that the detailed closeups of the Queens faces in this issue to be beautiful and wonderfully expressive, helping to capture the emotive nature of this new arc. The colouring is on point and realistic, doing an effective job at capturing light and depth where it needs to.
Overall, I believe that this is a strong start to the new arc, bringing a fresh dynamic to the Queens and their adventures. I love Sadie, am keen on their new quest and can't wait to find out what is going to happen to Dee next. Good job guys. You reeled me in.
I'm giving this issue 4.5 out of 5 stars!
---
COMIC DETAILS
CREATIVE TEAM: Kurtis J. Wiebe, Owen Gieni, Ryan Ferrier
PUBLISHER: Image Comics/Shadowline Comics
GENRE: High fantasy
PUBLICATION DATE: September 12, 2018
REVIEWER: Dana Folkard