Collectibles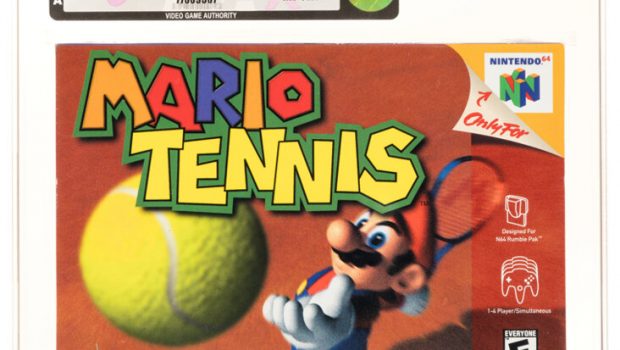 Published on November 9th, 2023 | by Admin
Rare Graded Video Games Fetch High Bids in Heritage Auction
Video game nostalgia has come a long way – once the realm of people who remembered playing Pong, there are now nearly 50 years of video game history living rent-free in our heads, and along with that comes the desire to recapture our respective glory days. Last week, Heritage Auctions closed an auction featuring a variety of vintage video games and game systems, many graded by the Video Game Authority (VGA), and several of them went for high dollar values.
The highest bid received in the entire auction was for the Nintendo Entertainment Deluxe Set, which included the iconic NES console, two controllers, a Zapper light gun, R.O.B. (Robotic Operating Buddy), and two boxed games: Gyromite and Duck Hunt. Graded at 85 NM+ by the VGA, this unopened set went for $120,000 with buyer premium.
Other notable VGA-graded items in the auction:
A sealed copy of Mario Tennis for the Nintendo 64 system sold for $10,800. In addition to being a fun game with great box art, it is also the first appearance of Waluigi, partner to Wario and rival to Luigi. It received a grade of 90 NM+/MT.
An open (but complete) Nintendo 64 game console was graded at 85+ NM+ (Qualified) and sold for $8,400. While it didn't outlast its competitor, Sony's Playstation, this relatively rare system became famous for thoroughly enjoyable games like Super Mario 64 and Goldeneye.
Measuring approximately 2 feet squared, a bundled "Value Pak" of a Super NES console with controller, a Super NES Super Scope 6 with six unnamed games, and three extra games – Battle Clash, Yoshi's Safari, and Metal Combat: Falcon's Revenge – received a grade of 85+ NM+ from the VGA, and sold for $10,200.
"Bravo to the sellers, and to Heritage Auctions, for such a successful auction," said VGA/CGA president Chad Thompson. "With every bid, we are proving the value of graded collectibles, including but not limited to video games and consoles. I think we will only see this market grow as years go on, and the important history of gaming becomes more and more mainstream."
To learn more about grading video games and other collectibles, visit CGAgrading.com!