Events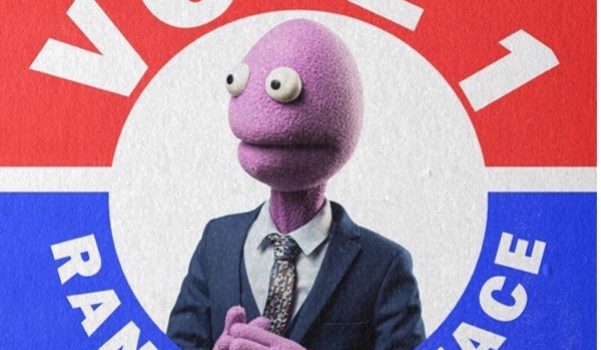 Published on June 16th, 2023 | by Adrian Gunning
Randy Feltface Tours Australia with "Feltopia"
In these uncertain times, you need a voice you can trust. Someone who's travelled the world and knows how to fix it. Courage. Integrity. Other stuff. Vote 1 Randy Feltface, or at least come to his show "Feltopia" – the world tour edition! Randy arrives in Australia this July hot on the heels of his World Tour!
As seen on Netflix, ABC and NBC, Randy Feltface has spent the past 18 years winning awards and garnering critical praise while amassing a huge and devoted fanbase globally. With over 1.7M TikTok followers and nearly 1M YouTube Subscribers that boasts 120M YouTube views, the choice is pretty clear. Vote 1 Randy Feltface!
Since beginning his comedy career in Melbourne, Randy has written and performed eleven solo stand-up comedy shows and released six comedy specials. He was nominated for best comedy at the Edinburgh Fringe Festival, played sold-out seasons in London and New York and featured several times at the Montreal Just For Laughs Festival. He made his US television debut as a crowd favourite on NBC's 'Bring The Funny', and his comedy specials have become pirated YouTube sensations. Politics seems like the natural next step. From Wisconsin to Dublin to Wyoming. Randy's taking over the world.  
In 2019, Randy opened his show Modus Operandy at the Sydney Opera House as part of the Just For Laughs Festival before shows in London, Amsterdam and an extensive North American tour. In 2021 Randy managed to perform in every state and territory of Australia while releasing two specials: The Book of Randicus and Purple Privilege. Randy's live show is a high-energy existential crisis, full of biting observations, razor-sharp crowd work and rapid arm movements.
Don't miss Randy Feltface as he brings his Feltopia World Tour home to the Southern Hemisphere in 2023. For more about Randy Feltface and tour dates, visit www.feltface.com 
SOCIAL MEDIA
Instagram: https://www.instagram.com/randyfeltface/
Facebook: https://www.facebook.com/randyfeltface/
YouTube: https://www.youtube.com/c/randyfeltface
TikTok: https://www.tiktok.com/@randyfeltface/ 
RANDY FELTFACE – FELTOPIA – AUSTRALIA –  2023 TOUR DATES:
Bendigo
Bendigo Bank Theatre
7.00 pm, Friday 21 July
https://boxoffice.gotix.com.au/
Ballarat
Ballaarat Mechanics' Instituter
7.00 pm, Saturday 22 July
https://events.humanitix.com/feltopia-ballarat
Albury-Wodonga
The Cube, Wodonga
7.00 pm, Wednesday 26 July
https://cube.sales.ticketsearch.com
Wollongong
The Music Lounge
7.00 pm, Thursday 27 July
https://aumtco.sales.ticketsearch.com/sales/sales
Sydney
Enmore Theatre
7.00 pm, Friday 28 July
https://premier.ticketek.com.au/
Newcastle
City Hall
7.00 pm, Saturday 29 July
https://tickets.civictheatrenewcastle.com.au/
Gosford
Laycock Theatre
7.30 pm, Sunday 30 July
https://ccclaycock.sales.ticketsearch.com
Launceston
Du Cane Brewing & Dining Hall
7.00 pm, Wednesday 2 August
Hobart
Theatre Royal
7.00 pm, Thursday 3 August
https://tickets.theatreroyal.com.au/
Melbourne
Palais Theatre
7.00 pm, Friday 4 August
https://www.ticketmaster.com.au/
Canberra
Canberra Theatre Centre
7.00 pm, Saturday 5 August
https://tickets.canberratheatrecentre.com.au/
Wagga Wagga
Wagga Wagga Civic Theatre
7.00 pm, Sunday 6 August
https://wagga.sales.ticketsearch.com
Adelaide
Norwood Concert Hall
7.00 pm Friday 18 August
https://premier.ticketek.com.au/
Perth
Regal Theatre
7.00 pm, Saturday 19 August
https://premier.ticketek.com.au/
Byron Bay
Byron Theatre
7.30 pm, Thursday 24 August
https://byron.sales.ticketsearch.com
Gold Coast
HOTA (Surfer's Paradise)
7.00 pm, Friday 25 August
https://tickets.hota.com.au/32204/32205
Brisbane
Brisbane Powerhouse
6.30 pm & 8.30 pm Saturday 26 August
EXTRA – 6 30pm Sunday 27 August
https://premier.ticketek.com.au/
Noosa Heads
Villa Noosa Hotel
7.00 pm, Wednesday 30 August
https://liveatyourlocal.com.au
Gladstone
Harvey Road Tavern
7.00 pm, Thursday 31 August
https://liveatyourlocal.com.au
Mackay
Metropolitan Hotel
6.30 pm, Friday 1 September
https://liveatyourlocal.com.au
Townsville
Kirwan Tavern
8.00 pm, Saturday 2 September
https://liveatyourlocal.com.au
Cairns
Edge Hill Tavern
7.00 pm, Sunday 3 September
https://liveatyourlocal.com.au