Comics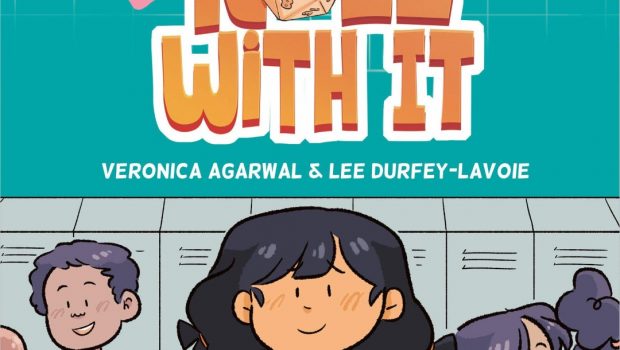 Published on December 14th, 2021 | by Adrian Gunning
Random House Graphic to Publish A Charming Graphic Novel For Everyone Who's Ever Had A Complicated Relationship With Their Twenty-Sided Die
Starting middle school is hard enough when you don't know anyone; it's even harder when you're shy and anxious. Maggie just wants to get through her first year of middle school unscathed, but between finding the best after-school clubs, trying to make friends, and avoiding the rumored monster on school grounds, she's having a tough time… And when she gets nervous, Maggie turns to her twenty-sided die. As long as Maggie rolls the right number, nothing can go wrong… or so she thinks. But what happens if Maggie rolls the wrong number?
JUST ROLL WITH IT is the debut graphic novel from writer Lee Durfey-Lavoie and the second graphic novel from artist Veronica Agarwal. Perfect for fans of Guts and Real Friends, JUST ROLL WITH IT is a touching story that explores the complexity of anxiety, OCD, and learning to trust yourself and the world around you.
"JUST ROLL WITH IT aims to open a dialogue about mental health for young readers and give them some terminology to help navigate talking about it," said Veronica Agarwal. "I was inspired by Svetlana Chmakova's 'Berry Brook Middle School' series (Awkward / Brave / Crush) that highlights issues kids deal with but doesn't belittle them. I wanted this story to be something that shows how a lot of us live alongside our anxiety, and that the end goal of one's mental health journey doesn't have to be 'fixing' yourself, but rather becoming the best version of you, anxiety and all."
"It was important for us to reflect the world we live in—from diversity of body size, race, sexuality, etc, to diversity of how we take in the world around us," said Lee Durfey-Lavoie. "We wanted to make characters that were serious, goofy, afraid, silly, and who reflected all the wacky and wonderful aspects of being in middle school. We wanted the book to reflect our own experience: that mental illness can be scary and difficult, but it isn't insurmountable, and the ones you love can help you through it."
Here's what people are saying about JUST ROLL WITH IT:
"A charming, compassionate story that's sure to resonate with anyone who's ever stayed up worrying." — Gale Galligan, the adaptor and illustrator of the Baby-Sitters Club graphic novel series
"Gorgeous… [and] powerful."—Nerdist
"An accessible, compassionate story of growth and learning… This is a thoughtful and engaging account of a preteen navigating mental illness in a world that leaves her constantly doubting herself."
— Kirkus Reviews
"Offering messages of self-acceptance and tackling one task at a time, Durfey-Lavoie thoughtfully weaves the way Maggie's OCD presents into this solid middle grade story with a sympathetically earnest protagonist."—Publishers Weekly
Writer Durfey-Lavoie has written a really touching essay about his own struggles with anxiety and OCD and how TTRPGs were part of his path to healing that we've added below:

Beginnings are notoriously difficult—for basically everything. What if you do it wrong? What if it isn't good enough? What if? What if? What if?
It's a terror that rings through the minds of many, especially those with anxiety. It's a terror I'm very familiar with—from this essay, to my debut novel JUST ROLL WITH IT, to phone calls, to the zoom calls we're all familiar with by now, etc. It rings, thunderously, through my mind and on my bad days it shuts me down—but by now it's something I'm used to. I have medication, a therapist, and a personal support system that includes loved ones, friends, and activites that I find calming and therapeutic.
One of those activities I found solace in growing up was table-top roleplaying games (TTRPGS). They provided structure for those scary beginnings, with enough creative wiggle room that helped me feel like I was expressing myself. How do I begin? Well it's just laid out here in this instruction manual—create a name, design a backstory, add stats, and roll to attack.
TTRPGS offer a world you're in control of, where the fears of failure don't exist, and one that offers a respite from the rest of the daily worries. From friends that found confidence in social circles, stood up for themselves, and even discovered they were transgender, the world of TTRPGS offers something invaluable for many: a safe community to explore your own fears and anxieties.
It's this safe community that partly inspired JUST ROLL WITH IT. Maggie, our main character, has a hard few beginnings to tackle—beginning middle school, beginning to deal with the monster outside her new school, and beginning to tackle her mental illness. Eventually she finds a name for it, and it's something scary and difficult to confront: Obsessive Compulsive Disorder- aka OCD.
It's a journey I've been on myself, with friends, with family that I could rope into playing with me, with strangers I met online—all bonding over games and worlds we can invent ourselves. All the while I found myself tackling the depression and anxiety that had been plaguing me for as long as I could remember.
My mental illness came to a head after I had found myself dropping out of college, working a dead-end job, and wallowing in self-hatred. I was only getting out of bed to work, I wasn't eating, I was crying myself to sleep.  It wasn't RPGS alone that got me out of that spot but I'm not going to lie and say it wasn't something I looked forward to, something I found peace in.
There were RPG communities that I could be myself in, be proud of, that gave me the self-confidence to seek out a therapist. I've got a name now for the emptiness I felt in my chest and the fear in my head: Dysthymia (persistent depressive disorder) and GAD (Generalized anxiety disorder).
Finding a name for those feelings was freeing and helped begin a journey to self-healing, and acceptance. It was scary, humbling, and wonderful- something I deeply wanted to replicate in JUST ROLL WITH IT.
Maggie goes through something similar—but she has her trusted twenty sided dice to help guide her, her trusted partner in her weekly TTRPG campaign (the fictional CAT game) with her siblings. But as troubles pile up, anxieties invent themselves, get worse, and begin to affect her day-to-day life, she realizes she just can't leave her life up to her d20 anymore. She has to do something even scarier then begin middle school or chase monsters: she has to make friends.
Luckily for her she finds fast friends in Clara and the rest of the RPG club, bonding with her new friends over their shared love of cartoons and TTRPGS. They become a new safe community, one away from her family, where she is allowed to explore her insecurities, tackle monsters, calm anxieties of friends (and sometimes dragons!), and have fun.
She, like myself, relied on the communities and the freedom we experienced in them, to help ourselves begin to heal. It's a journey I hope many readers of JUST ROLL WITH IT with mental illness can find peace and solace in.