Games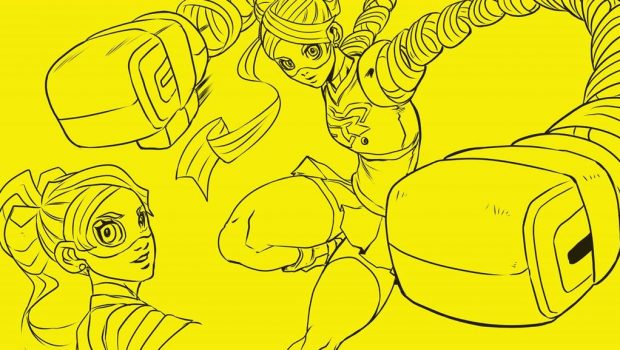 Published on December 22nd, 2017 | by Admin
"THE RAD SCIENTIST" DR. COYLE JOINS ARMS FOR NINTENDO SWITCH IN NEW UPDATE, OUT NOW
Nintendo's unique fighting game welcomes its fifth new character since launch, with another online Party Crash happening before the year's out

22nd December, 2017 – Since Nintendo's unique fighting game ARMS launched for Nintendo Switch on 16th June this year, regular free updates have added a host of new fighters, stages, and modes. Today's launch of version 5.0 adds another playable pugilist in the form of Dr. Coyle, bringing the total roster to 15 characters, including stalwarts Master Mummy and Twintelle who will duke it out in the next online Party Crash event happening from Saturday 30th December.
Known as "The Rad Scientist", Dr. Coyle is the director of ARMS Laboratories, and a certified genius. Fascinated with ARMS since she was a young girl, Dr. Coyle decided early on to devote her entire life to ARMS research. Her plans for this research are not necessarily nefarious: she simply wants to be the most powerful ARMS fighter of all time… even if that means subjecting herself to her own experiments. But all her pain and hard work will be worth it if she wins the ARMS Grand Prix! Dr. Coyle brings with her three new ARMS: Lokjaw, Parabola, and Brrchuk, perfect for battling enemies on her top-secret research facility stage, [NAME REDACTED].
In other ARMS news, the third Party Crash event kicks off on Saturday 30th December at 8:00pm AEDT, pitting Master Mummy against the Silver Screen Queen herself, Twintelle. An online* event that pits players against each other in a rapidly rotating variety of different matches, Party Crash is one of the many new features – including collectable badges unlocked for fulfilling certain conditions, the ability to remap controls, new training exercises and more – that have enriched ARMS since its launch back in June.
For those who are still unfamiliar with Party Crash, here are some key details:
What is Party Crash all about?
It's a time-limited online event that temporarily replaces the regular Party Match option. ARMS fans around the globe can join in to enjoy some fast-paced fights and earn points to raise their Lab Level (a Party Crash-specific metric which measures a player's progress during the event). At the end of the party, every player who took part will gain in-game currency and badges depending on what Lab Level they reached. It's a great chance to grab some nice rewards!
What's with the 'Featured Fighters'?
Each Party Crash will see two characters pitted against each other in a competition of sorts. If you play as one of these two characters, you earn extra points to help raise your Lab Level, and the badges you unlock at certain levels will be linked to the featured fighter you used more during the event. But what if your favourite character isn't one of the featured fighters this time? Don't worry, you're always free to use any fighter you like!
Who are Master Mummy and Twintelle?
Wrapped up in mystery and bandages, it's "the grim creeper", Master Mummy. With an uncharacteristically buff body for a mummy, this heavyweight shrugs off punches like nothing, and is the only fighter able to recover health while guarding. All we know about this guy is that one day he woke up at the Mausoleum and now he's entering the Grand Prix. There's a story there…
The mega celeb, star of the silver screen herself: Twintelle. Not content with her acting awards and accolades, she uses her stretchy silver locks to take the ARMS title. And while she's charging up her attacks, her actress aura can slow down incoming ARMS, making her a powerful foe.
When does the Party Crash run?
From Saturday 30th December at 8:00pm AEDT until Tuesday 2nd January at 8:00pm AEDT.
How can I make the most of a Party Crash?
As well as getting stuck in to as many fights as possible, you can bump up your rewards in a couple of ways. Firstly, there are bonus ARMS that will increase the points you earn when you've got them equipped. They change every 15 minutes though, so try to keep up! On top of that, you'll see bonus periods pop up at regular intervals, which bring special rules or modes to the party – such as 'One Hit Wonder', where every match is decided by 1-hit KO, or 'SO MUCH RUSH', where your Rush gauge is always full. All points earned during bonus periods are multiplied, so fill your boots! You can also check the schedule of Bonus ARMS and Bonus Periods for the whole event via a handy in-game screen. Forewarned is foreARMed!
For a closer look at ARMS and its ever-growing cast of characters, visit the official ARMS website.
Dr. Coyle, the director of ARMS Laboratories herself, joins the battle today in ARMS version 5.0, while a new Party Crash event – pitting the horrific Master Mummy against the glamorous Twintelle – takes place from Saturday 30th December at 8:00pm AEDT until Tuesday 2nd January at 8:00pm AEDT.
Related videos: