Games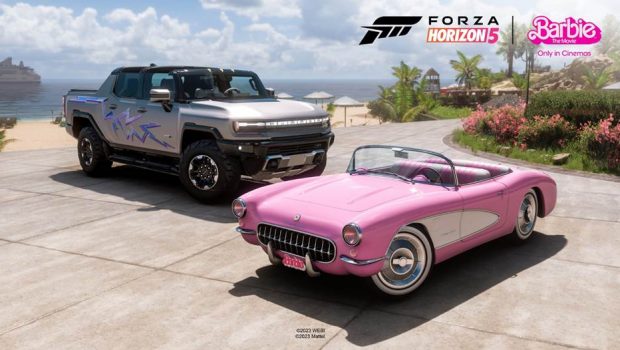 Published on June 28th, 2023 | by Adrian Gunning
Race like Barbie and Ken in Forza Horizon 5
This Barbie is a gamer! Together with Warner Bros. Pictures and Mattel, Xbox is excited to invite fans on a fun, fashionable, and inspirational ride this summer to celebrate the much-anticipated release of the new movie "BARBIE," hitting cinemas across Australia from July 20. Audiences of "BARBIE" will follow the heroine to the furthest reaches of Barbie Land and beyond, and now fans can follow in her high-heeled footsteps with exclusive Forza Horizon 5 in-game content, racing simulators and a life-sized Barbie box at Sydney's Microsoft Experience centre, an inspiring video about careers in gaming with a Barbie touch, the first ever Xbox Barbie dolls, and our most stylish custom Xbox hardware yet.
Race like Barbie and Ken in Forza Horizon 5
The film sees Barbie hit the road in a classic 1956 Chevrolet Corvette EV Corvette — painted her signature pink hue, of course — while Ken cruises alongside in a 2022 GMC HUMMER EV Pickup. Now, Forza Horizon 5 players can join them in virtual versions of both iconic "Barbie" cars. Everyone who plays Forza Horizon 5 will be gifted these themed cars — just download them from the in-game Message Center and they will appear in your garage, ready for racing.
Barbiecore takes over the Microsoft Experience Centre in Sydney
From July 11 – July 23, we're bringing a Forza racing simulator to the Microsoft Experience Centre so Barbie fans can race friends or ride solo in the 1956 Chevrolet Corvette EV Corvette or 2022 GMC HUMMER EV Pickup. Fans will also have the opportunity to step inside an iconic life-sized Barbie box at the store and strike their best Barbie pose as the cameras capture the picture-perfect moment.
Xbox is All Dolled Up 
To celebrate our commitment to being a place for everyone, we've rounded up Barbie dolls that are reflective of the Barbie line, which is the most diverse doll line on the market, and we'll display a special pair at Sydney's Microsoft Experience Centre. We outfitted them with the latest Xbox Gear fashion, and accessories including an Xbox Series S console, Wireless Controller and an Adaptive Controller.
Dream Console, Meet Dreamhouse 
From her DreamHouse to her dream closet, Barbie's iconic style is unmatched. Now, you can bring her fashion-forward genius to your gaming setup with interchangeable SCUF Instinct Custom Controller faceplates designed after Barbie and Ken's distinct on-screen outfits. Or, go for a complete remodel — in one of our most playful custom console designs in recent years, we're giving away an Xbox Series S that has been built into the glamorous Barbie DreamHouse. Fans can come marvel at the Barbie DreamHouse at the Microsoft Experience Centre ahead of going in for their chance to win on Xbox ANZ's social channels.
Meet Real-Life Game Developers
Hear about the different careers in gaming as those who work on the Forza franchise speak about their own career journeys, motivations, and personal Barbie connections. Fans can also tune into a very special livestream on July 14th from the World of Barbie, where fans can learn about "BARBIE" and see our hosts race in Barbie and Ken rides from the movie, in Forza Horizon 5.
ABOUT "BARBIE" THE MOVIE
Warner Bros. Pictures Presents A Heyday Films/A LuckyChap Entertainment Production, A Mattel Production, "BARBIE," directed by Greta Gerwig, starring Margot Robbie, Ryan Gosling, America Ferrera, Kate McKinnon, Issa Rae, Rhea Perlman, and Will Ferrell. The film is written by Greta Gerwig & Noah Baumbach, based on "Barbie" by Mattel, and produced by David Heyman, Margot Robbie, Tom Ackerley and Robbie Brenner. The executive producers are Michael Sharp, Josey McNamara, Ynon Kreiz, Courtenay Valenti, Toby Emmerich and Cate Adams. "BARBIE" will be in cinemas from July 20.
Main trailer can be viewed HERE
For more information, check out the Xbox Wire Post.