News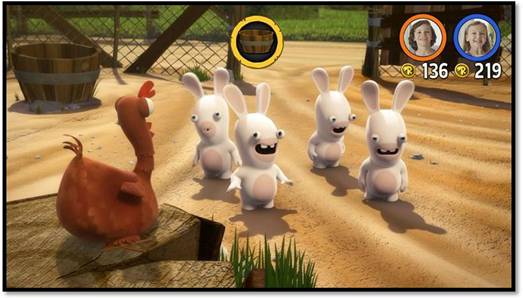 Published on June 6th, 2014 | by admin
Rabbids Invasion: The Interactive TV Show Will Be Available In November 2014
Brand new video game concept allows players to interact with episodes from the TV series 
SYDNEY, AUSTRALIA — June 6th, 2014 — Ubisoft has announced that Rabbids Invasion: The Interactive TV Show, developed by Ubisoft Barcelona in collaboration with Ubisoft Paris and Ubisoft Casablanca, will be available in November 2014 on Kinect for the Xbox One, the all-in-one games and entertainment system and Xbox 360 games and entertainment system from Microsoft and PlayStation Camera for PlayStation® 4 computer entertainment system.
Rabbids Invasion: The Interactive TV Show is based on the successful Rabbids Invasion TV series created by Ubisoft Motion Pictures and is broadcasted in several territories including the US, UK, France and Australia. Launched locally in Summer 2014, the hit TV show has already been viewed over 280 million times worldwide*. The video game enables kids to jump into a selection of 20 episodes of the popular TV show and participate in the action on-screen. 
While the episode is running, kids will watch, play and interact with the Rabbids on their silly adventures. Kids will jump up and get moving with wacky full-motion activities like having a virtual egg battle with the Rabbids, quickly matching their silly poses, or even launching the Rabbids through the air! Up to four players on next-gen systems and two players on Xbox 360 can compete for the best individual score in each activity to become the episode champion, while their global score will allow them to unlock new episodes and content. With Rabbids Invasion: The Interactive TV Show, Ubisoft offers young players, their friends and family the unique opportunity to rediscover their favourite TV show in a brand new and innovative video game.
"The Rabbids Invasion TV series is very popular amongst kids and their families so we wanted to merge the success of this TV show with the studio's expertise in creating fun and original gaming experiences," said Xavier Manzanares, Brand Producer. "With Rabbids Invasion: The Interactive TV Show, we're introducing an innovative way that people can interact with their favourite characters. This is not only TV you can watch, but TV you can play."
* Sources: Nickelodeon and France Television