Games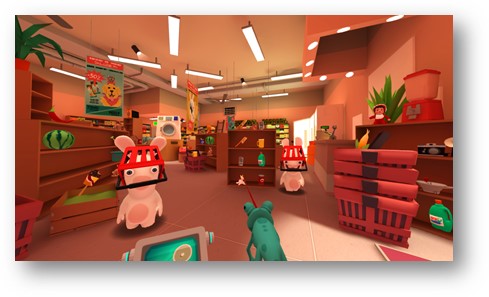 Published on March 1st, 2017 | by Admin
Rabbids Crazy Rush Now Available + VR Experience For Daydream Available This Spring
Sydney – March 1, 2017 –Ubisoft revealed that Rabbids Crazy Rush, an all-new action runner game, is now available to download for free on the App Store and Google Play. Developed by Ubisoft Chengdu, Rabbids Crazy Rush is based on the Rabbids franchise which has sold more than 14 million video games worldwide and are featured in a television show that airs in more than 110 countries. The game will challenge players to run, jump and slide their way over various obstacles to aid the Rabbids in their latest, crazy plan to reach the moon.
In Rabbids Crazy Rush, our favorite Rabbids are back with new insane plots to allow them to return home to the moon. Players must collect cans that will provide the gas to power the Rabbids' moon-bound balloon. From warm sunny beaches and lively farms, to crowded cities, players will race to gather supplies by wreaking havoc in the colorful and quirky world of the Rabbids. The wild missions send players smashing into walls, getting propelled in to the sky, and even catching octopuses. With the assistance of numerous powers and abilities, players will guide their Rabbids around the world and suit them up with zany outfits such as Biker, Luchador, Ninja or Captain Underwear.
Rabbids Crazy Rush is the wackiest runner game combining both humor and racing, while players explore the crazy world of the Rabbids. The washing machine lottery helps players dash their way through the game by providing exclusive jackpots and unlockable vehicles. Complete wacky missions, collect and upgrade dozens of unique suits and vehicles, and compete in the leaderboards to be the first among your friends to reach the moon.
100 levels are available at launch and numerous others will be released via regular updates. The game also offers one-thumb controls and offline mode, giving players the freedom to play wherever they want.
For more information about the game, please visit www.rabbidscrazyrush.com
The Rabbids invade virtual reality for the first time in an exclusive mobile experience on Daydream
Ubisoft® has also announced that Virtual Rabbids®: The Big Plan, the first VR Rabbids experience on mobile, will be released this spring on Daydream, Google's platform for high quality mobile VR. Developed by Ubisoft Montpellier in collaboration with Bucharest, specifically for virtual reality, the mobile game is based on the Rabbids franchise which has sold more than 14 million video games worldwide and are featured in a television show that airs in more than 110 countries.
In Virtual Rabbids, a few irreverent Rabbids have stolen and scrambled a top secret nuclear safety password. You are called upon by a classified government agency to travel through different locations in a hilarious adventure to recover the missing digits. Players will find themselves in some of the most precarious situations as they race to save the planet.
Daydream gives players the opportunity to get closer to the Rabbids than ever before. Using the headset and controller, players will be plunged into the crazy world of Rabbids which includes various worlds which are full of hidden toys and an arsenal of tools and nutty gadgets to interact with. The Daydream controller lets you interact with the virtual world in the same way you do in the real world, making the gameplay experiences richer and more immersive.
"Ubisoft is committed to exploring new technologies and platforms that deliver more immersive and interactive gaming experiences", said Dominique Tardieu, vice president sales and marketing, Ubisoft's mobile business. "We're happy to bring Rabbids to Daydream as it enables us to offer players a high fidelity game in a mobile VR environment and we're looking forward to explore the gameplay ideas and interactive opportunities on this new device for developers".
For more information, please visit www.rabbids.com