Events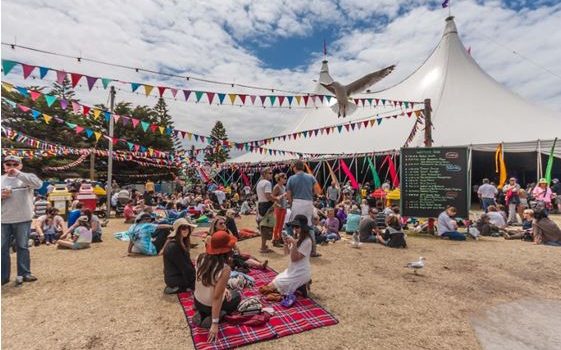 Published on October 6th, 2016 | by Admin
Queenscliff Music Festival On Track To Sell-Out For The First Time In It's 20 Year History!
The 2016 Queenscliff Music Festival line-up is now complete, and the music-loving masses are well and truly onboard with tickets on track to sell-out well in advance of previous years.
For the first time in the festival's twenty-year history, QMF has now sold out of all 3 Day, 2 Day, Saturday, and Sunday tickets, with only a limited number of Friday tickets remaining, and that's it! A Friday Night ticket is your last chance to get in on the action, so buy now before you miss out completely!
With a Friday Night program that includes Killing Heidi, Kylie Auldist, Ash Grunwald and much more, set to soar against a stunning backdrop of sun, sand and surf, this final ticket allocation is sure to sell out in record time. Punters are encouraged to grab a Friday Night ticket now and get ready to kick start their beachy weekend in QMF birthday style. Do I hear a Friyay?!
Festival Director Andrew Orvis says: "This year's festival is going to be one big 20th Birthday party! We've really felt the love this year. The response has been unprecedented. It clearly shows that people love what we're doing, and they keep coming back year after year. Friday Night is now the last ticket option for those still wanting to come."
Music wise, this year's QMF will boast another stellar series of sets. It's a predominately jam-packed awesome Aussie line-up, with the likes of pop outfit Alpine, Ash Grunwald, a reunited george, indie darling Julia Jacklin, chart-topping soul sensation Kylie Auldist, Paul Kelly & Charlie Owen, the legendary Peter Garrett and his new band The Alter Egos, the energetic Pierce Brothers, hip-hop star Urthboy (who will be joined on stage by Bertie Blackman and Kira Puru) and together again for the first time in 10 years, ARIA award winning rockers Killing Heidi (brother-sister duo Ella & Jesse Hooper) who will play exclusively for the QMF to celebrate the digital release of their iconic naughties album Reflector.
Popular international acts include USA's Ben Harper & The Innocent Criminals, hilarious travelling singer-songwriter Steve Poltz, Canadian blues guitarist Matt Anderson, the Queen of The Minor Key Eilen Jewell, young heartbreaker Julien Baker, Canadian duo The Harpoonist & The Axe Murderer and startling vocalist Son Little.
Comedy wise the festival is excited to have the legendary Doug Anthony Allstars entertaining, as well as Denise Scott, rising star of comedy Anne Edmonds, comedian-turned-TV personality Dave O'Neil and funnyman Dilruk Jayasinha (a regular on Network 10's Have You Been Paying Attention?). The festival is also bringing back its hugely successful yoga classes from True Spirit Revival Yoga, to keep things zen between all the singing and laughing, and to keep the kids entertained, QMF a host of fun family activities will be on offer such as the Krazy Koala Puppet Show, the loveable Pevan & Sarah, Red The Clown, ventriloquist act Showko and the super-sized Snuff Puppets.
The Queenscliff Music Festival runs from 25-27 November 2016. Tickets are selling super fast and there is only a limited number of Friday tickets still available, so get online and secure your spot now!
Tickets and info: www.qmf.net.au
Facebook: www.facebook.com/queenscliffmusfest
Twitter: twitter.com/QueenscliffFest
YouTube: www.youtube.com/user/QueenscliffMusicFest