Events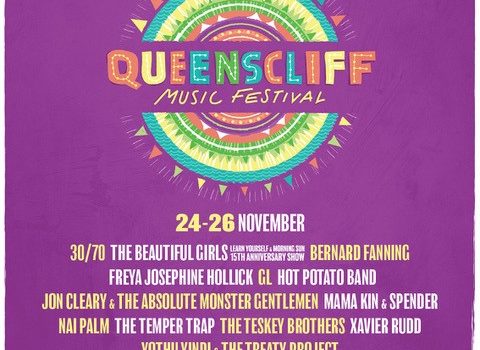 Published on June 22nd, 2017 | by Admin
Queenscliff Music Festival 2017 makes its first line up announcement
Riding high after a spectacular 20th birthday edition in 2016, Queenscliff Music Festival 2017, running Friday 24 to Sunday 26 November, is set to impress with a first line up announcement rich in Australian talent. Held annually in the last weekend of November, the festival has carved a clear position as one of Australia's great music festivals, boutique in size yet impressively broad it its appeal, evidenced by a sell-out event last year. 2017 will once again feature a program of leading Australian acts and emerging talent, plus special international guests, with many more acts yet to be revealed.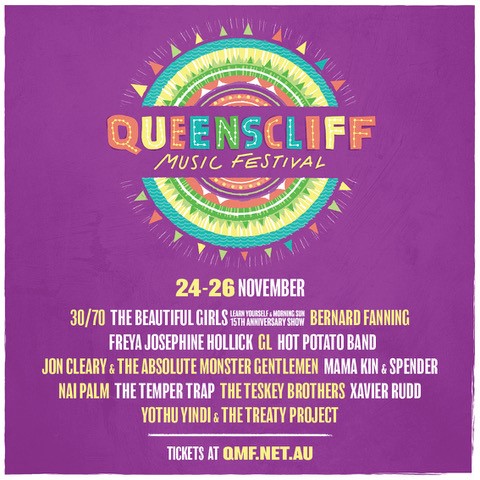 The first line up announcement includes:
30/70
The Beautiful Girls (Learn Yourself & Morning Sun 15th Anniversary Show)
Bernard Fanning
Freya Josephine Hollick
GL
Hot Potato Band
Jon Cleary & The Absolute Monster Gentlemen (USA)
Mama Kin & Spender
Nai Palm
The Temper Trap
The Teskey Brothers
Xavier Rudd
Yothu Yindi & The Treaty Project
With Xavier Rudd taking the headline spot on Friday night, Bernard Fanning headlining Saturday night,  and The Temper Trap closing the festival on Sunday, the first line up is a strong taster of what is to come.
On the back of his ARIA award winning 2016 release Civil Dusk (and its second instalment Brutal Dawn released in May this year), singer-songwriter and Powderfinger front man Bernard Fanning will bring hits from his 10-plus year solo career to the stage for his first ever Queenscliff performance.
Melbourne chart-toppers The Temper Trap are ready to rock the festival with their latest offering Thick As Thieves and a slew of fan favourites from their first two albums. Propelled by their 2009 hit single 'Sweet Disposition', their debut album sold nearly a million copies worldwide. The Melbourne four-piece's breakthrough resulted in widespread international acclaim, sold-out tours and a bevy of accolades from ARIA Awards to Brit nominations.
Multi-instrumentalist and singer-songwriter Xavier Rudd will be right at home by the seaside with his funky summer sounds. Rudd's diverse and acclaimed career is going from strength to strength, with his message of global togetherness, acceptance and respect more relevant than ever.
Powerhouse front-woman Nai Palm covers many genres. With her band Hiatus Kaiyote, she has sold out the Sydney Opera House and toured the globe. This year Nai Palm returns with a solo offering which promises to be as soulful, progressive and individual as all of her former releases.
With a treaty still yet to be signed, Australian music icons Yothu Yindi & The Treaty Project's songs and messages are just as powerful and relevant now as when they were first recorded. Reuniting with Gavin Campbell, founding member of Filthy Lucre, in a reinvigorated formation featuring original Yothu Yindi members and special guests, this performance will feature the band's classic hits as well as brand new material with an electronic twist.
Aussie roots outfit The Beautiful Girls will play a 2017 VIC exclusive set at Queenscliff after a European tour. Having retired in 2012 following a massive 26-stop tour of their 4 albums, they're back, and it's a beautiful thing. 15 years since the release their first 2 albums Morning Sun & Learn Yourself , The Beautiful Girls will present these two albums in their entirety.
New Orleans based funk master Jon Cleary has performed with the likes of Bonnie Raitt and B.B. King, and has released two albums with his current band Jon Cleary & the Absolute Monster Gentlemen. They will showcase their reggae-infused sounds at QMF, including songs off the album Go Go Juice, which won the Grammy Award for Best Regional Roots Music Album in 2016.
After cutting their teeth in pubs and backyard party jams for nine years, The Teskey Brothers will bring their dynamic Melbourne-via-Motown sound to the festival this November. Rounding out the first announcement for Queenscliff Music Festival 2017 are 30/70, Freya Josephine Hollick, GL, Hot Potato Band and Mama Kin & Spender.
Hovering in that sweet spot where relaxed family friendly atmosphere and fun flow party crowds co-exist in live music festival harmony, Queenscliff Music Festival offers a program brimming with something for everyone.
Visitors from near and far can shack up in cosy beachside B&B, hit the local camping grounds, or upgrade their stay in one of the regions historic boutique hotels. Patrons have also developed a taste for the regions locally grown produce, and the festival arena and beyond are flush with gourmet food & wine provisions.
Set against a backdrop of sun, surf and sea in the picturesque Bellarine Peninsula, Queenscliff Music Festival has attracted an eclectic array of talent over the years, kicking off the festival season each November with a talent pool the gets bigger and better year after year. The festival has become renowned for impressing all kinds of music-loving masses. More than just music, festival presents an arts & comedy component in each year's line-up as well as plenty of colourful kids entertainment options for the little folk and families.
Prices: 3 & 2 Day tickets on sale now and selling fast! Single day tickets on sale July 1st.
Tickets and info: www.qmf.net.au
Facebook: www.facebook.com/queenscliffmusfest
Twitter: twitter.com/QueenscliffFest
YouTube: www.youtube.com/user/QueenscliffMusicFest