Events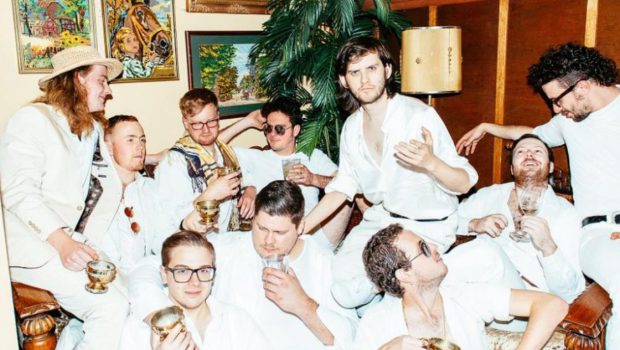 Published on August 28th, 2017 | by Admin
Queenscliff Music Festival 2017 fourth line up announcement
Big bands and belly laughs on the Bellarine! Queenscliff Music Festival 2017 expands its lineup Just when you thought the lineup for Queenscliff Music Festival 2017 couldn't get any bigger or better, it's now time to announce the fourth round of comedy and culture coming to the coast. The festival is excited to reveal the QMF Comedy Show, featuring side-splitting stand-up routines from four of Australia's funniest. Ivan Aristeguieta migrated from Venezuela to Adelaide in 2012 and after only six months he'd collected his first Australian comedy award.
Harley Breen has won over a legion of fans with his accessible and relatable comedy, seamlessly moving from material about the foibles of being a new-age dad to dodgy tales of his beloved old Kingswood. Young talent Demi Lardner has been doing stand-up since she was 16 and in the past five years has scored handfuls of awards and performed her unique brand of funny around the country and abroad. And rounding out the bunch is Nath Valvo. Whether it be his family, growing up in the 90's, his hatred of cats, Grindr or self-serve supermarkets, Nath is becoming a favourite of many comedy lovers around Australia. With the laughs well and truly covered, Queenscliff has also added a slew of new musicians to the list. Ranging from spirited singer-songwriters to charismatic and upbeat big bands, the lineup is a mega mix of genres, styles and tempos, and is sure to appeal to everyone's musical tastes.
Get ready to embrace the urban orchestras as we welcome two 10-piece ensembles to the festival! If roots and world beats are your thing, look no further than Lamine Sonko & The African Intelligence – energetic frontman Lamine Sonko will have you dancing to the beat of his band's drum in no time. If Saturday Night Fever meets Boys II Men is more your style, then bust out your best moves for Sex on Toast.
Dripping in 80s pizazz, this Melbourne based band look as good as they sound, and their synchronised dance moves are a sight to behold! Raised on the healthy diet of blues, soul, gospel & rock n roll, vocalist Caiti Baker will bring her sultry stage presence to Queenscliff, whilst Melbourne based folksters The Mae Trio will deliver superb 3-part vocal harmonies for lovers of easy listening. Cherry Bar soul DJ Vince Peach is also back by overwhelming popular demand! The fourth lineup is: QMF Comedy Show featuring Ivan Aristeguieta, Harley Breen, Demi Lardner & Nath Valvo plus… Andie Isalie Black Rabbit George Caiti Baker Creek Hussy Hicks The Imprints James Franklin Lamine Sonko & The African Intelligence.
The Mae Trio Miss Eileen & King Lear Pat Tierney Sex On Toast Spiritus Ukulele Death Squad Vince Peach Tickets are selling faster than ever and there's only a handful of Saturday tickets left! Prices are also set to increase September 1st unless sold out prior. Running from Friday 24 to Sunday 26 November, Queenscliff Music Festival will pack more than a punch into Bellarine's spectacular seaside village. Music, food, culture, laughs and fun for days! Tickets and info: www.qmf.net.au Facebook: www.facebook.com/queenscliffmusfest Twitter: twitter.com/QueenscliffFest YouTube: www.youtube.com/user/QueenscliffMusicFest
Andie Isalie will steal your heart, boggle your mind and untie your shoelaces. Armed with her '63 Mustang, and sultry vocal chords, the Katoomba abiding cherub is influenced heavily by jazz, soul & 80s prog-rock. She uses complex chords, time signatures and syncopation to lull her audience and then yanks them right back out with her abrasively honest lyrics. At the ripe old age of 20, Andie has taken her tunes to Woodford Folk, The National Folk Festival and The Blue Mountains Music Festival countless times.
Black Rabbit George is a new incarnation for Tijuana Cartel's guitarist/singer/songwriter Paul George. It's an opportunity for Paul to further explore the acoustic guitar that is at the heart of Tijuana Cartel and to pursue his long-time interest in folk and roots music. From the wellspring of childish fantasy and a lifetime of musical evolution emerges the Black Rabbit – It mines these experiences with a guitar that threads itself into every line of every lyric, paying homage as it goes to the great folk storytellers and the great folk musicians.
Caiti Baker was born into a household filled with music and learnt how to write and record songs on her own from the age of 12. She formed an electro-soul act in her early 20s called Sietta, but in 2014 she decided to step out on her own. So far in her career, Caiti has played at Womad and has supported Guy Sebastian and American legend Booker T. She frequent collaborates with Briggs and recently did backing vocals for Pete Murray. Caiti writes songs about what she knows and feels, sings with her soul and unashamedly performs the hell out of them.
Creek ascended from riverbanks Victoria-wide, merging in Melbourne to spread their concoction of spicy, soulful noise mud all over fans of heavy, shake-ass music. With a groove akin to the constant flow of the current, and a force as reckoning as the strong pull of the rapids, you'll be mesmerised and mobilised by their own exhilarating brand of rhythm & blues, funky groove & rock 'n' roll. With an upbringing of rock, blues, psych, funk, and alternative music spanning back from the 1960's to the present day, it's in the band's framework to hit you with a refreshing dose of rhythm you can get up and into, and leave you feeling satisfied with a captivating performance experience you just won't forget.
Hussy Hicks are back with their fifth full length offering, On the Boundaries. A departure from their trademark live sounding records, this album sees the Hussy Hicks experiment with their sound and production to create something familiar yet fresh. Hussy Hicks have made a name for themselves locally and on the international stage the old fashioned way by playing their music and connecting with audiences one passionate performance at a time. It's not just their talent and musical chemistry that set Hussy Hicks apart – but that they approach every show and every song with the intention of playing music for the absolute joy of it.
The Imprints are a live dance music duo consisting of Willow Stahlut and Linden Lester. Their live looping multi-genre show with sub bass, high energy drums and soaring violin solos has been a highlight at festivals all over the world! They've toured extensively performing at festivals including Glastonbury (UK), Fusion (Germany), Luminate (New Zealand), Robson Valley Music Festival (Canada) and Katuaq (Greenland).
James Franklin began his career playing in anything from homes to clubs to large halls and festivals around Australia, working tirelessly to find his sound and style. He now has over 300 shows under his belt including performances with 5 Seconds Of Summer, Joan Osborne, shows in the U.K/Europe and most recently, a tour of the USA. Franklin cites Sam Cooke, Led Zeppelin and James Taylor as a few of his biggest influences. The ability to understand how all music is connected is how Franklin found his sound, a sound that combines Blues, Rock, Funk and Country, a sound that pays tribute to his heroes but stays fresh and current, a sound everyone can connect with.
Lamine Sonko & The African Intelligence deliver a big band sound of African roots music, jazz and reggae. The 10 piece ensemble capture ancient pulsing rhythms accented by talking drum and virtuosic electric guitar. They recently delivered crowd-stopping performances at WOMADelaide, Port Fairy Folk Festival, White Night Melbourne, Fed Square NYE, and Arts Centre Melbourne. They have just released Afro Empire, their debut album inspired by two recent trips to West Africa infusing their afro beats with a new wave of future rhythms direct from the continent.
The Mae Trio are fresh from a 5 month tour in the USA, Canada and Europe celebrating the release of their Nashville-recorded, sophomore album Take Care Take Cover – described by The Australian as 'simply superb'. From the Edmonton Folk Festival to the Rocky Mountains Folk Fest in Colorado to Celtic Connections Festival in Glasgow, this trio have been winning hearts all over the world. Their live show presents their refreshing take on Australian contemporary folk music with powerful songwriting, sophisticated instrumentation (feat. cello, banjo, fiddle, mandolin & guitar) and breathtaking three-part harmonies!
Miss Eileen & King Lear are a brother/sister duo hailing from Melbourne. What started off as a small side project for the pair (away from their main act Perch Creek), has steadily gained momentum to become a solid outfit that Eileen and Lear are proud of. Mixing rock, folk, pop, and laden with strong harmonies, they have created a unique sound that compliments their dynamic personalities.
Pat Tierney's music nestles somewhere between the inspiring sounds of Bob Dylan, Ry Cooder and Bob Marley. A hint of folk & blues with a splash of reggae roots, intertwined with soulful lap-slide guitar and sweet melodies. The 2016 release of Pat's debut album Wild World Blues has seen a hugely successful 18 months of extensive touring throughout Australia & NZ. He's performed alongside the likes of Mat McHugh (The Beautiful Girls) and Horrorshow, plus recent festival appearances at Blues on Broadbeach and Bendigo Blues and Roots Festival.
Sex On Toast are an irrepressibly charming 10 man organisation who specialise in raw early 80's funk, hard-edged new jack swing, blazing improvisation and heartfelt blue-eyed soul. Currently residing in Melbourne, Australia, their choreographed stage act, complex arrangements, performative larrikinism and danceability have won the hearts of casual punters and hardcore fans alike, all across Australia. Sex on Toast have performed at events such as Adelaide Fringe Festival, Melbourne International Comedy Festival and St. Kilda Festival.
Spiritus are an Indie/Roots Singer-Songwriting trio performing meaningful, intimate and raw original songs. The Chilean/Australian trio express their songs to you with honesty and passion in a combination of acoustic and electric guitar, percussion, violin and soulful 3-part vocal harmonies. Emily, Pia and Amaya invite you to indulge in their sound, stories and spirit.
The Ukulele Death squad aims to entertain and wow by pushing the boundaries of the small four stringed instrument – the Ukulele. With their own uke style, blending Flamenco, Mexican and Folk, and sold-out debut Adelaide and Edinburgh Fringe shows, the squad will warp your perceptions of ukuleles one nylon string at a time. With stage-craft, mad thumping rhythms and outrageous solos, the squad will quite literally blow your minds. Enter at your own risk.
Vince Peach was born in Liverpool and has been spinning original soul 45s for as long as anyone can remember. An avid collector of Northern Soul, Vince still manages to unearth gems that keep dance floors jumping all over his adopted homeland. With records arriving on a daily basis, you can always be sure to hear something new at his gigs around town. He hosts Soul Time on PBS FM and is the original DJ at Cherry Bar – the Thursday night soul sessions 'In the Basement' has been running for 11 years and is the longest running weekly soul night in the world. Vince laid the foundations for the highly successful Soul a Go Go, where he still tops the bill after three fabulous years.