Comics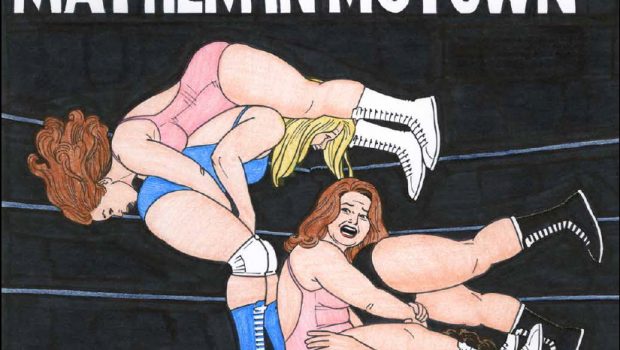 Published on August 4th, 2021 | by Tim Chuma
Queen of the Ring: Wrestling Drawings by Jaime Hernandez 1980-2020 (2021) Review
Summary: Well worth considering even if you are not a fan of wrestling or have not heard of this artist before. Great style and vibrancy to the drawings.
While I am aware of the Love and Rockets series by Jaime Hernandez, I have never actually read any of the books but it has been going for a long time and has influenced a lot of people in their artistic work. I recognised the artwork straight away so it must have appeared somewhere else that I can't remember.
The characters in this book are not the same as his main series and are based on old wrestling magazines that he collected as a child. When he started out he used to copy the photos from the magazines and over time he evolved into making fake magazine covers, action shots and full colour illustrations.
Even though his main series is quite well-known, none of this artwork has been released before as he mainly did it for himself for something outside of the main series he worked on. It does remind me of my weekly drawing or life drawing sessions as I would not really consider releasing my sketches as a book as it is not really what I am known for and it is more something fun for myself.
Set in the 1960s and 1970s era of wrestling, the characters are very unique looking and their hair and clothing seem to come from an even earlier era.
This is drawn differently than his usual work and seems to be using coloured pencil and markers with the original artwork being scanned you can see the original streaks from the filling in large areas on the page and some evidence of the revisions involved in the artwork. I do enjoy seeing the fingerprint of the artist on their work, not only just because I can't seem to keep my own fingerprints off my work due to working with messy materials.
While you will get more out of this is if you are already a fan of this artist's work, I am sure it will get him more fans from area of wrestling due to the G.L.O.W remake recently and interest in retro style in general.
An excellent book with interesting artwork that I would consider getting myself if I was looking for something original.
Book details:
Artist: Jaime Hernandez
Editor: Katie Skelly
Book specifications: 128 pages, hardback, Full-colour
Publisher: Fantagraphics
Published: 3rd August, 2021