Events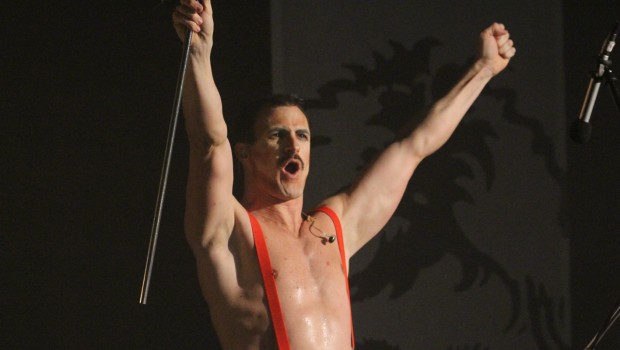 Published on August 8th, 2014 | by admin
Queen – It's A Kinda Magic, National tour starts in four weeks, from September 9 2014
After a hugely successful tour in the USA, Queen – It's A Kinda Magic will arrive in Australia in just four  weeks to begin its nationwide tour on September 9 2014.
Queen – It's A Kinda Magic will present fans with the opportunity to re-live Queen as the band was in its  classic days. This stunning re-creation of the 1986 'We Will Rock You' tour features Giles Taylor as Freddie Mercury at his charismatic best.
Taylor landed the coveted role of Freddie Mercury following extensive worldwide auditions – Showtime Australia spent 18 months searching for the right person. The competition was fierce but Taylor's natural talent as a pianist and his three-and-a-half octave vocal range saw him beat many other sensational candidates. In Taylor they found someone who not only has an incredible voice, is an accomplished pianist and looks the part – he also has the charisma and stage presence to make audiences really feel like they are watching Freddie Mercury.
Giles Taylor said, "Playing the character of an icon such as Freddie Mercury, who is not only known for his outstanding musical ability but also for his flamboyant personality both on and off-stage, is not only an honour but a fantastic and continual challenge. I am especially looking forward to performing to an Australian audience. Australians are renowned for their appreciation of classic rock music and having performed in Australia before I know how receptive and appreciative the audience can be. Queen – It's A Kinda Magic has been embraced by audiences worldwide: now it's Australia's turn". With a brand new cast of performers, Queen – It's A Kinda Magic will entertain new and old fans alike with its eerily perfect renditions of the band's greatest hits. The much loved theatrical creation and full concert experience will include over 20 of Queen's most loved songs.
Freddie Mercury's former personal assistant of 12 years and biographer, Peter Freestone, was so impressed with Queen – It's A Kinda Magic that he has not only endorsed the show but he now travels with it, acting as a consultant and meeting fans when his schedule allows. Freestone only spent three weeks away from
Mercury in 12 years so there are few people more equipped to help Taylor fine tune and finesse his performance.
Freestone said, "Giles Taylor has got Freddie under his skin now and is mesmerising the crowd. I know the Australian audiences enjoyed the shows before and I can guarantee they will want more of the lights, sound and costumes of It's A Kinda Magic." Taylor will be joined by Richie Baker as Brian May on guitar, James Childs as John Deacon on Bass and Kyle Thompson as Roger Taylor on drums.
National tour includes dates in Queensland, New South Wales, ACT, Western Australia, South Australia and Victoria.
TICKETS ON SALE NOW
New South Wales
Port Macquarie September 9 2014 at 8pm
Glass House Theatre
Bookings : www.glasshouse.org.au
P 02 6581 8888
Ticket prices: $59.90 – $69.90
Newcastle September 10 2014 at 8pm
Civic Theatre
Bookings : www.ticketek.com.au
P 02 4929 1977
Ticket prices: $69.90 – $79.90
Wollongong September 11 2014 at 8pm
WIN Entertainment Centre
Bookings : www.wec.org.au
Ticket prices: $69.90 – $79.90
Penrith September 12 2014 at 8pm
Panthers-Evan Theatre
Bookings : www.ticketek.com.au
P 132 849
Ticket prices: $79.00
Sydney September 13 2014 at 8pm
State Theatre
Bookings : www.ticketmaster.com.au
P 136 100
Ticket prices: $79.90 – $89.90
ACT
Canberra September 14 2014 at 7:30pm
Canberra Theatre
Bookings : www.canberratheatrecentre.com.au
P 02 6275 2700
Ticket prices: $69.90 – $79.90
Western Australia
Mandurah September 24 2014 at 8.00pm
Mandurah Performing Arts Centre
Bookings: www.manpac.com.au
P (08) 9550 3900
Ticket prices: $59.90 – $69.90
Bunbury September 25 2014 at 8.00pm
Bunbury Regional Entertainment Centre
Bookings: www.bunburyentertainment.com
P 1300 661 272
Ticket prices: $59.90 – $69.90
Perth September 26 2014 at 8.00pm
Crown Theatre Perth
Bookings: www.ticketek.com.au
P 132 849
Ticket prices: $79.90 – $89.90
South Australia
Adelaide October 1 2014 at 8.00pm
Festival Theatre at Adelaide Festival Centre
Bookings: www.bass.net.au
P 131 246
Ticket prices: $79.90 – $89.90
Victoria
Melbourne October 3 2014 at 8.00pm
Palais Theatre
Bookings: www.ticketmaster.com.au
P 136 100
Ticket prices: $79.90 – $89.90
Frankston October 11 2014 at 8.00pm
Frankston Arts Centre
Bookings: www.thefac.com.au
P (03) 9784 1060
Ticket prices: $59.90 – $69.90
Geelong October 12 2014 at 8.00pm
GPAC – Play House
Bookings: www.gpac.org.au
P (03) 5225 1200
Ticket prices: $59.90 – $69.90
Queensland
Caloundra October 15 2014 at 8.00pm
The Events Centre
Bookings : www.theeventscentre.com.au
P (07) 5491 4240
Ticket prices: $59.90 – $69.90
Brisbane October 16 2014 at 8.00pm
Queensland Performing Arts Centre (QPAC)
Bookings : www.qpac.com.au
P 136 246
Ticket prices: $79.90 – $89.90
www.itsakindamagic.com
Facebook- queenitsakindamagic
Twitter- @G_Taylor_QIAKM
Instagram- giles_taylor
Pintrest- giles taylor