Events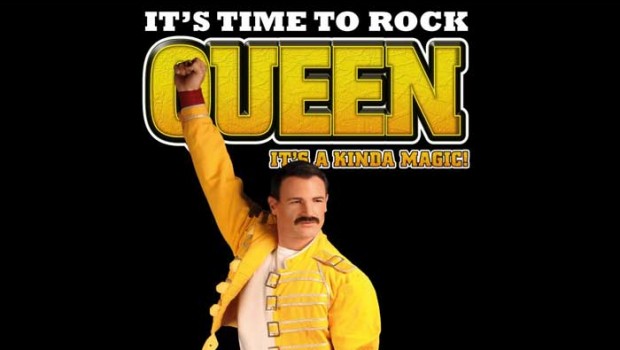 Published on October 12th, 2014 | by admin
Queen It's a Kind of Magic Review
Summary: Given the spectacular performance of the band in Queen It's a Kind of Magic, especially Giles Taylor, I'm sure Freddie Mercury would have given his blessings
Queen It's a Kind of Magic
Event: Concert (Tribute/Theatrical)
URL: www.itsakindamagic.com
Australian Tour Dates: 1/10/2014 to 27/10/2014
International Tour Dates: www.itsakindamagic.com
Reviewer: Andrew Bistak
Queen It's a Kind of Magic is the ultimate 21st century Queen experience that takes the audience on a truly musical journey as some of their greatest hits are recreated in this amazing tribute but with a twist. The twist is that Queen It's a Kind of Magic melds tribute band with theatrical experience which creates an uncanny Queen experience as you are taken back in time to some of their greatest hits from 1973 to 1991. Add in a touch of comedy thanks to the lead protagonist and you have a very entertaining show indeed!
Needless to say, you could feel the anticipation in the air at the Geelong Performing Arts Centre as this band really delivered a memorable Queen experience. With around 20 of Queen's greatest hits, this performance included some great renditions of "Bohemian Rhapsody", "You're my Best Friend", "I want to Break Free" and the legendary "We Are the Champions"… you really can't go wrong if you're a fan.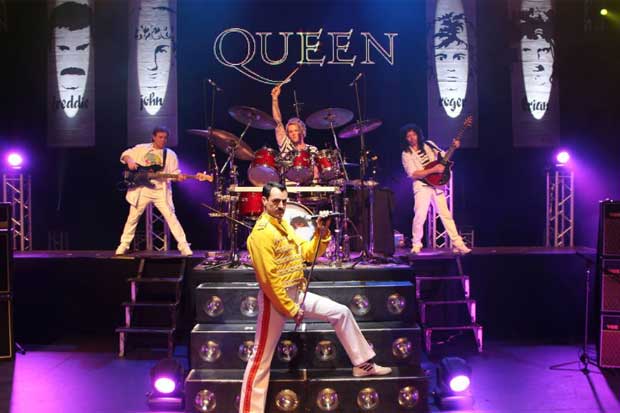 Although this show was launched in Australia in 2001, it has toured the world and the current performer to wear the famed yellow jacket of Freddie Mercury is British pianist and vocalist Giles Taylor who really channels the spirit of this rock god. When you first see Giles Taylor on stage, you could almost be forgiven in thinking that this is actually Freddie Mercury as he really embodies who this rock star was from his appearance to mannerisms, clothing and of course that fabled voice.
Giles is also supported by Peter Freestone behind the scenes who was Freddie's personal assistant for 12-years that has really helped him perfect the nuances of the person he is playing. Interestingly enough, there were a few times that during the show, Giles looked almost identical to Mercury while playing the piano due to the mannerisms he was mimicking.  I also liked how Giles drew in the crowd with his infectious personality and he was very interactive with us, such as singing through the crowd and getting everyone to clap and dance to these legendary hits… it was quite electric!
Another great element of Queen It's a Kind of Magic is the stage itself that is oozing with Queen references not to mention the outlandish costumes that this tribute band wears. Giles even dresses as a female to mimick the excellent "I Want to Break Free" music video that had Freddie dressed as a housewife. The costumes really play a huge part in giving the audience that definitive Queen experience. Another highlight is the lighting which really booms rock concert and helps fortify this musical experience.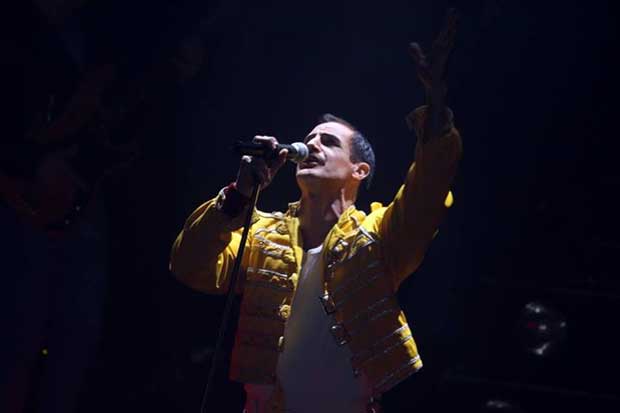 To compliment Giles Taylor as Freddie Mercury, the band also encompasses the other members of Queen that include brilliant renditions of Brian May (Richie Baker), John Deacon (James Childs) and Roger Taylor (Kyle Thompson). The show even has a replica of Brian May's electric guitar dubbed the "Red Special" or the "Fireplace" which really belts out the music and it was great to see that Richie Baker donned a Brian May mullet as well. These four performers really create the music of Queen from not just their voices but also their musical instruments and because they're having so much fun on stage, this transfers back into the audience.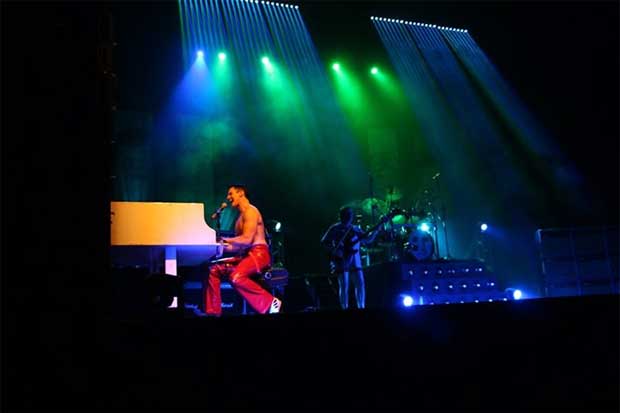 Final Thoughts?
At the end of the night, Giles Taylor, Richie Baker, James Childs and Kyle Thompson gave the audience a brilliant musical trip down memory lane as they channelled this legendary rock band. The entire production was brilliant from start to finish and if you're a fan of Queen than I strongly suggest you check out Queen It's a Kind of Magic before they leave the shores of Australia.
Given the spectacular performance of the band, especially Giles Taylor, I'm sure Freddie Mercury would have given his blessing as they really done justice to the band Queen that definitely makes Queen It's a Kind of Magic a must see show. The music and performance was flawless that was echoed by the audience as "Queen" was heard "live" again.