Events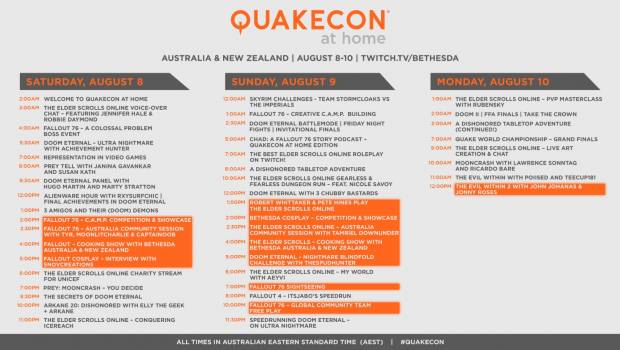 Published on July 31st, 2020 | by Alex Novus
QuakeCon 2020 | "QuakeCon at Home" Schedule Released, Giveaways Announced, and More
We're just over a week away from the kickoff of QuakeCon at Home, the global online event that will bring the fun and comradery of QuakeCon to the safety of home. We're excited to celebrate the 25th annual QuakeCon with a global Super Stream, featuring a full weekend of nonstop live content from around the world. The schedule is packed with three days of celebrity influencer streams, live concerts, charity fundraising, developer panels and much more. The weekend kicks off with the traditional QuakeCon Welcome at 12 p.m. ET on August 7 and wraps up at 11 p.m. ET on August 9.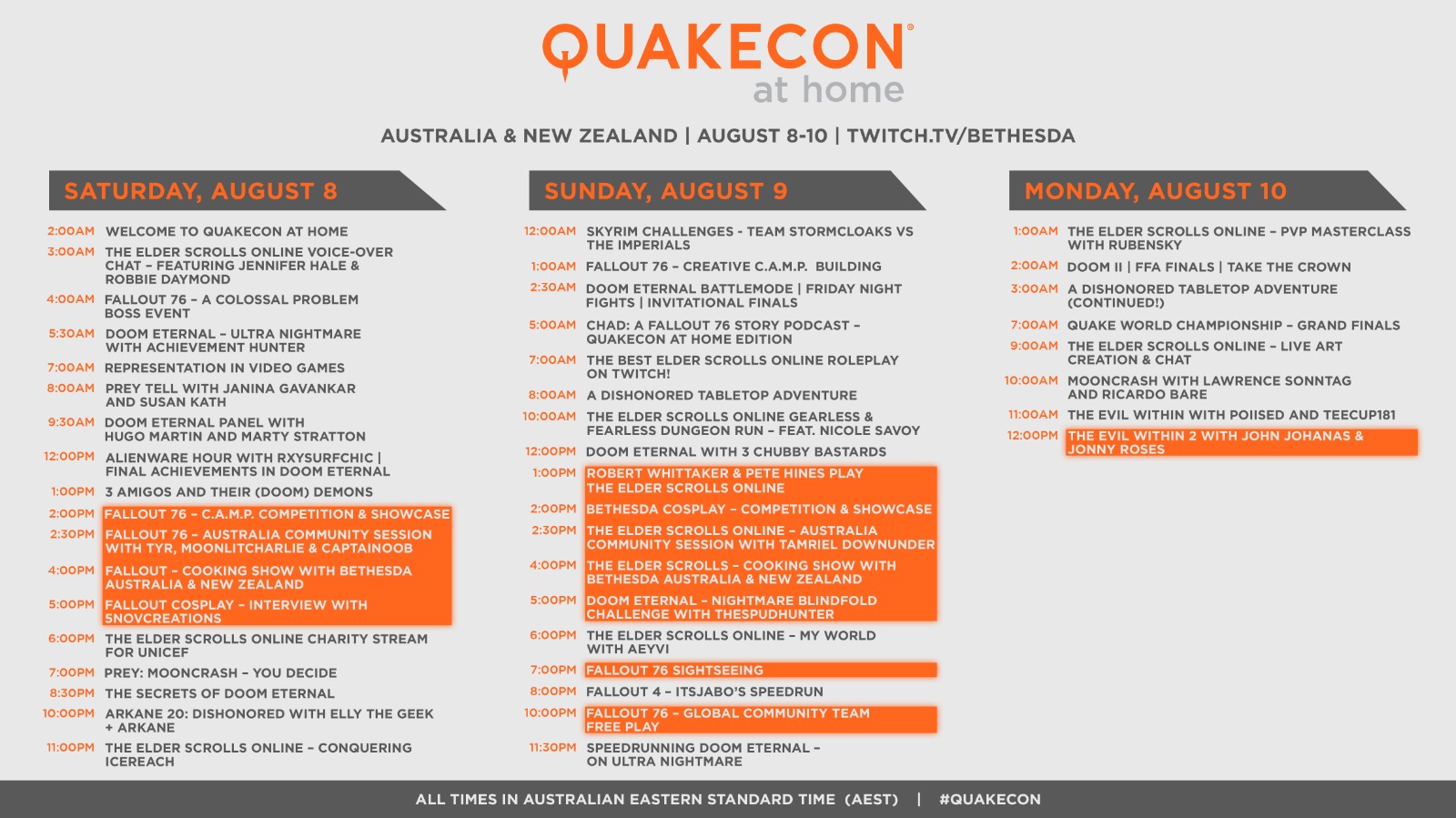 Fans can find everything they want to watch at Twitch.tv/Bethesda. For the full schedule and information, please check in at bethesda.net.
Here are some highlights fans can look forward to:
Friday, August 7
QuakeCon Digital Welcome with Pete Hines: 12 p.m. ET
Representation in Video Games panel discussion: 5 p.m. ET
Prey Tell, an interview with Actress Janina Gavankar and Lead Producer Susan Kath: 6:00 p.m. ET
DOOM Eternal Panel with Hugo Martin & Marty Stratton: 7:30 p.m. ET
Saturday, August 8
CHAD: A Fallout 76 Story Podcast – QuakeCon at Home Edition: 3 p.m. ET
Dishonored Tabletop RPG featuring Arkane Studios' Harvey Smith: 6 p.m. ET
ESO Stream with Top UFC Middleweight Rob Whittaker: 11 p.m. ET
Sunday, August 9
Fallout 76: Global Community Team Free Play: 8 a.m. ET
Dishonored Tabletop Continued!: 1 p.m. ET
Quake World Championship – Grand Finals: 5 p.m. ET
Watch Poiised get scared half to death playing The Evil Within: 9 p.m. ET
Charity Initiatives
We are excited to continue QuakeCon's charitable legacy in both a global and local way. QuakeCon viewers will be able to join us in donating to organizations directly from the official QuakeCon at Home Twitch stream, including Direct Relief, UNICEF, NAACP Legal Defense and Educational Fund, and The Trevor Project.
QuakeCon at Home will also have new, exclusive "Dogvahkiin" and "Catodemon" t-shirts for sale, with 100 percent of the profits going to both our long-time Dallas animal adoption partner, Dallas Pets Alive, as well as FOUR PAWS, a global animal welfare organization.
Free Games and In-Game Goodies!
Once QuakeCon at Home kicks off, there will be a number of free game and in-game loot giveaways over the course of the weekend. Check them out below:
QUAKE for Free! – Throughout the weekend of QuakeCon, players can login to Bethesda.net and obtain a free digital copy of the original Quake on the Bethesda launcher. You must be logged into your Bethesda.net account to claim the free game.
Donate for QUAKE II – If donations reach the $10,000 mark, players will be granted a free digital copy of QUAKE II on the Bethesda launcher at a point soon after the event.
ESO In-Game Pet– Watch any of the official ESO streams each day and you will receive a QuakeCon-unique Twitch Drop, the Flame Atronach Pony pet, in addition to Ouroboros Crown Crates! Make sure you link your ESO and Twitch accounts ahead of time to qualify.
DOOM Eternal QuakeCon Slayer Skin – DOOM Eternal players can access a free in-game QuakeCon Slayer Skin, icon, and player badge across all platforms. Available until August 11.
QUAKE Champions Railgun Skin – Claim a free, exclusive QuakeCon 2020 Railgun skin in QUAKE Champions.
Fallout 76Sheepsquatch Outfit and Mr. Fuzzy Backpack Demonic Variants – Claim these free in-game items from the Atomic Shop all weekend during QuakeCon, available across all platforms.
QuakeCon Twitch Team
This year the global QuakeCon community will unite and connect for the first time through the official QuakeCon at Home Twitch Team. The Team will celebrate QuakeCon, play and share games, and help raise money for the QuakeCon-supported charities. Some players will be featured on the QuakeCon Twitch Team page. You can register to be part of the QuakeCon Twitch Team here: https://quakecon.bethesda.net/en/signup/
Official QuakeCon at Home Swag
With luck, this will be the only QuakeCon at Home we ever have to hold, so this year's tee-shirt will be truly one-of-a-kind. QuakeCon collectors still have a chance to pick up their QuakeCon at Home merch to complete the set!
– NA Bethesda Gear Store: https://beth.games/2ZtStON
– EU Bethesda Gear Store: beth.games/31E3vUq
QuakeCon Partner Giveaways
QuakeCon at Home's amazing partners have put together some awesome giveaways for fans who tune into our streams and interact with us on Twitter at @QuakeCon and @Bethesda. Check out just a few of those giveaways to look out for over the course of the event below and stay tuned to learn how to win them!
noblechairs is giving away two of their amazing chairs, one Fallout and the other DOOM themed
One custom DOOM Eternal Xbox One X
One custom DOOM Eternal PS4 Pro
A number of Razer Peripheral Prize Packages
Four Alienware 410K Keyboards
A SteelSeries Ultimate Peripheral Prize pack including an Apex Pro keyboard, an Arctis Pro headset, and Rival 650 Wireless mouse
ViewSonic Elite Gaming Monitors and Portable Projectors
Along with a number of Full Peripheral Prize Packages, One grand prize collection from our friends at Corsair, Elgato, and Origin of a keyboard, mouse, mousepad, headset, origin PC, Elgato streamdeck, keylight, cam link & wave microphone