Events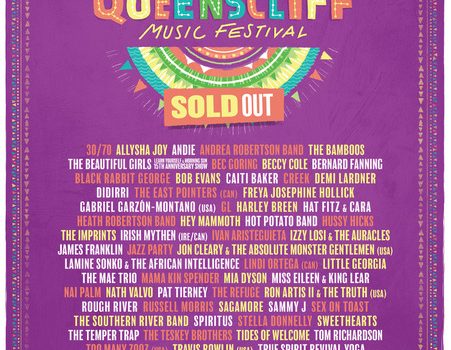 Published on October 30th, 2017 | by Admin
QMF 2017 Sold Out!
It's official. Queenscliff Music Festival 2017 has now sold out, and it's no surprise when you consider the bands and programs this year's event has secured.
For those who missed out, a ticket swap is now underway where people can register to buy and sell authentic tickets for re-sale here: http://qmf.net.au/tickets/ticket-swap.
As well as the spectacular music that'll run non-stop throughout the festival, punters can also indulge in the great array of food and drinks that will be available inside the festival arena.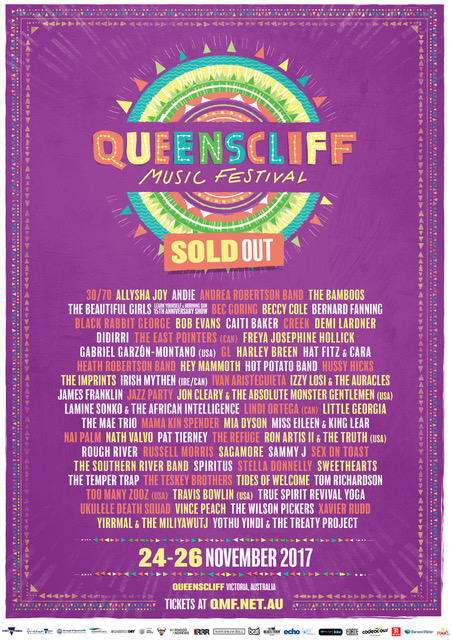 Food wise, festival goers certainly won't go hungry, with plenty of food trucks parked throughout the festival. The likes of Round The Way Bagels, Yo India, Timboon Ice-cream, The Flying Calamari Bros, Bibimbap, Perla Tacos, Melbourne Paella, Turkish Kitchen, Japanese Rice Box and so much more will be on offer, appealing to both adults and kids alike. Full food menu here.
Enjoy craft beers on tap from Matilda Bay, cocktails (including Pimms Cups on tap!), and local Swan Bay wines from Scotchmans Hill. A huge drinks list available across the festival.
Running from Friday 24 to Sunday 26 November, Queenscliff Music Festival will pack more than a punch into Bellarine's spectacular seaside village. Music, food, culture, laughs and fun for days!
Full music line-up:
30/70
Allysha Joy
Andie Isalie
Andrea Robertson Band
The Bamboos
The Beautiful Girls (Learn Yourself & Morning Sun 15th Anniversary Show)
Beccy Cole
Bec Goring
Bernard Fanning
Black Rabbit George
Bob Evans
Caiti Baker
Creek
Demi Lardner
Didirri
The East Pointers (CAN)
Freya Josephine Hollick
Gabriel Garzon-Montano (USA)
GL
Harley Breen
Hat Fitz & Cara
Heath Robertson Band
Hey Mammoth
Hot Potato Band
Hussy Hicks
The Imprints
Irish Mythen (IRE/CAN)
Ivan Aristeguieta
Izzy Losi & The Auracles
James Franklin
Jazz Party
Jon Cleary & The Absolute Monster Gentlemen (USA)
Lamine Sonko & The African Intelligence
Lindi Ortega (CAN)
Little Georgia
The Mae Trio
Mama Kin & Spender
Mia Dyson
Miss Eileen & King Lear
Nai Palm
Nath Valvo
Pat Tierney
The Refuge
Ron Artis II & The Truth (USA)
Rough River
Russell Morris
Sagamore
Sammy J
Sex On Toast
The Southern River Band
Spiritus
Stella Donnelly
Sweethearts
The Temper Trap
The Teskey Brothers
Tides of Welcome
Tom Richardson
Too Many Zooz (USA)
Travis Bowlin (USA)
True Spirit Revival Yoga
Ukulele Death Squad
The Wilson Pickers
Xavier Rudd
Yirrmal & The Miliyawutj
Yothu Yindi & The Treaty Project
Vince Peach
Info: www.qmf.net.au
Facebook: www.facebook.com/queenscliffmusfest
Twitter: twitter.com/QueenscliffFest
YouTube: www.youtube.com/user/QueenscliffMusicFest