Games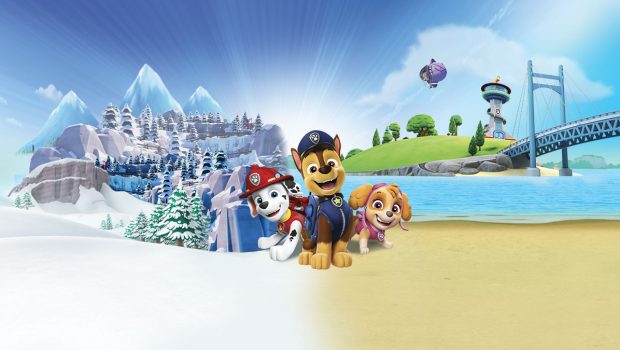 Published on September 29th, 2023 | by Admin
PUP-TASTIC OPEN-WORLD ADVENTURE GAME PAW PATROL WORLD LAUNCHES TODAY
Outright Games, one of the leading publishers of family-friendly interactive entertainment, under licence from Paramount Consumer Products, is thrilled to share that PAW Patrol World is available to play, from today. This open-world adventure game releases during an exciting year for the franchise, as the award-winning animated series PAW Patrol™, produced by Spin Master Entertainment, celebrates its 10 year anniversary. PAW Patrol World is available now on PlayStation 4®, PlayStation 5®, Nintendo Switch™, Xbox One, Xbox X|S and Steam.
PAW Patrol World is an open-world adventure game where players of all ages can explore the streets of the pups hometown of Adventure Bay and beyond. The game also features the original UK voice actors for the show, including Justin Paul Kelley as Chase, Solomon Brown as Ryder, Kallan Holley as Skye and Devan Cohen as Rubble and more!
Featuring all the iconic characters from the beloved TV series, players will need to work together to stop Mayor Humdinger and his Kitten Catastrophe Crew who are up to no good and plan to disrupt the PAW Patrol Day festival. Players can choose between 8 playable characters including the original team Chase, Skye, Marshall, Rubble, Rocky and Zuma as well as fan favourites Tracker and Everest. Players can seamlessly switch between the whole team during their missions and utilise each of their unique PAW-sonalities, vehicles and abilities to match the missions at hand and to bring peace back to Adventure Bay!
With options to explore solo or team up with 2-person couch co-op, PAW Patrol World will provide hours of fun for even the youngest of PAW Patrol fans. As well as truck-loads of missions and side quests, players can unlock character costumes inspired by the TV show, vehicle customisations, stickers, emojis and more! Eagle-eyed players may also be able spot Mayor Goodway's prize pet chicken, Chickaletta, featured in various collectable artworks throughout the game.
Stephanie Malham, COO of Outright Games, says: "At Outright Games we are dedicated to transforming the world's most loved franchises into accessible entertainment for fans of all ages. Creating a longstanding relationship with iconic brands Nickelodeon, Paramount and Spin Master has been an utter delight and we are so proud to have now created five PAW Patrol games. This year marks the 10th Anniversary of the PAW Patrol franchise and to celebrate we are delighted to bring this all new game."
PAW Patrol World is based on Spin Master's PAW Patrol, the award-winning hit animated preschool series that follows the adventures of a tech-savvy boy named Ryder and his team of pups who are ready to save the day. One of the most popular kids' shows in the world, its success has turned the franchise into a true global phenomenon. Since its launch in 2013, PAW Patrol currently airs in over 180 territories and in 35 languages, consistently ranking as one of the top-rated preschool series and reaching over 350 million households globally. The series was recently renewed for a 10th season (26 episodes) that will follow the PAW-some pack of pups, including Chase, Marshall, Rubble, Skye, Rocky, Zuma, Everest and Tracker, on even more action-packed rescue missions and adventures- whether it's deep in the unexplored regions of the jungle or out-of-this-world trouble in Adventure Bay.
PAW Patrol World is available to play now on PlayStation 4®, PlayStation 5®, Nintendo Switch™, Xbox One, Xbox X|S and Steam.