Comics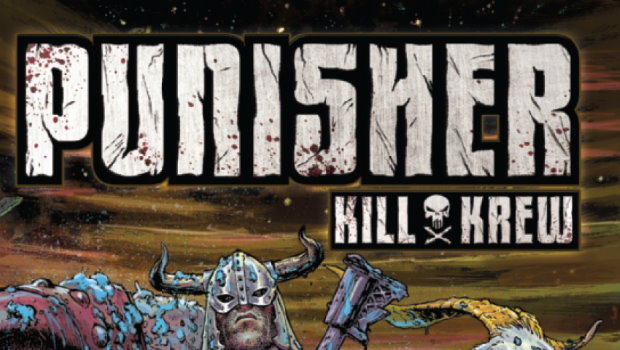 Published on December 2nd, 2019 | by Chris O'Connor
Punisher Kill Krew #5 Comic Review
Summary: With their mission of punishment nearly at an end, there is only one monster left to face... but this monster is ready and waiting for Frank, who will walk away the victor?
With their mission to track down and kill the monsters that killed and ravaged families during the War of the Realms nearly complete, Frank and the Kill Krew have one target left, the toughest of all the monsters the Frost Giant Kasyckla. Will they be able to take him down or will they end up as a frozen treat for the monster?
Writing
There's a mix here of what might be called 80's action movie fun and humour and a serious tone about the impact the horrors of what brought about this epic mission can have on a person. The start is just full on over the top action and excitement, crazy stuff that "could only happen in the comics". There's a degree of danger but it's quickly overtaken by (a guy in a van being pulled by a goat) humour and action. The end of the comic though turns very serious and I have a lot of respect for it for doing so. It's all well and good to make an action romp full of blood and guts and horrible themes… but to then pause and consider what experiencing those things could do to someone, well, that's just less common than perhaps it should be.
Artwork
There are some lovely visual tricks used in a number of the panels here. We have depth of field early on to give a more cinematic feel to the epic battle at hand. Later we have some lovely lens flare type effects to really give some pizazz to the return to earth. The overall look is somewhat a pastel shaded charge of action and adventure brought to life.
Final Thoughts
With such a motley crew, sorry Krew, you'd wonder how they could achieve anything, but somehow they manage to work together. It's a hectic end to a story that has taken Frank Castle to places we might never have expected to see him go, to befriend (or at least work with) characters that would not seem at all like his usual cohorts yet here we are, the end of a mission of vengeance that finishes the way only a Punisher story could. But it's not always the external enemies that are our greatest battle, the battles within can be far more terrifying than any monsters or threats in the world. Big credit for the creative team for addressing the monsters we are more likely to face and for letting people know their is help available.
Comic Details
Publisher: Marvel
Writer: Gerry Duggan
Artist: Juan Ferreyra
Cover Artist: Tony Moore
Genre: Superhero
Format: 24pgs, FC, miniseries
Release Date: 20th November, 2019