Blu-ray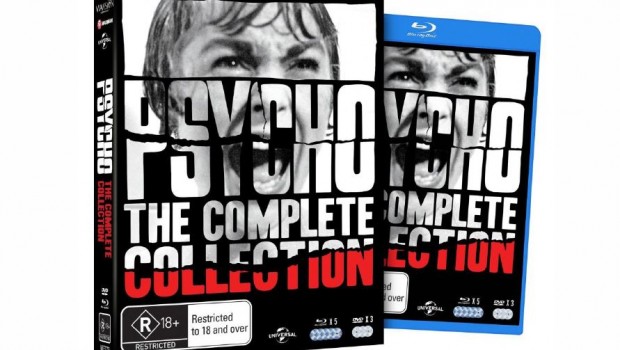 Published on October 22nd, 2015 | by admin
Psycho Complete Blu-ray Collection out December 2
Thursday, October 22, 2015 – Via Vision Entertainment is thrilled to announce the release of Psycho: The Complete Collection. For the first time ever Alfred Hitchcock's Psycho and its three sequels starring Anthony Perkins will be available, together with the 1998 Gus Van Sant remake of Psycho, on Blu-ray. Release streets on December 2.
In 1960 it changed the way movies were publicised, reshaped the expectations of audiences and established a new genre. From the iconic opening recently celebrated in the Fargo TV series, to the mesmerising musical score from Bernard Herrmann, the hectic montage synonymous with the shower sequence and other bravura set pieces, Psycho remains an unnerving and breathtaking example of Hollywood cinema. The slasher film was born. A simple premise of a bored secretary (Janet Leigh) who hits the road with a cache of stolen money is flipped on its head when she checks into the wrong roadside motel run by Norman Bates (Anthony Perkins). Psycho is "still terrifying after all these years" notes Leonard Maltin's Classic Movie Guide.
In 1983 Perkins revived Norman Bates in the sequel helmed by Australian filmmaker Richard Franklin. After 20 years imprisoned in a secure hospital Bates is judged sane by a psychiatric report
and released. He returns to the gothic family home. When he takes in a young female lodger (Meg Tilly), the old demons resurface. Psycho II also features Vera Miles, reprising her role from the original movie, Robert Loggia as Norman's psychiatrist and Dennis Franz as the unscrupulous motel manager in Norman's absence.
Psycho III, directed by Perkins, sees a runaway nun seek refuge at the Bates Motel. Unfortunately for her she shares the same initials as Marion Crane, the original victim. A fledgling love affair begins between her and Norman, but his demanding mother is not impressed by her son's choice of partner and is soon exerting her parental influence.
Joe Stefano, the original scriptwriter, returns as writer on the final sequel Psycho IV in 1990. Bates is reformed and happily married to a psychologist. However, a phone-in show on matricide stirs within him the violent urges and he embarks on another stalk and slash crusade.
Acclaimed director Gus Van Sant remade Psycho in 1998 with Vince Vaughan (True Detective) in the role of Norman Bates. A Meta experiment from the director of Elephant for a new generation, Psycho incorporates the latest innovations in digital photography and CGI effects. Anne Heche (Donnie Brasco) is Marion Crane. The support cast includes Julianne Moore, Viggo Mortensen, William H. Macy, Phillip Baker Hall, James Remar and Robert Forster.
In addition to these remastered features on Blu-ray, Psycho: The Complete Collection also includes the DVD of the TV movie Bates Motel. After 20 years locked away Alex West (Bud Cort) realises Norman Bates is the father he never had. He inherits the motel following Norman's passing and assisted by a wise cracking drifter (Lori Petty), Alex reopens the infamous site and soon attracts an array of strange guests. Bates Motel was a feature length TV movie broadcast on NBC, a rarely seen gem now available.
Psycho: The Complete Collection is crammed with commentaries, featurettes and informative extras and also boasts the famous Hitchcock and Francois Truffaut audio interview. The Making of Psycho (94 mins) is a feature length documentary detailing the long gestating production while in addition to that there is a new two part documentary The Psycho Legacy, on 2-disc DVD.
Housed in a Limited Edition Collectible Slip Case, this is the first time ever the sequels have been made available on Blu-ray and Psycho IV is a global Blu-ray premiere. With the acclaimed Anthony Hopkins vehicle Hitchcock nominated for an Oscar and the Soho cable show Bates Motel entering its fourth season, the story of Psycho continues to endure and terrify like nothing before it or since.
Specs:
SRP: $99.95
Discs: 8
Formats: Blu-ray (5), DVD (3). Please note: also available as an 8 disc DVD release.
Audio: 5.1 DTS (HD Master Audio), 2.0 Mono
Duration: 13 hours