Comics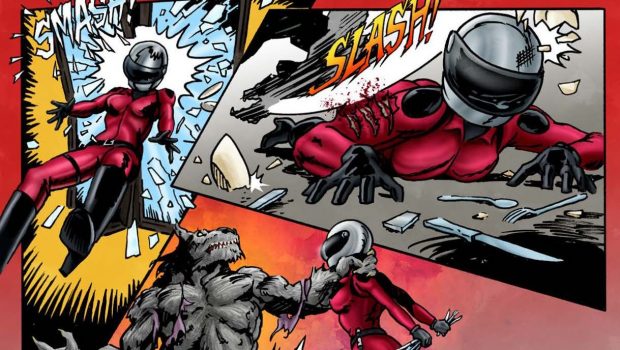 Published on May 10th, 2022 | by Tim Chuma
Professor Dario Bava, Paranormal Playboy in Orgy Of The Blood Freaks #1 (2022)
Summary: Very trashy and bloody as I expected but with the authetic horror vibe from the cinema of the era and worth a look for fans of Italian horror.
Rome 1967: Former Vatican exorcist Professor Dario Bava enlists the help to Sister Sadie to investigate the ruins of an abbey where his assistant was murdered by supernatural forces and uncovers demons that have been buried by the church for centuries.
This was originally a Indegogo campaign by the publisher as they were publishing it themselves and not through a third party. They are selling it now via their website as the double feature with Gringo Loco as it was originally designed.
Although it is written by the same person as the Gringo Loco comic it does have a different feeling to it than that story as it has more of a horror movie vibe especially with Italian horror artist Emanuele Taglietti doing the front cover.
The plot of the story is very trashy and pulpy as you would expect and they even get the details right such has having J&B whiskey in one scene that you would not get as a reference unless you had watched a lot of Giallo movies.
By itself the story sets up the storyline well and there is a lot going on in the story that you can follow along with easy. Paired with the Gringo Loco story in the same volume it is a good contrast as it different type of story.
You do get both the stories together when you buy them from the website so you will be reading them both together but it is great to know they are both worthwhile to read.
Well worth your time and I will be looking out for the next release in this series.
Comic details:
written & coloured by Phil Mucci illustrated by Mike Dubisch cover by Emanuele Taglietti
variant cover by Suspiria Vilchez titles & sound FX by Lydia Roberts
colour flatting by Ian Mackay produced by Diabolik, Dan Simpson & Serge Vladimiroff
Publisher: Diabolik Films
Published: 11th May 2022