Hardware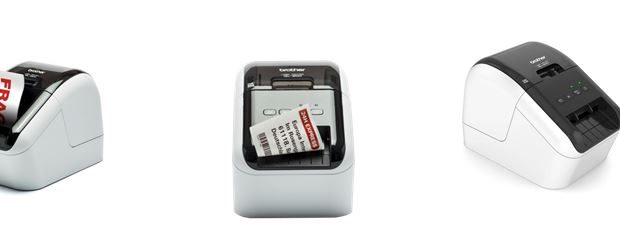 Published on May 2nd, 2017 | by admin
Professional Labelling: Brother Launches the World's First Label Printers with Two-Colour Print
Sydney, Australia – 2 May 2017 – Label printers are indispensable helpers in many companies and homes because they make it so easy to mark and identify things with labels. From binders, folders and cardboard boxes to DVDs, clothes and bags. Brother International (Aust) Pty Ltd is one of the leading suppliers of label solutions and it is therefore hardly a surprise that Brother is the creator of this year's great novelty within thermal-based label printers.
As the first manufacturer in the world, Brother can now present thermal-based label printers for the office and home segment that print in two colours. Not only in black as all the others, but in red, too. This provides unprecedented flexibility and creative possibilities for users of the three new Brother label printers in the QL-800 family. Labels with red print can be used for a variety of applications including warnings, special identification of persons on name tags, highlighting important messages, emphasising offers on signs or for practical reminders.
Three models to choose from
The three new Brother machines use a new type of heat-sensitive thermal paper. Advanced electronics and software ensure that the print head can print in both black and red, without the use of ink or toner.
The new models in Brother's QL-800 series appear in a stylish and modern design with a glossy surface. Thus, the printers can easily be placed on a desk together with laptops and other contemporary equipment.
Brother QL-800 is the smallest of the new label printers – offering USB connectivity, an integrated cutter and software for designing your own labels, it prints at 148 mm per second or approximately 93 labels per minute. The QL-810W provides Wi-Fi connectivity and AirPrint capabilities and the speed is increased to 176 mm per second or approximately 110 labels per minute. Finally, the QL-820NWB offers Bluetooth and wired network connectivity in addition to Wi-Fi, AirPrint and USB connection. The QL-820NWB is equipped with a large graphic LCD display, which makes it easier to operate the printer and design personal labels. Moreover, Brother QL-820NWB can work without being connected to a PC.
"Building on the success of our existing QL series of label printers, we're very excited to announce the QL-800 range", said Stefanie Dixon, Marketing Specialist at Brother Australia. "With the introduction of the two-colour thermal print option, once again Brother sets itself apart from the competition for industry firsts. We believe that this feature will be a game changer in the industry and will allow businesses especially to really utilise the product to their advantage".
Numerous applications – only limit is your imagination
The new Brother QL-800 models are very easy to use – the two larger models can work with an optional Li-ion battery, convenient when printing labels in big warehouses, in shops or in large offices.
When it comes to the unique black and/or red printing feature, there are limitless applications both professionally and domestically. In the office, identifying confidential documents, highlighting important papers and designing clear warning signs in red on doors, office machines, cabinets, etc., has become much easier. In companies and at conferences, the two-coloured labels can be a great advantage on name tags. For example, the red print could indicate that one has access to special areas, etc. And in warehouses, for instance, the black and red labels can mark packages and boxes to be handled with special care.