Comics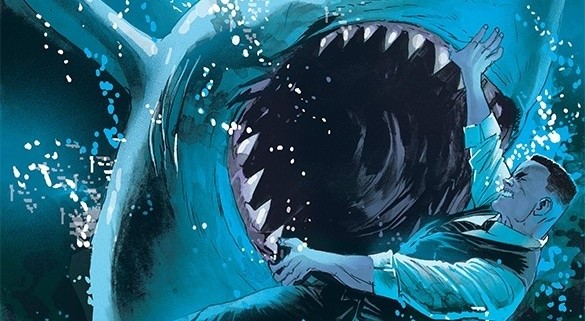 Published on February 6th, 2019 | by Dana Folkard
PRODIGY #3 REVIEW
Summary: Edison Crane and Rachel traverse the globe in search of the missing scroll.
Edison Crane and Rachel leave Moscow,  journeying across countless countries in search of the missing scroll. Their search takes them to an ancient sunken temple in the Indian Ocean, where much is revealed about the Brotherhood of the Dragon and their otherworldly patrons.
This issue is one hell of a ride, with Crane and Rachel jet-setting around the globe as they jump from city to city, unravelling the mystery of this ancient puzzle. Their escapades take them to the Himalayas, Pakistan, Cambodia and Constantinople, all the while being chased down by various agents working for the wealthy criminal elite. It's an exciting and daring dash, as we see them jump along the rooftop of moving trains, fight pirates and dive in shark infested waters.
Crane eventually gets his hands on some records, revealing the location of an ancient sunken temple in the Indian Ocean. Without a moments hesitation, Crane readies himself for the treacherous dive, taking the plunge and heading down into the deep. He believes the missing scroll to be located in the central chamber. Whilst making his way there, he comes across a mural, which reveals the origin and purpose of the Brotherhood of the Dragon. Their tale dates all the way back to ancient Babylon, revealing more about the parallel Earth and the intended plans. Armed with this new information, Crane and Rachel make their way to Damascus, where they rendezvous with one of their agents who is to help them with the next stage of their journey.
Move over Indiana Jones, there is a new intrepid adventurer…and he's awfully dashing too. I draw this parallel, not only because of the exotic locales that Crane takes us, or the sense of excitement and danger that underpins the story, but also because of the charismatic appeal of Crane. We already know that Crane is one hell of a remarkable guy, however, this issue really does remind us of that. Not only is he a literal genius, who troubleshoots his way out of every situation in a creative and timely fashion, but he is also kind, gentle and selfless. We see this through the compassionate deeds he does along the way, helping those less fortunate, and somewhat damaged by their past lives. This sheds some light on the type of person he is, revealing more about his personal character. Seriously, does this guy have any flaws? He has to, I mean no one can be that perfect. I'm just getting a wee bit curious about what those flaws may be.
Like I mentioned in my issue summary, we also learn a lot about the devilish Brotherhood of the Dragon cult and their otherworldly patrons. I won't reveal exactly what Crane discovers about their plans, as I'm against spoilers, but what I will say is that time is of the essence, and this is serious business. It's really bad, just not good at all, like end of the world kind of shit…you get the idea. Exciting stuff!
This is a fast-paced issue with a lot of action, and thankfully Rafael Albuquerque does an absolute ace job at capturing the adrenaline-fuelled escapades of Crane and Rachel. Lots of sweeping action shots, with a clear sense of movement and fluidity. It's all very chaotic and fun to look at. Yep, look at the cover, as it's a good reflection of the overall tone of this issue. It's a hectic and intense visual ride, and I loved every moment of it. I also really liked how impassioned Crane and Rachel's faces became in certain moments during this issue. We get to see an interesting side to Crane, and what looks like the first flicker of fear across his normally confident and stoic face. The colouring by Marcelo Maiolo has some powerful and eye-catching moments, exploding during some of the intense scenes with vibrant and beautiful colours. It's quite effective at reinforcing the intense tonal changes in a nice and visual way.
Overall, I thought that this was a fun issue of Prodigy. I'm loving the direction the story has taken, and I'm pretty keen to see where things go from here.
I'm giving this issue 5 out of 5 stars!
---
COMIC DETAILS
CREATIVE TEAM: Mark Millar, Rafael Albuquerque, Marcelo Maiolo and Peter Doherty
PUBLISHER: Image Comics
PUBLICATION DATE: February 06, 2019
REVIEWER: Dana Folkard