Comics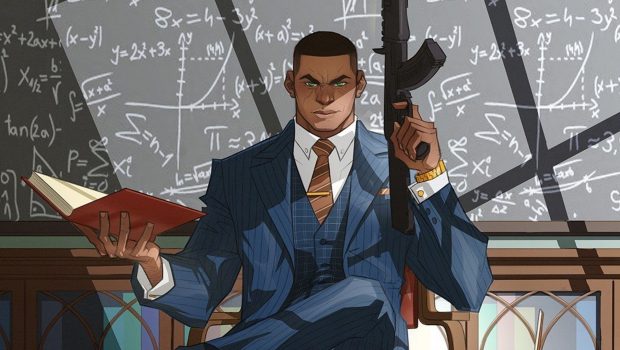 Published on January 9th, 2019 | by Dana Folkard
PRODIGY #2 REVIEW
Summary: Edison Crane heads to Moscow, meanwhile the bad guys make their first appearance.
Here come the bad guys!
As Edison Crane makes his way to Moscow to find an ancient scroll hidden in the Kremlin library, evil forces are plotting to make their next move in seizing control of the planet.
We begin this issue with Agent Straks recounting the events surrounding an attack on the vehicle she was travelling in with the General who knew information surrounding the alien invasion. Jump to the present, and we see Rachel and Crane in a private jet headed to Moscow. They wish to infiltrate the Kremlin library so that they make find an ancient scroll that apparently possesses information about the invasion. Once in the Kremlin, they make their way to the hidden library, after using half a billion dollars to bribe the entire Kremlin and a cool manoeuvre involving an energy ball of chi directed at the Chief of Staff. What Crane didn't anticipate was that the scroll would be missing, forcing Crane and Rachel to work their way back through history to the original source of the scroll.
Meanwhile, whilst this is unfolding, we are introduced to the villains of this tale. Located in an ominous looking castle in Belgium, aptly named "The Castle of Darkness" reside our heinous bad guys called the "Brotherhood of the Dragon". These guys are next level bad, getting their personal kicks out of hunting down small children, the way people likes to hunt cute wee foxes. This nasty cult-like group of men have been working alongside the invaders, aiding them in their planned takeover of Earth. Some of their plan is revealed to us, suggesting the catastrophic nature of what is about to unfold.
Okie doke, let me just begin by saying that these bad guys are HECTIC! They are absolutely the pits, awful, heinous satanic worshipping assholes. I hate them but also love them, and therein lies the conundrum for me. Normally, I'm a villain supporter, finding them to be more complex, interesting and layered as characters go. Now, I'm not saying that these guys aren't all of those things, however, I'm struggling to smile and support this lot because of one particularly wretched thing they do. Like I mentioned earlier, these guys like to hunt small children, and as a mother of two small ankle-biters of my own, all I could do was grimace at these scenes whilst my little heart was breaking *welp*. Anyhoo, once again Mark Millar has outdone himself with the development of these worthless swine, crafting yet again another compelling and intriguing collection of villains.
I also quickly want to mention how I'm absolutely loving the tone of this story. It kinds feels like Sherlock Holmes mixed with Indiana Jones, as we see Edison Crane unlocking facts using his intelligent detective-like mind, whilst also delving into the past to find valuable artifacts. Umm, hell freaking yes, I'm on board with this story and keen as mustard for what's to come. I'm also loving the dynamic between Crane and Rachel, finding them to be an unlikely but interesting duo.
The art by Rafael Albuquerque is engaging and quite emotive in this issue. I especially like how Albuquerque draws the Brotherhood members, with all of them having the most unsettling and creepy eyes. I also really quite like the angular shaped faces and jaws that we see with some of these new characters, reinforcing their menacing quality, whilst giving them a very stylised appearance. You just know by looking at them that they are bad news and have zero goodness within them. There were also some excellent scenes involving Crane, where we see him trying to puzzle out the unforeseen problem of the missing scroll. It was a cool insight into how the mind of this character works, showing multiple Crane all conversing with one another as they figure out the next steps to the plan. The colouring by Marcelo Maiolo frames this rising ominous tone with the use of a darker and more muted palette. The colour is still there, it has just been toned down a bit, which makes the scenes where we see pops of colour stand out more in a striking way.
Overall, I think this is a killer story…quite literally. The bad guys floored me in this issue, and yeah, I'm totally keen to see more of them in the future.
I'm giving this issue 5 out of 5 stars!
---
COMIC DETAILS
CREATIVE TEAM: Mark Millar, Rafael Albuquerque, Marcelo Maiolo and Peter Doherty
PUBLISHER: Image Comics
PUBLICATION DATE: January 09, 2019
REVIEWER: Dana Folkard