Games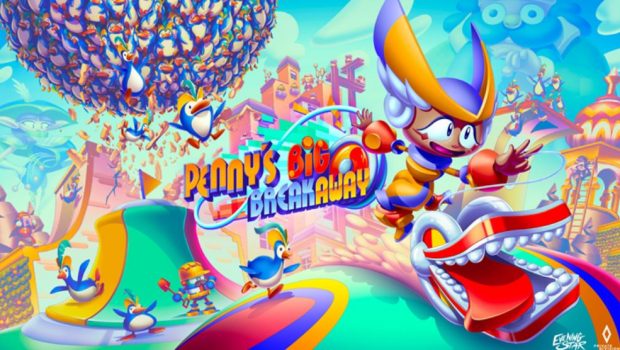 Published on June 22nd, 2023 | by Adrian Gunning
Private Division and Evening Star Announce Penny's Big Breakaway
Private Division, a publishing label of Take-Two Interactive Software, Inc. (NASDAQ: TTWO), and Evening Star today announced an imaginative new platforming action game, Penny's Big Breakaway, coming to Nintendo SwitchTM, PlayStation 5, Xbox Series X|S, and PC early next year. Prepare yourself for a beautifully stylised, colourful adventure in which you play Penny, the 'yo-tagonist' escape an endless, bumbling penguin army as you swing, dash, flip, zip, and trick your way through a variety of challenging levels.
In Penny's Big Breakaway, you play as Penny, an aspiring court performer who is on the run after her yo-yo created quite the commotion during her audition at the royal palace. In response, Eddie the Emperor commands his loyal penguin forces to capture Penny and her stringed companion, Yo-Yo. The chase is then on, and it is up to you to help our hero escape capture over the course of 12 vibrant, geometric worlds!
"At Evening Star, we have a deep passion for expressive, character-driven games that focus on a concise and satisfying move-set. For our debut title, we challenged ourselves to bring that approach into not only a new IP, but to an entire 3D world," said Christian Whitehead, Creative Director at Evening Star. "Penny's Big Breakaway has been a wonderful opportunity for our team to grow creatively and technically as a studio, and we can't wait for players to perform plenty of slick tricks with Penny and Yo-Yo!"
Built on Evening Star's proprietary own Star Engine, Penny's Big Breakaway provides non-stop action as you try to escape the impending penguin horde in each level. These waddling, avian adversaries will burst from walls, rush over cliffs, and attempt to dogpile you in an attempt to stop your progress at every turn. But don't fret– Penny is an agile and acrobatic aerialist. You will jump, spin, and ride over a variety of brightly coloured and complex terrain, featuring steep ramps, sharp ledges, massive cliffs, and more. Each obstacle is an opportunity to increase your speed and gain a bit of breathing room from those flightless assailants in hot pursuit. Be sure to keep up your momentum while playing, because in addition to Story Mode, Penny's Big Breakaway also includes a Time Attack Mode, where you can try and achieve the perfect run and set high scores on the leaderboard for the world to see.
"Evening Star are experts in the platforming genre, having been entrusted with an iconic gaming franchise, and delivered one of the best platforming experiences in recent years," said Michael Worosz, Chief Strategy Officer, Take-Two Interactive, and Head of Private Division. "Penny's Big Breakaway is an exciting debut title that brings an all-new protagonist to life in a memorable world, and it has an enormous opportunity to be a smashing success due to its broad appeal."
Penny isn't the only star of this show: her trusty partner Yo-Yo, while largely to blame for causing this chase, provides plenty of abilities to assist in your getaway. Throughout the game, you can find tasty treats which her yo-yo can snack on. When consumed, these delicious items will temporarily unlock new power ups such as increased movement speed, a protective shield, and more. In addition to powerups, Penny's yo-yo can pick up a variety of single-use tools, which can be used to bust down an area revealing secret treasure or magnetically pull in collectibles just outside Penny's reach. Her versatile yo-yo might be hungry for chaos, but it could also be just the trick to clear her name and absolve her of this massive mix-up.
Penny's Big Breakaway is planned to release for Nintendo SwitchTM, PlayStation 5, Xbox Series X|S, and PC early next year during Take-Two's Fiscal Year 2024. Penny's Big Breakaway is not yet rated by the ESRB. For more information on Penny's Big Breakaway, subscribe on YouTube, follow us on Twitter, become a fan on Facebook, follow on Instagram, and visit www.pennysbigbreakaway.com.