Events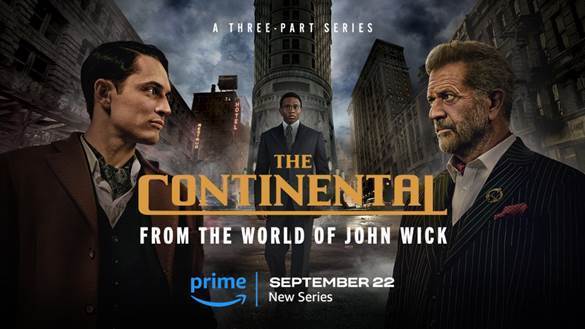 Published on September 11th, 2023 | by Adrian Gunning
Prime Video to host immersive screenings in Sydney for the highly-anticipated series, The Continental: From The World of John Wick for fans ahead of its launch
The highly-anticipated prequel series The Continental: From the World of John Wick is set to launch in Australia on September 22 and to celebrate, Prime Video is giving fans the chance to be some of the first people in the world to get an exclusive first-look at episode one at an immersive screening event in Sydney. On Thursday 21 and Friday 22 September, Golden Age Cinema will be transformed into 'The Continental' for these special screenings that will transport guests back to 1970s New York.
The Continental: From the World of John Wick is a three-part event series that explores the origin story behind the iconic hotel-for-assassins from the John Wick universe. The show is seen through the eyes of a young Winston Scott (Colin Woodell), as he's dragged into the hellscape of 1970s New York City to face a past he thought he'd left behind. Winston charts a deadly course through the hotel's mysterious underworld in a harrowing attempt to seize the hotel where he will eventually take his throne. The bloody action drama explores the collision of family love, fate, and revenge.
The series is produced by Lionsgate Television and stars Colin Woodell, Mel Gibson, Michelle Prada, Ben Robson, Hubert Point-Du Jour, Nhung Kate, Jessica Allain, Ayomide Adegun, Jeremy Bobb and Peter Greene.
Fans are invited to 'check-in' to The Continental and register for the free screenings. Tickets are limited so get in quick! Prepare to immerse yourselves in the comings-and-goings of the notorious hotel that sits at the cornerstone of the John Wick story.
The Continental: From the World of John Wick Prime Video Fan Screenings at Golden Age Cinema
Thursday 21 September
Session 1: 12pm to 2pm
Session 2: 2:30pm to 4:30pm
Friday 22 September
Session 3: 9:45am to 11:45am
Session 4: 12:15pm to 2:15pm
REGISTER FOR TICKETS HERE *Maximum of 2 tickets per person
The Continental: From the World of John Wick launches on Prime Video Australia September 22, with a new episode released weekly.