Films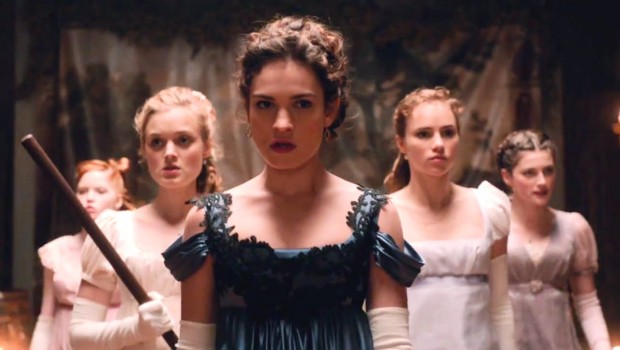 Published on March 9th, 2016 | by Nicki Newton-Plater
Pride and Prejudice and Zombies – Film Review
Reviewed by Nicki Newton-Plater on the 5th of March 2016
Roadshow Films presents a film by Burr Steers
Produced by Marc Buton, Sean McKittrick, Brian Oliver, Natalie Portman, Alison Shearmur and Tyler Thompson
Screenplay by Jane Austen and Seth Grahame-Smith (based on the Quirks Books novel by), Burr Steers (screenplay)
Starring: Lily James, Sam Riley, Jack Huston, Bella Heathcote, Douglas Booth, Lena Headey, Matt Smith, Charles Dance, Sally Phillips, Ellie Bamber, Millie Brady, Suki Waterhouse
Cinematography Remi Adefarasin
Edited by Padraic McKinley
Running Time: 107 minutes
Rating: MA15+
Release Date: the 25th of February 2016
Pride and Prejudice and Zombies is a new twist on the beloved Jane Austen novel, but one that would have been better off had it not been linked to the classic and had been a standalone film.
Elizabeth (Lily James) and Jane (Bella Heathcote) Bennet and their three sisters are growing up in 19th century England where their mother's main goal is to have all her daughters married off to reputable and prosperous men. At the same time, the undead have invaded most of the country and the Bennet sisters are all trained in weaponry and martial arts so they are able to defend themselves and others should an attack occur. When Jane falls for the handsome Mr Bingley (Douglas Booth), Elizabeth is initially taken by his friend, Mr Darcy (Sam Riley). However, attraction soon turns to indignation and she finds comfort in Mr Wickham (Jack Huston). Elizabeth must decide where her affections truly lie while she also does all she can to protect her home and family from the growing threat of the undead.
Pride and Prejudice and Zombies is problematic to say the least. It is the fact that it is Pride and Prejudice with zombies that makes it feel a little too ridiculous to take it for what it is and truly enjoy. While the book which the film is adapted from works well enough to have a large fan base, the blend of beloved classic and horror has once again proven to be ineffective on screen. 2012's Abraham Lincoln: Vampire Hunter experimented with the same unique concept, but was unsuccessful in presenting a reputable cross of genres. Pride and Prejudice and Zombies is satirical by nature, but the intelligence of satire is lost on the screen. Even without reading the book, one can understand that the concept would have worked well on paper and would even be cleverly written with it's blend of a classic novel with a zombie plague twist, but feels a little too weak and goofy on the big screen with it's lack of emotion, suspense and horror.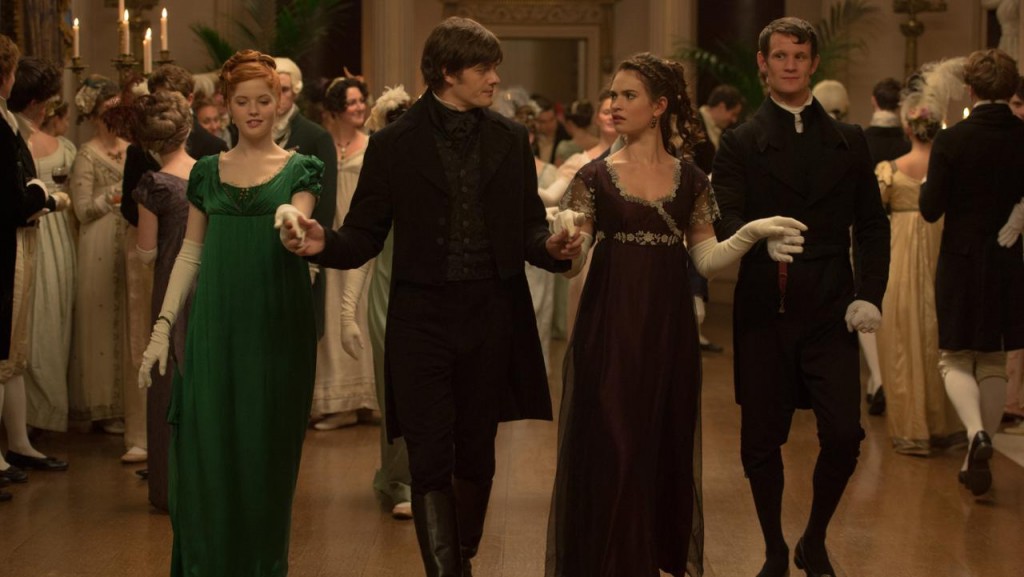 However, the interesting thing about Pride and Prejudice and Zombies is that if it wasn't Pride and Prejudice and Zombies it would have worked considerably better. In other words, if it was a period piece with zombies that was only loosely based on Jane Austen's classic there would not have been a set of predetermined expectations of both overwhelming romanticism and terrifying suspense that is ultimately this film's undoing. Without the expectation of emotion that comes with Pride and Prejudice and only the expectation of zombie horror, it would have been a great deal more enjoyable and successful.
Yet Pride and Prejudice and Zombies does have some redeeming features which prevent it from resembling a failure. Elizabeth Bennet is an exceptionally strong female character who was well ahead of her time when Jane Austen created her in 1813. In this film, she remains the strong-willed young woman that has been admired by many girls over the years for her defiance against the norms of society, but she is also a physically strong action woman in a world plagued by the undead. Lily James' Elizabeth Bennet is the type of female character that is so often craved by today's cinema audiences and the action sequences featuring her and her sisters are quite entertaining and well choreographed. Despite the overall concept of Pride and Prejudice and Zombies not being entirely successful, it is actually refreshing to see a variation on the character of Elizabeth Bennet who has endured the same type of portrayal in every adaptation of the book over the years and James gives an impressive performance with this point of difference.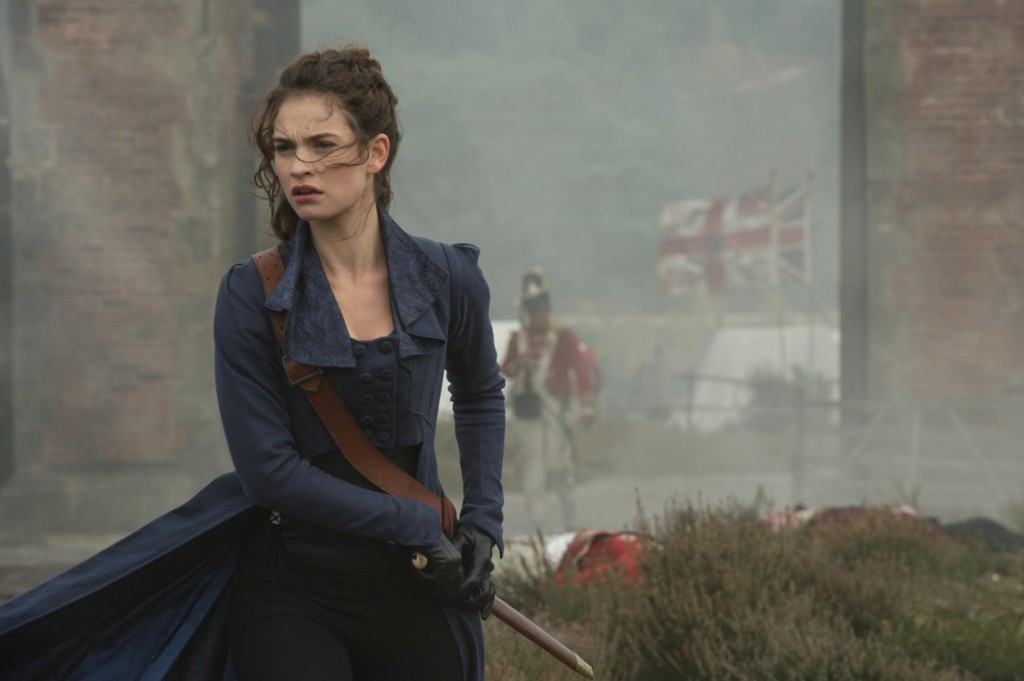 As a gothic period piece, the film is a rather successful production. The creation of nineteenth century England is very well done with impressive production design and cinematography which enables the film to be quite atmospheric. The costume design by Julian Day is stunning for both the Bennet sisters and Mr Darcy and Mr Wickham. The make-up for the undead is for the most part well done in its vulgarity, but does have it's moments where one can recognise an ill-fitting facial mask. The musical score is also fine for the most part, but also becomes a method of exaggeration which lends a hand in making Pride and Prejudice and Zombies feel more ridiculous than satirical.
One of the reasons "Pride and Prejudice" film adaptations have been so well received by female audiences over the years is for the tempestuous, but romantic relationship between Elizabeth Bennet and Mr Darcy. Although Lily James and Sam Riley give fine performances individually, the chemistry between the two is almost non-existent for the majority of the film. This does tend to change towards the end of the film, but the intense friction one expects from the two is rather weak. The same can be said for the chemistry between James and Jack Huston, who plays Mr Wickham. Huston is fine by himself, but there just doesn't feel to be much there between the two. The most exaggerated character in the film is Parson Collins, who is played by Matt Smith. In what does start off as a bit of comedy relief, Collins is an incredibly irritating character and is given way too much dialogue. Another disappointment is that Lena Headey, who plays the world's greatest swordswoman Lady Catherine de Bourgh doesn't have nearly enough screen time.
Pride and Prejudice and Zombies comes with the expectations of two distinct genres, but struggles to reach an equilibrium where both are satisfied.
Summary: Pride and Prejudice and Zombies comes with the expectations of two distinct genres, but struggles to reach an equilibrium where both are satisfied.