Films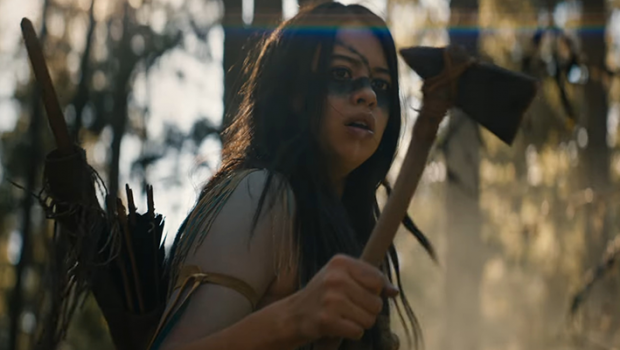 Published on August 4th, 2022 | by Tim Chuma
Prey Review (2022) @predatormovie #PreyMovie
Summary: Gives the Predator series a jump-start once more by throwing the tired macho bullshit into the garbage can where it belongs. You can still watch the original if you feel so strongly, it hasn't gone away.
Naru (Amber Midthunder) is the 18th century version of  a goth as much as she can be in the Comanche nation. Her brother is a proud hunter and bumps her every day to wake her up just to annoy her. Even her mother says she worries too much about trying to prove herself and hunting is necessary for survival. Her dog seems to be her only friend and she looks after it when it gets caught in the trap of fur trappers as the French have started encroaching on their territory by this point.
One day she seems a sign in the sky, which turns out to be a Predator entering the atmosphere, but is brushed off when she mentions it. When one of the tribe is taken by a lion she joins the hunt much to the other young men's annoyance but does try to do her best.
Feeling annoyed at seeing her brother get all the attention and knowing there is something else out there that is stirring up all the animals she decides to go on the hunt alone and that is where the adventure really begins.
I have tapped out of the Predator movies to be honest after they burned all the good will with the increasingly poor Alien and Alien vs Predator movies. There are still good stories being published in print from the Dark Horse line and this seems to be from that ilk as it does not rely on established characters or anything outside the basic premise of the Predator and the one reference from the second movie about Danny Glover's character getting the really old revolver.
To think that all the Predator movies needed to come back was the toss all the 1980s macho bullshit into the garbage can and not try and recreate something that had already been done. It was not really that hard. The original Predator, Alien and Aliens are near perfect examples of their genre and everything that came after just seemed to make it worse.
This does seem to be its own thing in terms of story so I am not sure if anyone from this will come back but it also means they could do something new and not try and mess with the original. Sometimes taking a risk is good and it reminds me of why the "one shot" stories in comics tend to come out better than some of the long running storylines.
To address the rating of this movie, there is a lot of blood and gore but it is not over the top. You have to remember it was made by a Disney and they are hardly going to approve a hard R-rated movie (the film is still MA-rated in Australia) for their streaming platform. Unfortunately it is not getting a cinema release even though it would probably do well for some unknown reason.
I thought the stunt work in this worked pretty well and you can see all of the action when you need to. The scene with the French fur trappers is somewhat confusing in places but it does come together towards the end. The young lead comes up well in terms of action on screen and is a lot more athletic than I remember the muscle-bound stars of the original being.
The version I saw was in English but they are also planning to release it with Comanche subtitles and a version in language. They sort of go with the audience understanding the main characters and not the French as they are foreign and there are no subtitles.
No doubt there will be an essay or two written on indigenous representation on screen that will reference this movie, but it is about time something like this did have all indigenous actors in lead roles. It is something like Taika Waiti does well in his movies and you can tell when people actually care about the movie as it shows on-screen.
A worthy watch and something to tide you over now that Andor has been delayed until September on Disney+.
Film details:
Director: Dan Trachtenberg
Writer: Patrick Aison, Dan Trachtenberg
Starring: Amber Midthunder, Dakota Beavers, Dane DiLiegro, Stormee Kipp, Michelle Thrush, Julian Black Antelope, Stefany Mathias
Country: USA
Length: 90 min
Trailer