Films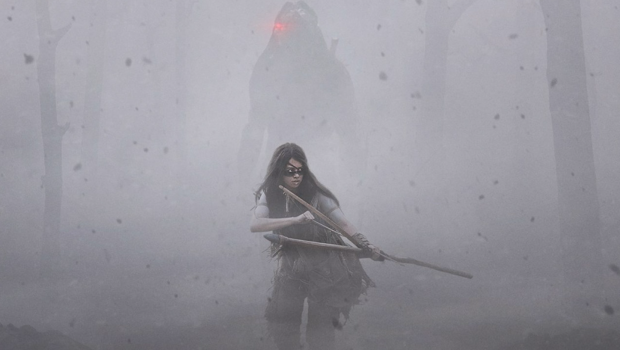 Published on August 12th, 2022 | by Curtis Mayfield
Prey – Film Review
Reviewed by Curtis Mayfield M-H on 4th of August 2022
20th Century Studios presents a film by Dan Trachenberg
Written by Patrick Aison (story by), Dan Trachenberg (story by), and Jim Thomas (based on characters by)
Produced by John Davis, Jhane Myers, and Marty P. Ewing
Starring: Amber Midthunder, Dakota Beavers, and Dane DiLiegro
Music by Sarah Schachner
Cinematography: Jeff Cutter
Edited by Angela M. Catanzaro & Claudia Castello
Running Time: 100 minutes
Rating: MA15+
Release Date: the 5th of August 2022
If the last ten years of pop culture could be summarised it would be fitting to suggest that a time warp from the 1980s has consumed our movie and television screens. The proof is in the pudding with massive cult hits, such as Stranger Things, Top Gun: Maverick (2022), and reboots and sequels to Hans Zimmer-heavy synth scored movies. Blade Runner: 2049 (2017) and the latest Dune movie (2021) are cinematic wins. Adding to the top quality of this time travelling ethos comes Prey, the latest (and definitely greatest) addition to the Predator franchise.
Set hundreds of years before Arnie took on the beastly alien hunter in Predator (1987), Prey is set in the early 1700s of North America and features a mostly Native American cast of characters that both act as victims and a major threat to the martian man hunter. Amber Midthunder embodies a star turning performance as Naru, a young Comanche warrior who is talented and smart beyond her peers' abilities but has yet to prove her worth as a hunter. When her physical strength is outmatched, it's her smarts and ingenuity with weapons and hunting tactics that allows her to survive. This is much needed when you're battling an alien with advanced and other worldly weaponry. Though her physical power cannot be discounted either as she tears through enemies with wit, skill, and strength; a far cry from the gun-toting brutes that have fallen victim to the Predator in other films. As the outer space menace begins killing off apex predators and humans, Naru begins to feel there is a change in the air that others in her community refuse to see.
The Predator itself looks different from the other incarnations we've seen onscreen. Since Prey takes place hundreds of years before Schwarzenegger battled the psychotic alien, its weapons and tactics aren't as advanced as we're used to seeing. The creature (played so menacingly by Dane DiLiegro) still has the three-dotted tracker for example but instead of shooting out deadly lasers it fires solid alloy spikes. Once the invisible alien attacks one of her tribe, Naru convinces her brother Taabe (Dakota Beavers in his first acting role) to let her come along to fight the creature. Her brother and other hunters believe that a mountain lion is causing all this death, but Naru (and the viewers) know better.
Cinematographer Jeff Cutter is thankfully allowed to shoot outdoors on location in Alberta, Canada and passes on the limitations of obvious (and cheap) green screen. This creative choice makes for, oddly enough, some beautiful cinematic shots. Unfortunately, (or fortunately if you enjoy the at home experience) Prey is not available on the big screen and has instead gone straight to the streaming service Disney Plus. A big recommendation is selecting the option that Disney provides of watching the movie in the Comanche language, the first of its kind for a major Hollywood production.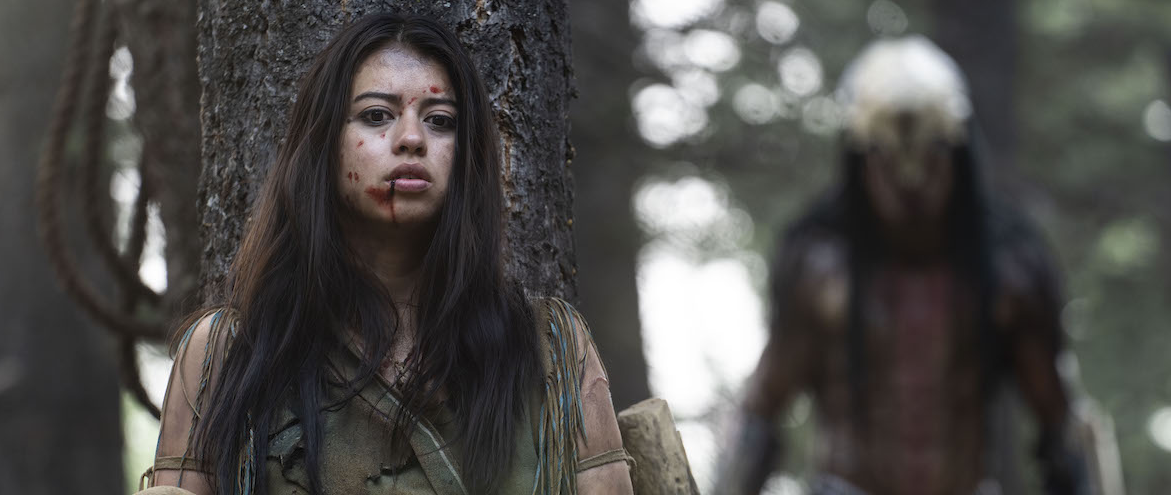 While the Predator series has continued for several decades and churned out multiple sequels since the first classic action movie in 1987, the franchise had not reached immortal heights again until now. The Predator (2018) was a big enough stinker it seemed like the franchise was going the way of the dodo. Luckily director/co-writer Dan Trachenberg (10 Cloverfield Lane, The Boys) keeps the story as simple as it needs to be and doesn't weigh the movie down with an overstuffed cast or plot. Much like Mad Max: Fury Road (2015), this film shows an action movie can have a simple plot, which leaves room for amazing combat and spot on character development.
Prey does a good job of avoiding being bogged down by references to the previous Predator movies. No one is accused of being "one ugly motherfucker", though there is one classic line that is used at the right time. Prey brings life back into a franchise that had its spine and skull ripped from its decaying body. Meanwhile, new stars have been made with Amber Midthunder and Dakota Beavers showcasing their acting talents that will no doubt turn into future endeavours in the movie making business.
Summary: Prey brings life back into a franchise that had its spine and skull ripped from its decaying body. Meanwhile, new stars have been made through Amber Midthunder and Dakota Beavers' performances.