Blu-ray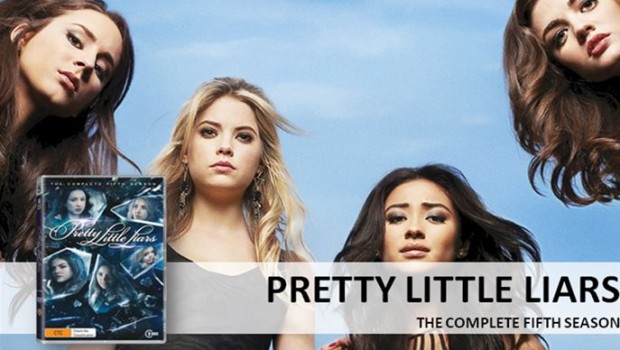 Published on June 2nd, 2015 | by admin
Pretty Little Liars the Complete Fifth Season
Pretty Little Liars returns for another suspenseful season filled with mystery and intrigue.
Based upon the best-selling book series, the one-hour drama follows four teenage girlfriends — Aria, Emily, Hanna and Spencer — who each began receiving threatening messages from someone named "A" one year after the supposed murder and disappearance of their friend Alison, a notorious queen bee. The messages led the girls to believe that Alison might actually be alive and watching them. Somehow "A" knew their most private secrets; things the girls hoped would remain hidden.
As the torment and manipulations continued, destroying relationships and affecting their loved ones, the tension built and Aria, Emily, Hanna and Spencer discovered strengths they didn't know they had and experienced scares they could never have imagined.
Get ready for more twists and thrills as season five of Pretty Little Liars begins in the moments following the epic season four finale, in which Ezra was shot. Plus, Alison is alive, and everyone is affected by her return. Also returning is Hanna's ex, Caleb, who comes back a changed person. With more questions than ever and other familiar faces back in Rosewood, it's sure to be another season of emotion and intrigue.
Pretty Little Liars stars Troian Bellisario (Lauren), Ashley Benson (Spring Breakers), Tyler Blackburn (Ravenswood), Lucy Hale (Scream 4), Ian Harding (NCIS LA), Laura Leighton (Melrose Place), Shay Mitchell (Aaron Stone), Janel Parrish (Celeste and Jesse Forever) and Sasha Pieterse (X-men: First Class).
Special Features include
 Celebrating a Pretty 100th
Christmas in Rosewood: Designing The Ice Ball
Pretty Little Liars: The Guys Are Back!
 Good Girls and Bad Lies: The Stronger PLLs
 Special Episode: We Love You to DeAth
 Deleted Scenes
Pretty Little Liars The Complete Fifth Season  will be available on  DVD (SRP $59.95) from July 8th.