Comics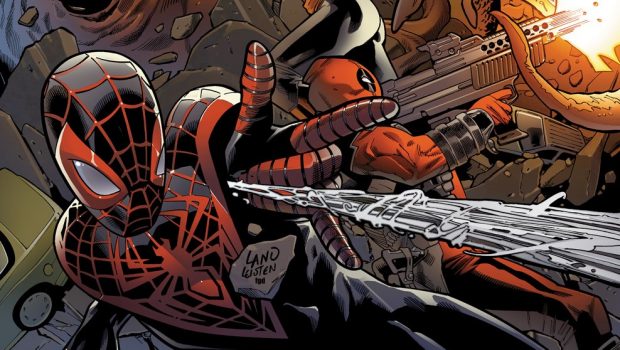 Published on March 11th, 2017 | by Dana Folkard
PRESENTING THE LATEST MARVEL MUSIC VIDEO SERIES!
Spotlight video series expands exposure of Marvel's Monsters Unleashed Comic Book Series paired with today's top musical acts!
Marvel Comics is proud to present an all-new approach in introducing the world to Marvel Comics and the next great Marvel Super Hero event – MONSTERS UNLEASHED! Masterfully mixing animated comics with in-depth narration and commentary, this new video series is designed to present a whole new audience to the world of Marvel's gargantuan monsters, timed with the debut of the brand new comic book series MONSTERS UNLEASHED, available now in all local comic retailers.
Brought to you by superstar writer Cullen Bunn (Deadpool Kills the Marvel Universe, Uncanny X-Men) and an army of today's top artistic talent – Steve McNiven, Adam Kubert, Leinil Yu, Greg Land, and Salvador Larroca – MONSTERS UNLEASHED  brings you a colossal story filled with wall-to-wall action as the Avengers, the Champions, the Guardians of the Galaxy, the X-Men, the Inhumans, and more band together and go toe-to-toe with towering beasts the size of skyscrapers!
Continuing the excitement surrounding the massive monster mayhem in MONSTERS UNLEASHED , Marvel has worked with Skillet, to incorporate the track "Back from the Dead" into its latest Marvel Music Spotlight Video.
"Marvel has been one of the defining things in my life ever since I was 4 years old when Spider-Man became my hero," said John Cooper from Skillet. "The Marvel Universe is a world where even a nobody like Peter Parker can become someone, stand up for what is right, and no matter how evil the world becomes, you know that good will overcome. Being involved with Marvel is truly one of the best moments of Skillet's career."
As the cataclysm of MONSTERS UNLEASHED continues to unfold , new videos will be released monthly to educate new and old fans about the monsters of the Marvel Universe and the MONSTERS UNLEASHED  series through commentary and motion graphics, as well as an energetic score from some of the world's biggest musical acts.
Watch "MONSTERS UNLEASHED" Music Spotlight Video featuring Skillet now!
With Marvel's first Spotlight video series, "Black Panther: A Nation Under Our Feet"  and "Captain Marvel: Alien Nation," Marvel coupled some of today's top hip-hop and female-led musical acts with Ta-Nehisi Coates' Black Panther, Margaret Stohl's The Mighty Captain Marvel, and now, Marvel continues building excitement around some of its iconic heroes taking on one of their most monumental challenges ever.  But are our heroes enough to fight off wave after wave of colossal beasts? Find out those answers and more within the pages of Marvel Comics' MONSTERS UNLEASHED available now in local comic shops and online now!