Events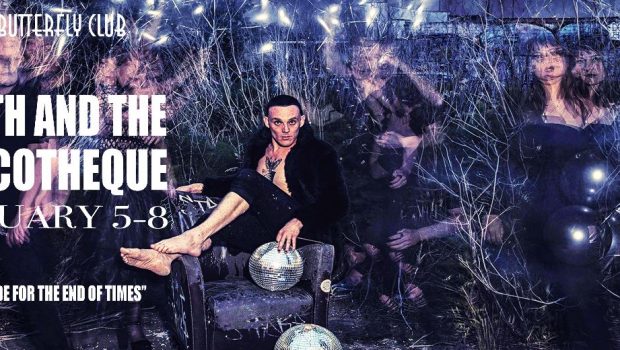 Published on December 9th, 2021 | by Adrian Gunning
Premiere of dance theatre work, Death and The Discotheque
Following a forced pandemic-pause, pulsating dance theatre work Death and The Discotheque is set to make its highly anticipated premiere at The Butterfly Club from 5 – 8 January 2022.
Set to an electro soundtrack, an unrelenting bass line and live narration; Death and The Discotheque is a rave parading as performance in memoriam to those we have lost and the experiences we crave.  Both absent – one forever, one not.
Whilst the work is a deeply personal reflection by writer Jessi Lewis, the many and varied losses that have been experienced universally throughout these tempestuous times will resonate with audiences.  Common ground is found as grief and emotion are collectively unpacked – on the dancefloor.
"I wrote this show upon reflection of my 20s, which was a period of my life marked by the death.  I lost so many friends that I almost lost count.  The dancefloor became my refuge, a safe space for me, a place to escape all the sadness.
I began working on this project in November 2019, in the midst of the Black Summer bushfires. Since then it has grown, becoming something that has – like all of us – been shaped, changed and altered by the course of recent events. Smoke, sickness, 2020, 2021 feeding the narrative," said Lewis, who has performed as a professional dancer across the past 15 years.
Choreographed by Sasha Chan and Jessi Lewis; Death and The Discotheque dancers Indya Brott, Sofia Reinking, Angus Eastwood, Ben White and Erin O'Rouke emulate the energy of a crowded dancefloor.  With moves born on club floors and from within queer culture; whacking, voguing and ballroom styles fill the floor.
The soundtrack, which is the work of Robert Downie (winner – best soundtrack Melbourne Fringe 2018) and features percussionist Ollie Cox, transports the audience to a sweaty, packed dance floor at a time just before the sun rises – then to a desert.
As writer and narrator, Jessi Lewis (a current Globe Community Award finalist – Outstanding LGBTIQ Media Reporting) has worked with long term collaborator and mentor Tony Yap to further refine the script and performative focus of the work.  They have previously performed together in Melbourne, India, Malaysia and Indonesia.
Extending the performance beyond the realms of the theatre will be seven large scale photographic art works from the Death And The Discotheque photo series. The work of acclaimed artist and photographer, Gregory Lorrenzutti, they will be featured in inner city locations in the lead up to the production.
"A team of around 20 creatives have been employed and engaged with on this project.  I feel like together we have almost achieved the impossible in mounting this project. It certainly has been a long time coming and I'm beyond excited to finally bring this to the stage," said Lewis.
Death And The Discotheque's 2020 development was supported by a City of Melbourne COVID19 Quick Response Grant and in 2021, has been made possible through Victorian Government funding. The entire team are incredibly grateful for all levels of support which have allowed for continued, meaningful artistic engagement across what has been the most incredible set of circumstances ever faced by our industry.
During the course of the 2021 lockdowns, Jessi helped establish a fundraising campaign for The Butterfly Club, where Death And The Discotheque is to be performed. Extending upon this theme of giving and generosity, a number of tickets for this show have been bought back by the producers and will be offered as gifts to those in the arts, LGBTQI and broader communities who may have faced recent disadvantage.
CREATIVES:
Jessi Lewis (Creator and Artistic Visionary)
Sofia Reinking, Ben White, Indya Brott, Angus Eastwood, Erin O'Rourke (dancers)
Robert Downie (sound design and composition)
Oliver Cox (studio percussionist- act 3)
Ben Dickson (live percussionist- Act 3)
Tony Yap (artistic mentor and dramaturge)
Sasha Chan (choreographer)
Jacinta Anderson (Lighting designer)
Gregory Lorrenzutti (photography)