Hardware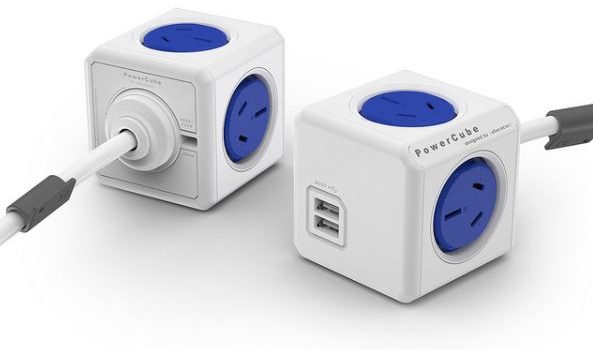 Published on June 9th, 2016 | by admin
POWER UP THE OFFICE WITH POWERCUBE
Melbourne, 9 June 2016 – Tech enthusiasts and gamers are forever adding new gear to their setup. The right equipment can make all the difference. But with all this extra stuff their room can get cluttered with an endless amount of cords. What if there was a product that brought a bit more order to their setup?
Introducing the PowerCube! It's a revolutionary product that will drastically reduce the amount of power cord clutter while providing the perfect power solution.
What is PowerCube?

The award winning PowerCube is the world's smallest 4 to 5 multi-socket power solution. Unlike the standard rectangular powerboards it has a square design which takes up 70% less space. It's currently available in Australia in two variations – PowerCube Original Extended has 5 power outlets and PowerCube USB Extended comes with two USB ports and 4 power outlets.
Why do I need one?

If you've ever looked behind the back of your desk you would have noticed a multitude of messy cords plugged into the socket or power board. Not only is this unsightly but it may also pose a serious hazard. With the PowerCube you can reduce the clutter and make the area safer by mounting the PowerCube to a desk, wall or cabinet. This will ensure the cords are safely hidden away. The revolutionary mounting system allows the PowerCube to be easily fixated onto the dock. By rotating the PowerCube 90 degrees it locks into place. Remove it again without the risk of leaving any glue residue or scratching the desk's surface. Screws are also included to mount the dock in places where glue isn't practical.
Best solution for the home

Not just reserved for the gaming or tech setup, the PowerCube can turn a messy cable filled home into a comfortable space. Mount the PowerCube behind the TV or on the wall for a more streamlined look.
The convenience of the PowerCube USB Extended allows you to plug in all your devices at once, including your TV, the Xbox and the stereo speakers. Two handy USB ports mean you can also charge your phone or FitBit.
Is it safe?

The PowerCube has a resettable fuse allowing a safe current to flow through the device. It has surge protection to protect electical devices from surges. Plus, by mounting the PowerCube in a safe place you'll be able to keep it out of the reach of children.
Where can I buy it?

The PowerCube Original Extended and USB Extended are available from Officeworks, Harvey Norman and Howard's Storage.
PowerCube Original Extended

• 5 power outlets
• Surge protection
• Compact
• Mounting dock included
• Colours: Red, Blue, Grey, Green
• 1.5 meter cable RRP $29.95
• 3 meter cable RRP $39.95
PowerCube USB Extended

• 4 power outlets
• 2 USB Ports (Output: 5V / 2.1 A)
• Surge Protection
• Compact
• Mounting dock included
• Colours: Red, Blue, Grey, Green, Pink, Purple
• 1.5 meter cable RRP $39.95
• 3 meter cable RRP $49.95