Collectibles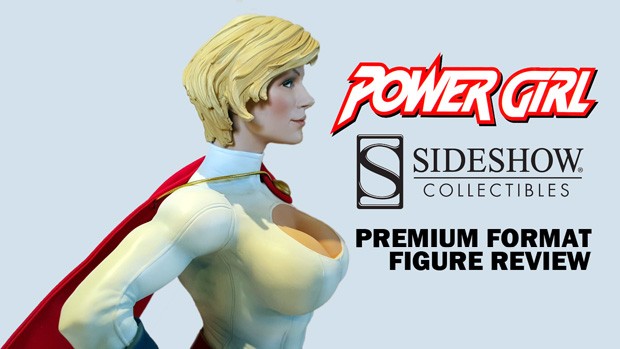 Published on February 14th, 2016 | by admin
Power Girl Premium Format Figure Review
Summary: The Power Girl Premium Format Figure from Sideshow Collectibles is another worthy collection to their DC Universe of products!
Sideshow Collectibles have released one of their most anticipated Premium Format Figures of 2016 with DC Comics' bronze age character Power Girl. Power Girl was the cousin of the Earth-2 Superman (Kal L) and was linked to the legendary Justice Society of America.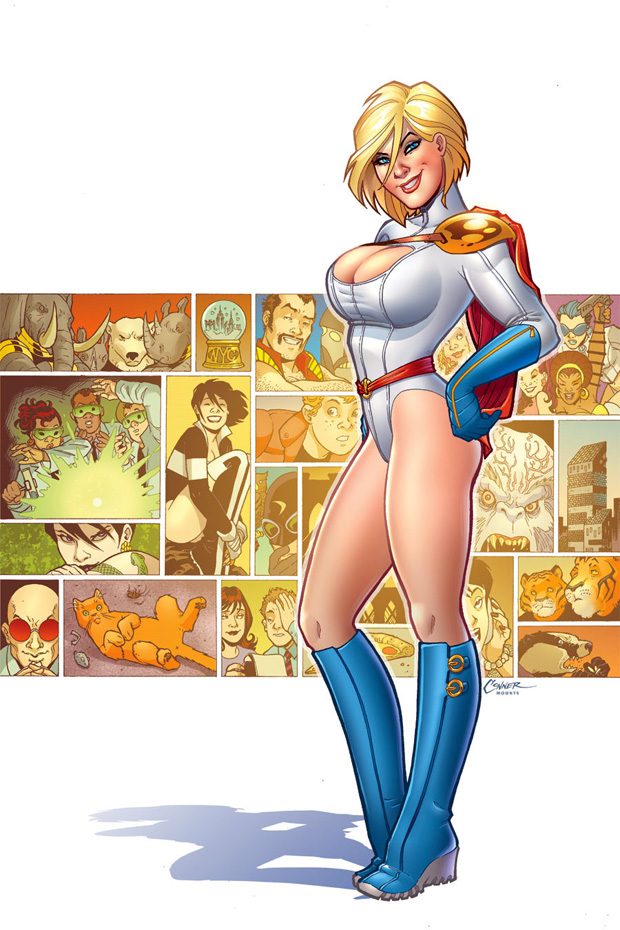 Since then, the character has had a very colourful career in super heroics and has always been a staple among the heroes of the DC Universe. The character was originally created by Gerry Conway (Writer/Editor), Ric Estrada (Artist) and Wally Wood (Inker) way back in February 1976 for All-Star Comics #58. She basically had the same powers of Superman, was a feminist and didn't take crap from anyone.
However one of the urban myths in the comic world was that Wally Wood was responsible for the growing breasts of Power Girl in the short-run for All-Star Comics which has been … no pun intended… busted.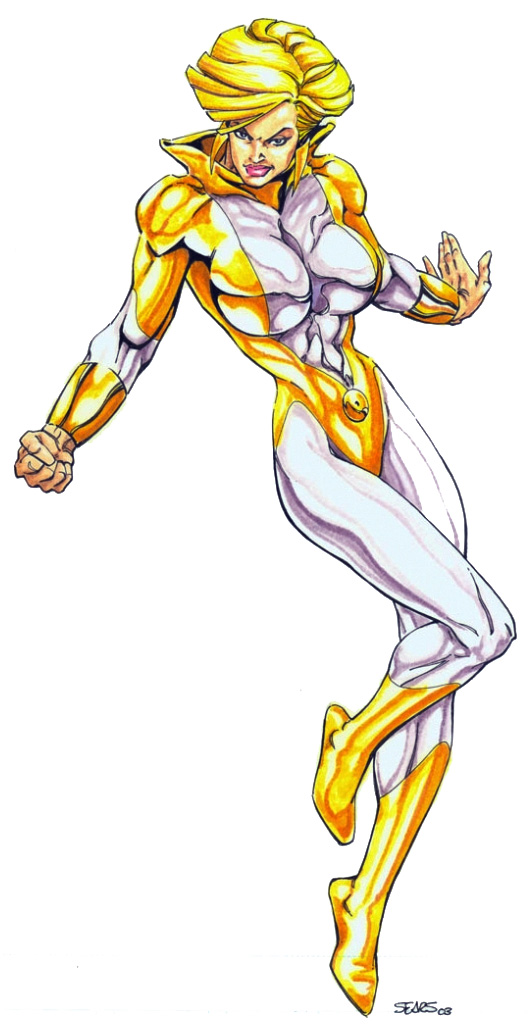 Power Girl or Kara Zor-L's (aka Karen Starr) growing cleavage was traced back to artist Bart Sears who was drawing Justice League Europe in 1989. As you can see from both the above and below image, he definitely didn't hold back while drawing Power Girl.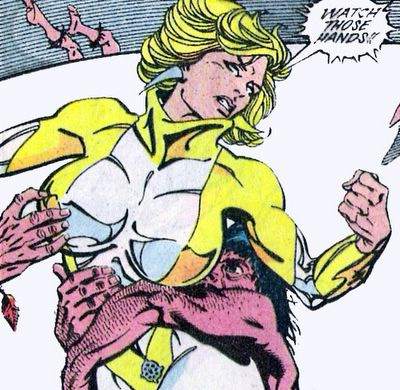 Since then, it's always been a feature of the character with fans dubbing part of her costume as the "boob window".
"Ahem. Eyes up here."  – Power Girl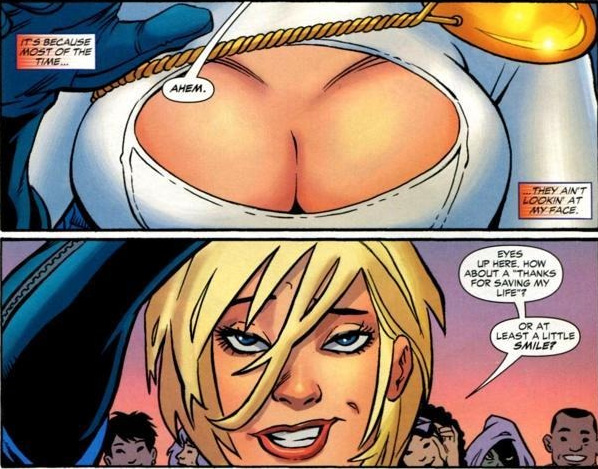 This amazing 21″ statue from Sideshow is based on the artwork by renowned pinup artist Stanley 'Artgerm' Lau which has been carefully sculpted in polystone to successfully capture the beauty, majesty and history of Power Girl. It's truly a great addition to Sideshow's line of Premium Format Figures and comes in two versions, a standard (reviewed) and an exclusive edition that comes with an alternate replaceable head.
The statue is based on the following print below.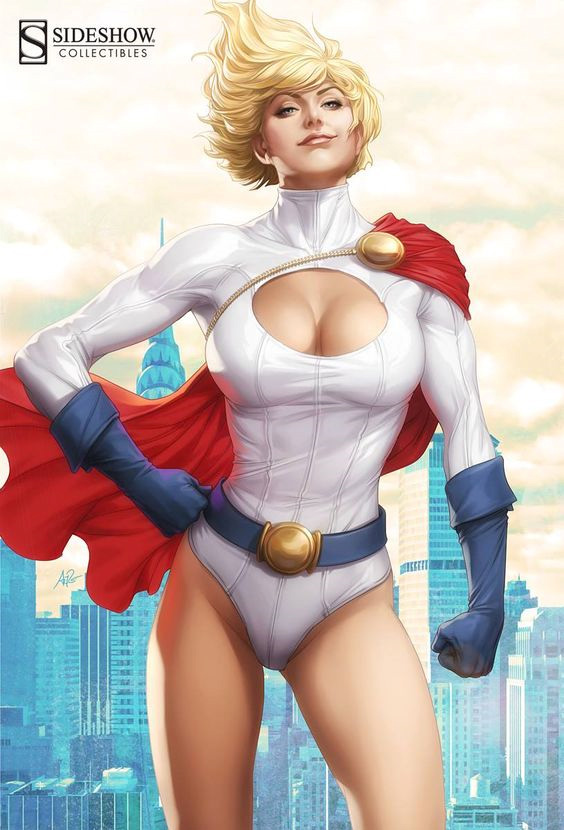 The Power Girl Premium Format Figure does require some assembly and comes well packed from Sideshow. Once out of the box, putting Power Girl together is quite easy. The first part is to take the body out of the box and place it on the base which mimics a battle torn Metropolis.
You then need to place the cape onto the statue which simply pins into a hole just below her left shoulder. Finally, you place the head on the body presto… your 21″ Power Girl statue is ready to be displayed!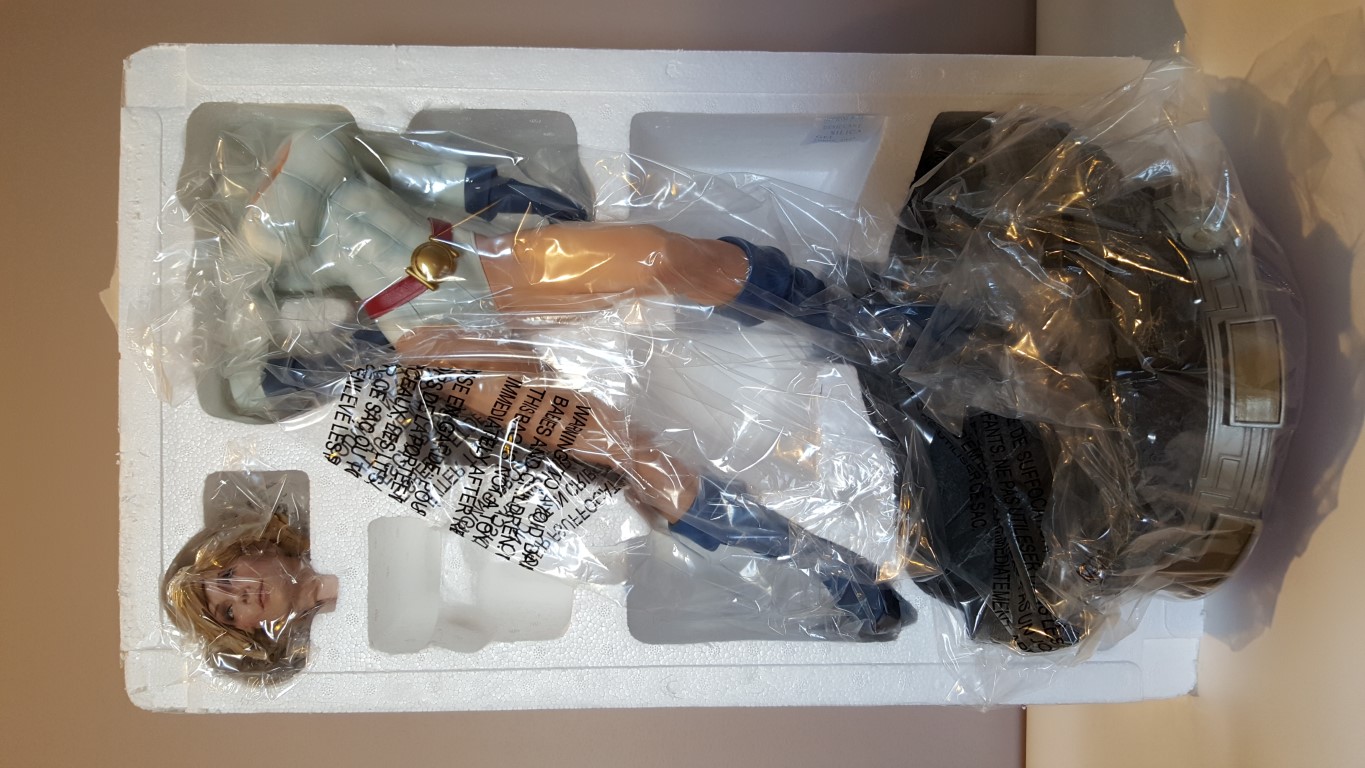 The body sculpt of this Premium Format Figure from Sideshow is exceptional and the sculptors have really captured the look of Power Girl herself. It's also quite a realistic pose, without it being overtly sexual, given the "cut-out" in her costume.
From all angles, the statue looks great and the only thing I can fault with this statue is the hair from behind. From behind, it does look a little fake and definitely needed some more attention to detail. The paint job on the statue is also perfect and the shades really add some life to this Premium Format Figure. It does helps that the red cape is actually material and although this can be a negative for some, it suits the statue perfectly.
The face sculpt is also quite detailed and the windswept hair adds to the overall quality of the figure. The shine in the eyes is another nice touch as are her slightly parted lips. It's like she just took out a whole squadron of Parademons in Metropolis without even raising a sweat and she has this aura of confidence on her face. All in all, it's another exceptional statue from Sideshow.
Power Girl Premium Format Figure Gallery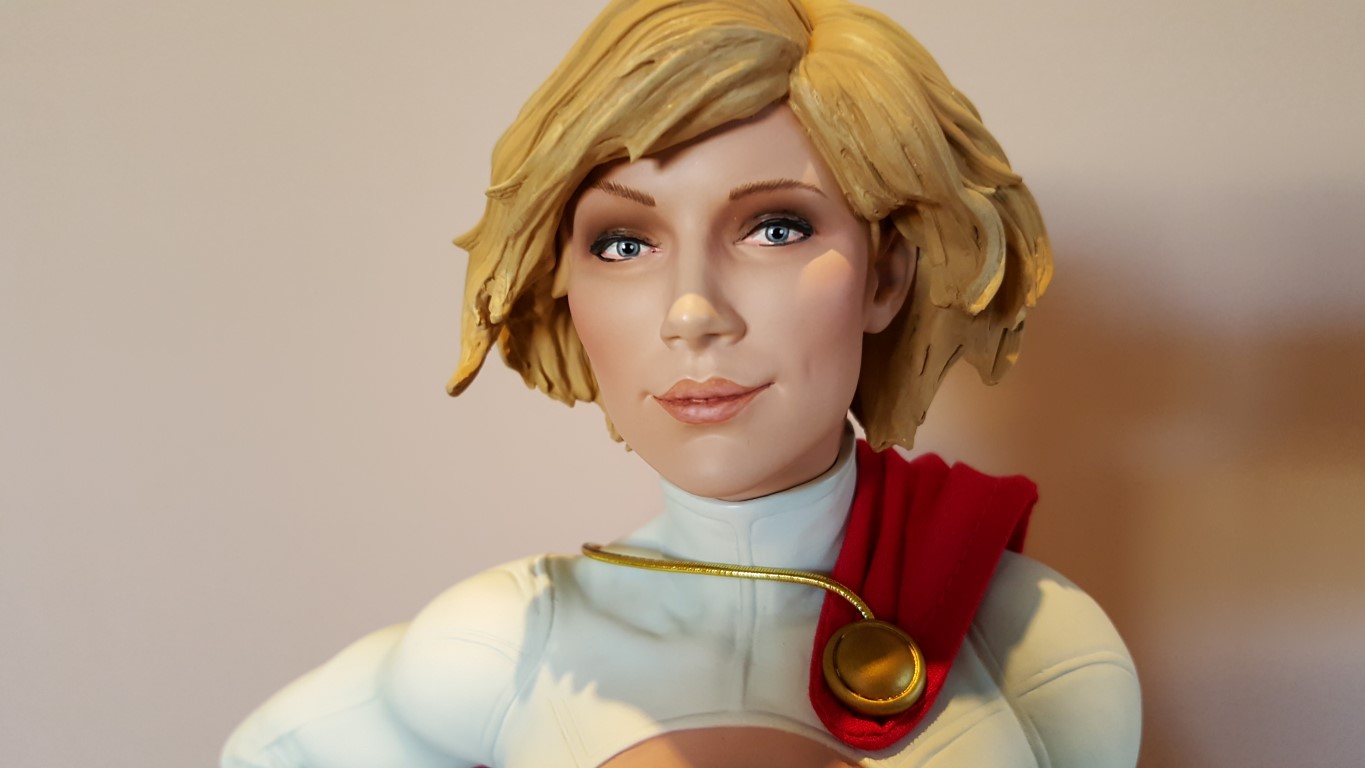 Final Thoughts?
Sideshow Collectibles should be commended for releasing another exceptional DC Comics heroine that boasts an almost flawless sculpt, a detailed paint job and a very realistic face. It definitely captures the spirit of Power Girl and measuring at 21″ in height, it will easily find a worthy place in your collection.
Recommended!
Sideshow Collectibles Studio Gallery
Statue available from Sideshow Collectibles at http://www.sideshowtoy.com/whats-new/power-girl-premium-format-figure/ and for Australians at http://www.popcultcha.com.au/superman-power-girl-premium-format-statue.html or your Comic or Collectibles Store.