Films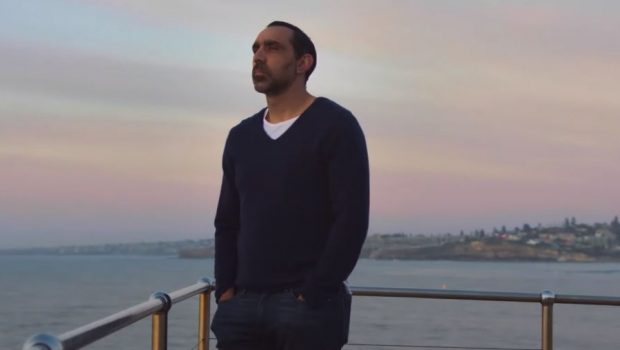 Published on June 21st, 2019 | by Damien Straker
Poster For Adam Goodes Film 'The Australian Dream' Revealed Featuring Artwork By Goodes' Mother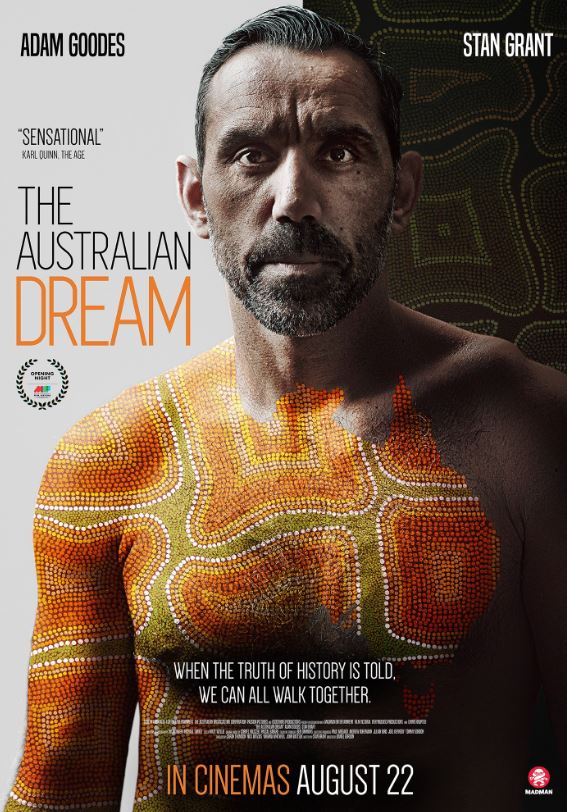 Madman Entertainment have today revealed the official poster for THE AUSTRALIAN DREAM, featuring artwork by Goodes' mother, artist Lisa Sansbury, representing 'Digging for yams' and was designed with the care and attention of internationally acclaimed Indigenous design agency, Balarinji.  The revelation is ahead of the film's release in cinemas Australia-wide on August 22nd.
Of their involvement, Balarinji states, "This was a special project for us. Our founders have known Adam since he came to Sydney to play AFL as a 19-year-old and watched with enormous pride as he excelled at the top of the sport. The way his career ended was appalling and sad, and it is important we now have the authentic storytelling of this film. It is vital Indigenous people tell their own stories in their own words. Adam's mum's art was great to work with and is a very personal touch for this dramatic poster."
Written by Walkley Award-winning journalist Stan Grant and featuring Adam Goodes up close and personal, THE AUSTRALIAN DREAM uses Goodes' inspirational life story as the prism through which to tell a deeper and more powerful story about race, identity and belonging. Grant artfully steers the narrative to incorporate the thoughts and reflections of an impressive roll call of key players from Adam's story including Michael O'Loughlin, Brett Goodes, Natalie Goodes, Tracey Holmes, Nova Peris, Nicky Winmar, Gilbert McAdam, Linda Burney, Paul Roos, John Longmire, Nathan Buckley, Eddie McGuire and Andrew Bolt.
John Battsek producer of the Academy Award-winning Searching For Sugar Man and Munich Olympics Documentary, One Day In September, says of the project, "What drew me to THE AUSTRALIAN DREAM, above and beyond its inherent importance and drama, was the opportunity to enable the key Aboriginal characters from within it, to tell their stories in their own words. To be the film that gives voice to the experiences of Adam, Stan, Nicky, Gilbert and others makes this a film as important and inspirational as any I have been privileged to be a producer on."
Directed by BAFTA award winner Daniel Gordon (Hillsborough), THE AUSTRALIAN DREAM is an Official Australian / UK Co-production by GoodThing Productions and Passion Pictures. Principal production investment from Screen Australia in association with Lorton Entertainment, the ABC and Film Victoria.
THE AUSTRALIAN DREAM will open the Melbourne International Film Festival and then release in cinemas nationwide from August 22nd.
#AustralianDream
www.australiandreamfilm.com.au