Films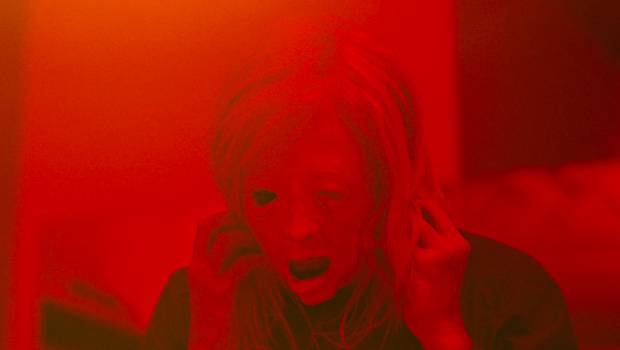 Published on November 27th, 2020 | by Harris Dang
Possessor – Film Review
Reviewed by Harris Dang on the 25th of November 2020
Monster Pictures presents a film by Brandon Cronenberg
Produced by Fraser Ash, Niv Fichman, Kevin Krikst, and Andrew Starke
Written by Brandon Cronenberg
Starring Andrea Riseborough, Christopher Abbott, Jennifer Jason Leigh, Sean Bean, Tuppence Middleton, Rossif Sutherland, and Gage Graham-Arbuthnot
Edited by Matthew Hannam
Running Time: 104 minutes
Rating: CTC
Release Date: the 26th of November 2020
Possessor is the sophomore effort of writer and director Brandon Cronenberg, the son of acclaimed filmmaker David Cronenberg, His first film, Antiviral (2012), explored celebrity culture, cosmetic surgery, and the media. It was a rocky but well-received debut. Importantly, it bore the marks of his father's work: body horror, social commentary, and psychological insight. Possessor is not only a marked improvement for Cronenberg, but also one of 2020's best films.
Andrea Riseborough stars as Tasya Vos, a 'possessor' whose job is to kill for hire. What makes her job different from other hired assassins is that to complete a job undetected she inhabits the being of another person. Vos' long and arduous years of service begin to take a physical and mental toll on her. Her decline is noticed by her attentive employer, Girder (Jennifer Jason Leigh). The job also interferes with her home life where her husband, Michael (Rossif Sutherland), and son, Ira (Gage Graham-Arbuthnot), reside. She gradually loses her sense of humanity the longer she feigns interest in her family. The brief respite soon dissipates once Vos is recalled for another job.
Girder and Vos have been hired by Reid, the stepson of John Parse (Sean Bean). John is the owner of a massive corporation. Reid wants them to assassinate John and his daughter, Ava (Tuppence Middleton), in order to take over the company. Girder is excited because not only would this be the most profitable job they have completed, their company will control John's empire by blackmailing Reid. To complete the mission, Vos must inhabit the body of Ava's boyfriend, Colin Tate (Christopher Abbott). Difficulties arise as sudden explanations in Tate's life come afoot, which breaks Vos' focus on the job and sees her state of mind deteriorate.
Possessor has powerful thematic resonance as it dwells into topics such as identity and PTSD. Cronenberg and his crew (including cinematographer Karim Hussain, composer Jim Williams, and editor Matthew Hannam) also conjure a foreboding, off-kilter, and clinical atmosphere that illustrates the mindsets of the characters as they experience fear, uncertainty, and paranoia. In one of its many memorable sequences, Vos (under Tate's influence) is in mid-coitus with Ava and through the mind of Vos, we see the two entities of her and Tate merge in a surreal yet haunting manner that blurs fantasy and reality. Another striking sequence involves the meeting of minds between Vos and Tate (through what is called 'the bridge'). What Cronenberg wisely envisions is that the two actors not only meet on-screen, but their voices are modulated in a way so that they audibly mesh together. It highlights the murky territory of keeping one's desire and objective in check.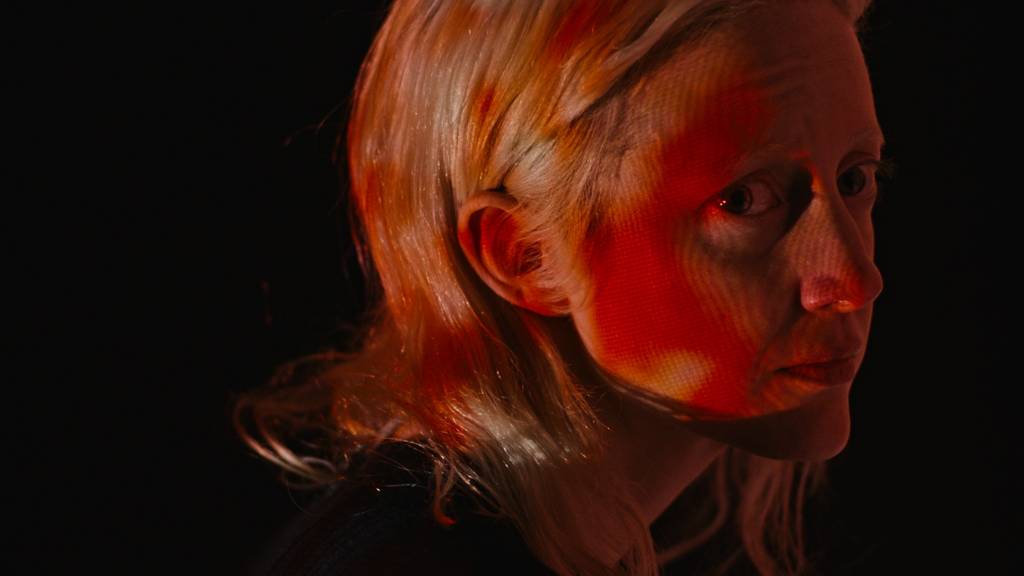 Furthermore, the film echoes the classic paranoia thrillers of the 1970s. It probes the nature of surveillance and the ramifications of technology (via use of virtual reality). Cronenberg utilises cinematic violence to amplify his point. However, unlike other filmmakers who make that type of storytelling feel exploitative and cathartic, Cronenberg keeps it graphic, distant, and dehumanising. He understands that violence makes a punching impact through tonal assurance not just blood and gore. Though Gorehounds will still be satisfied. The injury detail involves dismemberment, lashings of blood, and grievous bodily harm involving household items that will have people gasping.
The performances from the cast are entirely committed to Cronenberg's vision and bring their absolute best without narcissism and self-consciousness. Riseborough has been praised by many (including yours truly) as an acting chameleon because she disappears into any role she undertakes. With Vos, Riseborough portrays her dehumanisation with remarkable dexterity and tiptoes between empathy and bloodlust. Amusingly, there is an unintentional meta undercurrent through casting Riseborough given Vos disappears into the role she inhabits during her period of 'possession'.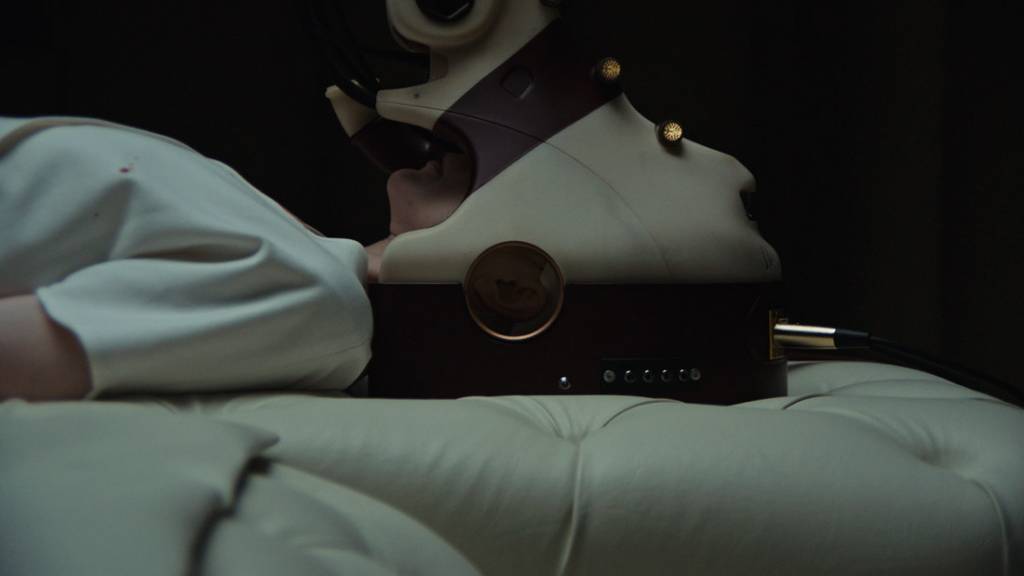 Abbott has received similar plaudits to Riseborough as he also offers the innate ability to dive into his roles. He finds the humanity within and portrays it with utmost subtlety and nuance. In the role of both Vos and Tate, Abbott conveys the conflicting emotions of seething rage and innate hysteria as the tension escalates in the film's final stages. The lead actors have enough knowledge and characterisations to work with to create a compelling dynamic between Vos and Tate. They both sink their teeth into the relationship with gusto. On a sidenote, a refreshing aspect of the dynamic is how Cronenberg withholds the presence of actors repeatedly swapping roles. He keeps the identity switching intermittent to provide the actors with time to focus on their portrayals, which effectively keeps the storytelling simple.
Additionally, the supporting cast all lend their palpable presence. Bean projects a smarmy presence in the role of John Parse. Middleton provides a much-needed respite from the repressive atmosphere as the emotional centrepiece of the story. Meanwhile, Leigh lends an enigmatic aura that is both paternal and suspicious, and Sutherland, whose performance initially feels intentionally wooden (seen through Vos' point-of-view) becomes more believable in the final act. Special praise must be given to Gabrielle Graham who plays the first entity Vos inhabits in the prologue. Her performance is magnetic and imposing due to her physicality in playing a role that she has no control over.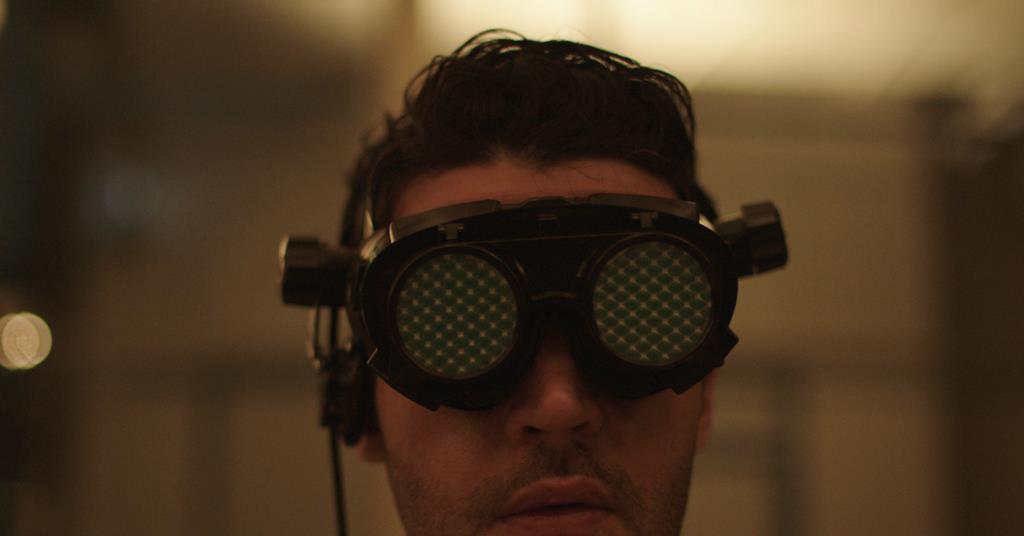 Possessor is a brilliantly gnarly sci-fi body horror flick that shocks, provokes, questions, and repulses in equal measure. It evokes issues regarding identity and the loss of humanity under the guise of bloodlust and surrealism. It is also buoyed by strong performances, striking visuals, unrelenting violence, and a powerfully brooding atmosphere. Go see it!
Summary: Possessor is buoyed by strong performances, striking visuals, unrelenting violence, and a powerfully brooding atmosphere. Go see it!