Comics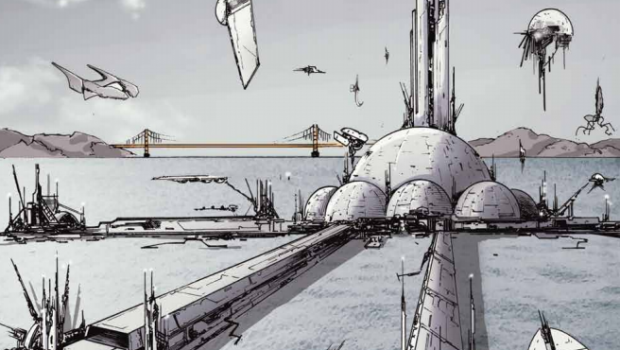 Published on November 8th, 2017 | by Dana Folkard
PORT OF EARTH #1 REVIEW
Summary: An engaging and gritty introduction to this science fiction thriller.
It's happened, aliens have finally made contact, however, they come not in peace or violence but with a business proposition. They want to make a deal, which will turn Earth into an intergalactic port, allowing interstellar travellers to refuel using Earth's greatest resource: water. The newly formed Earth Security Agency works at keeping things under control, restricting interactions between humans and the visitors, as aliens have begun to break the strict restrictions and leave the port.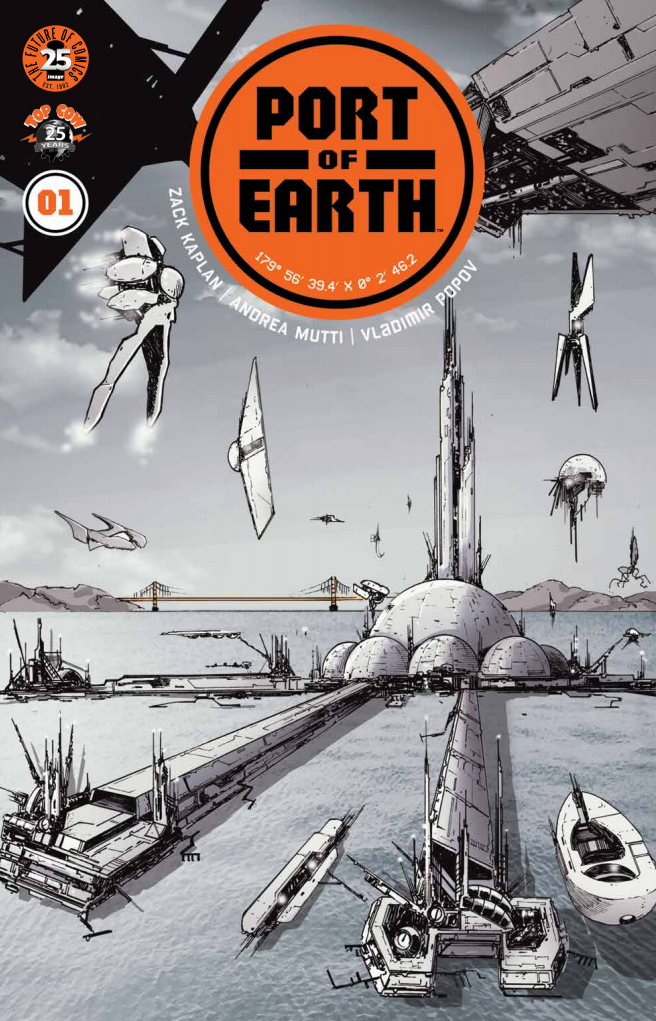 Port of Earth #1 begins with detailing the moment that aliens made contact with Earth for the first time. They came with a proposition: to make a business deal with Earth. They call themselves the Consortium, a ruling board for thousands of planets that come from the centre of the Milky Way. Their ships run on water, and they are seeking a port along their galactic route so that they may refuel. In return, they would offer Earth the technology to turn water into fuel, hence putting an abrupt end to the planets energy crisis forever. With a handshake the deal is sealed, and humanity welcomes these travellers, opening up our planet to intergalactic visitors. The location for the port was selected, fifty miles off the coast of San Francisco. It was the greatest engineering project undertaken in Earth's history. With this new deal came strict rules and regulations, governing the interaction of humans with the visitors. However, after the port was breached, resulting in a devastating massacre, the Earth's Security Agency was formed, to protect both the visitors and humans from one another and to hunt down rogue aliens who pose a threat to Earth.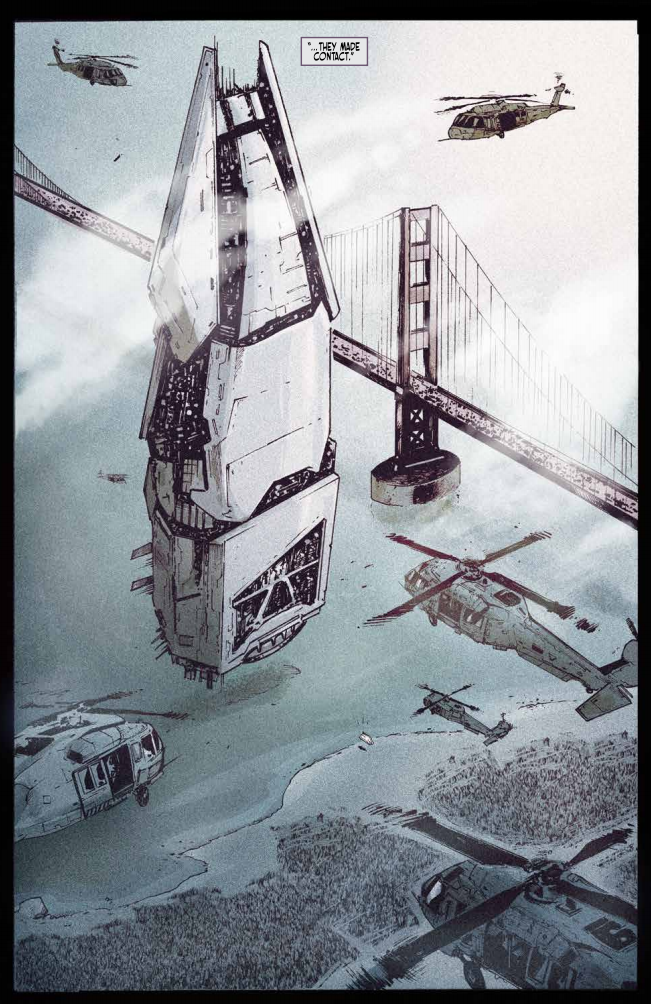 This compelling introduction to Port of Earth, brings with it a clever and original concept. To me it feels like Zack Kaplan draws a bit from the film District 9, with some subtle parallels, but still being a very different and unique story. I'm always a fan of a gritty science fiction with lots of action, and anything closely resembling space marines will immediately grab my attention. In this first issue, we get given the backstory of their first contact with the visitors, and how their deal was formed and established. From this point onward, the complex politics come into play, revealing a rather large and troublesome problem. The Consortium appears to wield immense power and influence in the galaxy, and this deal Earth has made with them appears to have put the entire planet in a vulnerable position. Enter the Earth's Security Agency (ESA), a tad generic name, but nonetheless, our new defence force against rogue aliens. This is where we are introduced to our main protagonists, two young agents named George and Mac. This roguish duo has been given the chance to showcase the ESA to the public, with a drone following them around to film their operations for the day. This should be interesting, as they have already encountered a problematic situation.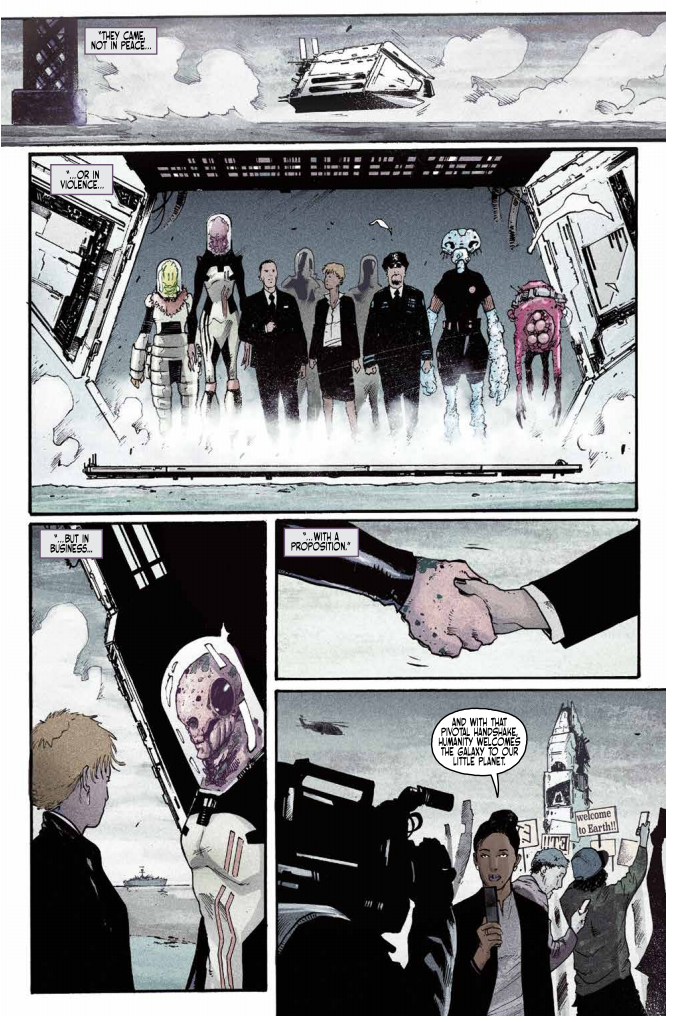 Artist, Andrea Mutti, creates a dynamic and diverse visual narrative. Architecturally, Mutti draws some pretty impressive structures. The port itself is incredibly detailed, and the vast array of alien ships, showcases his creative flare. There is a complexity and high level of detail to his art, which makes these large, expansive scenes visually epic. At times, there seemed to feel like there was a little repetition with some of the expressions we see, however, I don't believe this to be altogether distracting from the overall art. The colourist, Vladimir Popov has Earth awash in a greyish and muted colour palette. This colouring fosters a sense of bleakness, giving everything a rather grim and harsh appearance, which I found to be an effective tool in reinforcing the overall mood. We do see colour, but it is muted and dulled down and used in a delicate and subtle way.
Port of Earth #1 is an engaging introduction to this science fiction thriller. The story is creative, the characters are interesting and the art is wonderfully detailed. I'm curious to see how these events will unfold and where things will go from here for Earth.
I'm giving this issue 4 out of 5 stars!
---
COMIC DETAILS
CREATIVE TEAM: Zack Kaplan, Andrea Mutti, Vladimir Popov and Troy Peteri
PUBLISHER: Image Comics
PUBLICATION DATE: November 08, 2017
REVIEWER: Dana Folkard