Events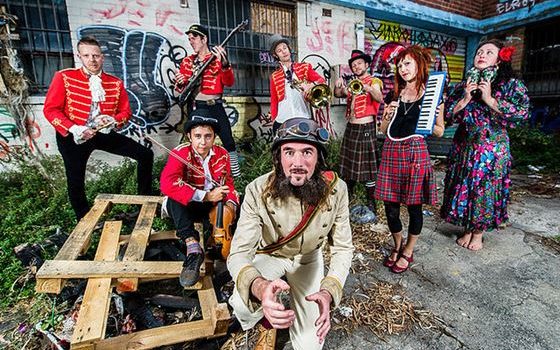 Published on October 25th, 2016 | by Admin
Port Fairy Folk Fest third lineup announcement
Third time lucky! The much loved annual Port Fairy Folk Festival has well and truly delivered once again on its promise of a melting pot of diverse musical talent for its 41st anniversary next year.
Running from 10 – 13 March 2017, the festival's third announcement is another exotic array of international acts. Playful Danish five-piece Afenginn will bring high energy and lots of instruments to the stage, and known for their dynamic live shows, they are sure to be a hit with gig-goers. New Zealand will lend three of their finest young artists in the form of singer-songwriter Graeme James, alt-country storyteller Mel Parsons and fiery jazz & soul singer Hollie Smith. And all the way from Canada for the second time comes contemporary folk ensemble The Jerry Cans, whose live explosive mix of alt-country, throat singing, and reggae has already earned them a following Down Under.
Let's not forget the slew of awesome Aussie performers descending upon Port Fairy in 2017, and this year's lineup is jam-packed with diverse local talent. Medieval music meddlers 8Foot Felix will be right at home in the likes of the Shebeen with their raucous sea-soaked ska sets. Blues and roots icons Backsliders are known for their captivating live shows, and will be bringing their 30+ year experience once again to the big tents of the green.
Fellow local legend and Aboriginal storyteller Kutcha Edwads will take you on a unique journey of understanding, insight and memories as part of a three-piece. Fresh from their wildly successful UK tour, folk outfit Bush Gothic will showcase their dark blend of folk and Australiana. The Scrims – previously known as The Scrimshaw Four – will play rootsy bluegrass and swing to the masses, whilst Tasmania's self-proclaimed gothic punk rockers The Dead Maggies will sing tragic tales from Van Diemen's Land's that'll make you dance, shout and folk till you drop!
Fans of the legendary American supergroup The Band (Bob Dylan, Van Morrison, Joni Mitchell, Muddy Waters, Neil Young, Eric Clapton and others) will rejoice next year too as MC Brian Nankervis introduces … The Last Waltz Revisited. Featuring The RocKwiz OrKestra, Vika & Linda Bull, the Last Waltzer's horn section and some of Australia's finest performers, the new band will reimagine the famous farewell concert with a setlist of stories and classics that have already received rave reviews and standing ovations when the group first performed their sold-out show at The Arts Centre last December.
Also added to the list of local talent are Christine Collister & Michael Fix, The Crooked Fiddle Band, Low Down Riders, Nancie Schipper, The Skeleton Club, Steve Boyd's Rum Reverie and Thomas Hugh.
Next year, Port Fairy is staging a collaborative ukulele jam dubbed the 'Ukulele Ceilidh' in 2017. With workshop leaders, artists and the public coming together from Mullumbimby to San Diego and everywhere in between, featured performers will include our own Ukulele Queen of the Bellarine, Sarah Carroll; Cathie Guthrie and Amy Nelson (of USA group Folk Uke); funk-soul-reggae artist Buckman Coe (CAN); Miss Amber & Stukulele; Mabel from Charm Of Finches and more acts to be announced. Participants are encouraged to sign up no matter what their background of experience. For those who wish to get their strumming fingers prepared, the festival has announced songs to be performed as part of the 'Ukulele Ceilidh' will include 'My Bonnie Flies Over the Ocean', 'Jamaica Farewell – You Are My Sunshine', 'Leaving On A Jet Plane', and 'Don't Worry Be Happy'.
Watch, see and do it all at Port Fairy in 2017. With subscriber release and early bird tickets already sold out, the festival's third release is selling fast. Book now: www.portfairyfolkfestival.com
In chronological order, the new additions to the line-up include:

8Foot Felix
Afenginn (Denmark)
Backsliders
Bush Gothic
Charm of Finches
Christine Collister & Michael Fix
The Crooked Fiddle Band
The Dead Maggies
Graeme James (NZ)
Hollie Smith (NZ)
The Jerry Cans (CAN)
Kutcha Edwards Trio
Low Down riders
Mel Parson (NZ)
Nancie Schipper
The Scrims
The Skeleton Club
Steve Boyd's Rum Reverie
Thomas Hugh
And they join:

Bazzookas (Netherlands)
Bennett, Bowtell & Urquhart
Brian Nankervis Presents The Last Waltz Revisited
Buckman Coe (Canada)
Burke & Wills: The Expedition By Ashley Davies
Cookin' On 3 Burners with Tex Perkins & Stella Angelico
Deborah Conway & Willy Zygier
Don Walker
Dori Freeman (USA)
Dubmarine
Eddi Reader (Scotland)
Fem Belling
Folk Uke (USA)
Gawurra
Jemma & The Clifton Hillbillies
Karma County
Les Poules a Colin (Canada)
Manu Delago (Austria)
Martha Tilston (UK)
Melody Pool
Mick Thomas & The Roving Commission
Miss Amber & Stukulele
Mundy (Ireland)
Natty Man & Gara
Neil Murray
Paul Kelly & Charlie Owen
Phil Wiggins (USA) & Dom Turner (AUST)
Roo Panes (UK)
Sarah Carroll & the Left Wing
Seamus Begley Trio (Ireland)
Suzannah Espie, Kerri Simpson, Barb Waters & Alison Ferrier
Tash Sultana
The Chipolatas (UK)
The Jerry Cans (Canada)
The Low Down Riders
The Pinks play the Blues
The Waifs
The Young Folk (Ireland)
Van Morrison's 'Masterpieces' (presented by Vince Jones & The Astral Orchestra)
Vika & Linda
Warsaw Village Band (Poland)
Yirrmal